Flavorful, smooth, and completely delicious, be your own barista at home with these refreshing, caffeinated ice coffee recipes.
Iced Coffee at Home
When you're looking for a refreshing drink with a caffeine kick, there's nothing like ice coffee. From easy, foolproof cold brew to decadent cream toppings, these recipes are sure to quench your thirst.
It's easy to make decadent iced coffee drinks at home (and save you a lot of $$$) that tastes even better than the ones sold in coffee shops.
RELATED: Most Popular Coffee Drinks
Ways to Make Iced Coffee
Strong coffee made in a coffee machine
To make strong coffee, use 1/2 – 1 tablespoon more ground coffee to make a cup in a coffee machine.
Pop it in the freezer for 15 minutes to cool it down quickly or in the refrigerator for at least an hour.
Cold brew coffee
Cold brew is the easiest way to make iced coffee since all the work happens in the refrigerator while you sleep.
Plus, you can make one batch and drink it over a few days.
Nespresso or Keurig
Use a pod or capsule to make a cup of coffee and put it in the refrigerator for an hour or in the freezer for 15 minutes to cool it down.
Instant coffee
For whipped drinks like Dalgona coffee and Greek frappes, instant coffee is a must.
Topping Options
Cold foam
Make any iced coffee cafe-quality by topping it with cold foam.
Take cold milk or half & half, and put it in a French press and move the plunger up and down 40 times. Yup, that's all there is to it!
Whipped cream
All you need is handheld milk frother (my trick to making whipped cream fast and easy) to whisk together heavy cream and sweetener.
Use flavored syrups to make the whipped cream even tastier.
Iced Coffee Tips
Don't use sugar to sweeten your iced coffee since it'll just sink down and settle down at the bottom of the cup. Instead, use simple syrup which will mix well with the drink.
Make homemade syrups and simple syrups ahead of time and store it in the refrigerator in an airtight container for up to a week.
If you want your iced coffee to be super intense, use coffee ice cubes instead of regular ice cubes.
17 Best Iced Coffee Recipes
The original iced coffee recipe. Brew coffee, cool it down, then add ice.
Made with any coffee machine, including Nespresso or Keurig machines that make cups of coffee (not espresso).
Sweeten with simple syrup, the best way to sweeten iced drinks. Get step-by-step instructions for quickly making it at home with water and sugar (or use store-bought).
Flavoring an iced coffee just means adding vanilla, cinnamon, etc. to your simple syrup.
This recipe uses half & half for the mild sweetness and creamy texture. Customizations include adjusting the milk or plant-based milks to your liking.
Serving suggestions include topping it with cold foam or chocolate!
Ingredients: Brewed coffee, simple syrup, half & half, ice
Make cold brew with minimal effort and almost no cleanup by using a cold brew coffee maker.
One batch will be enough for nearly a week's worth of drinks, ready in your refrigerator everyday. The only drawback is waiting for it to steep in the fridge overnight.
Use your favorite coffee beans from any cafe, store, or coffee roaster. Just make sure the grinds are medium-coarse for the best results.
Coffee places like Starbucks don't make decaf cold brew, but you can. Adjust the caffeine grinds by replacing a half cup with decaf grinds for a half-caf, or make it fully decaf with a cup of decaf grinds.
Serve it black, sweetened, flavored, with cream, milk, or your favorite plant-based milk. It doesn't need to be sweetened, but if you do, make sure to use simple syrup since it will combine better in cold drinks.
Even enjoy a smooth, warm cup of coffee by heating up the cold brew once it's ready. It's smoother tasting than brewed hot coffee.
Ingredients: Ground coffee beans (medium-coarse grind), filtered water
This is the easiest iced espresso drink to make, and with only 3 ingredients it will taste just like at Starbucks.
Anyone who prefers espresso to brewed coffee or cold brew, and more caffeine than a regular iced coffee, this Iced Americano is the one to try.
This recipe calls for 3 shots of espresso, and usually uses a dark roast like Starbucks Espresso Roast. Prepare your shots of espresso with any espresso machine, even a Nespresso.
Customize it your way with any espresso that's caffeinated, half-caf, decaf, light or dark roast.
While it is satisfying on its own, it can be customized to suit your tastes like adding syrups, simple syrup, or cold foam for a more decadent drink.
Ingredients: Espresso, cold water, ice
Make one of the most popular iced espresso drinks at home in only a few minutes with 5 ingredients (including the ice).
Step-by-step instructions for how to make an iced macchiato correctly and flavor it so that it tastes just like at Starbucks.
Find out how to make your own 3-ingredient vanilla syrup, or my suggestion for store bought. Definitely buy the caramel sauce since it's a little tricky to make at home.
It's easy to make this drink with your own espresso machine, even a Nespresso!
Adjust the sweetness, milk, and caffeine by adding or reducing any of the key ingredients.
Ingredients: Espresso, caramel sauce, vanilla syrup, milk, ice
With just espresso, milk, sugar, and ice, this popular Starbucks drink is easy to recreate at home.
Choose your favorite espresso or Starbucks Espresso Roast for the official flavor using your own espresso machine or any Nespresso Original or Vertuo machine that makes espresso.
You'll need 3 shots for this recipe, and Starbucks Espresso Roast pods are available for Original and Vertuo machines.
Don't have an espresso machine? There's an instant coffee recipe variation included plus customizations for the syrups and milks.
Follow the recipe exactly to copy Starbucks or adjust it to make it more or less sweet, milky, and caffeine amount.
Use your larger glasses for this drink since it's a Starbucks Grande size (16 ounces).
Ingredients: Espresso, milk, simple syrup, ice
A quick and easy way to combine the best parts of coffee and chocolate in an iced beverage.
This versatile recipe can be made with brewed coffee, cold brew, instant coffee, or espresso and even has instructions for making your own homemade chocolate syrup.
Using your own cold brew is great because you can make a bunch of iced coffee drinks with one batch (including this one) and don't have to wait for the coffee to cool down.
With only 4 ingredients, this recipe is also easy to adjust and customize, like topping it with homemade whipped cream, prepared in seconds! Experiment by making it more or less sweet, milky, chocolatey, and more (or less) caffeinated.
Ingredients: cold brew coffee, chocolate syrup, milk, ice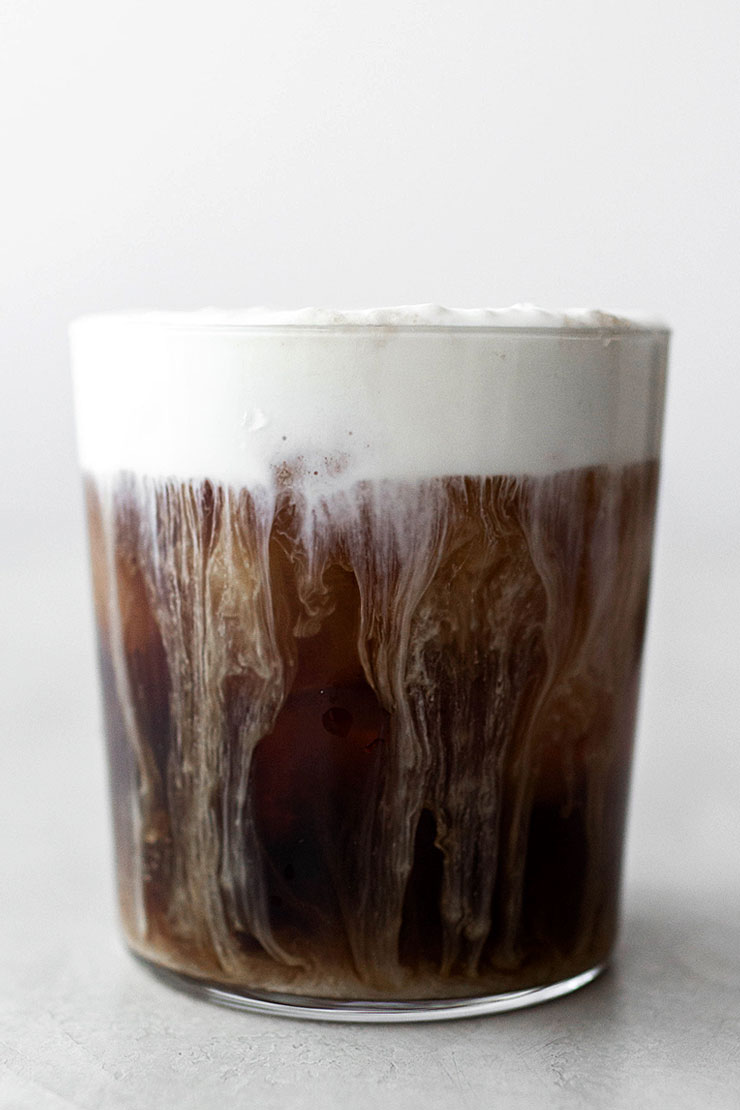 A deliciously decadent iced coffee made super simple with just brewed coffee and a cream froth.
The secret ingredient in this cream froth is that it's sweet and salty. The flake salt used is perfectly matched with the sugar. And making it takes seconds with a handheld milk frother, plus suggestions for how to make the froth without the milk frother.
It takes only about 5 minutes and 6 ingredients (including the ice) to make this drink of brewed coffee over ice and topped with the cream froth. Although you can add flavors or modify the sweetness, it's pretty delicious exactly as is.
Serve it in a tall, clear glass so you can see the cream froth float.
Ingredients: ground coffee (medium-fine), water, heavy cream, sugar, salt, ice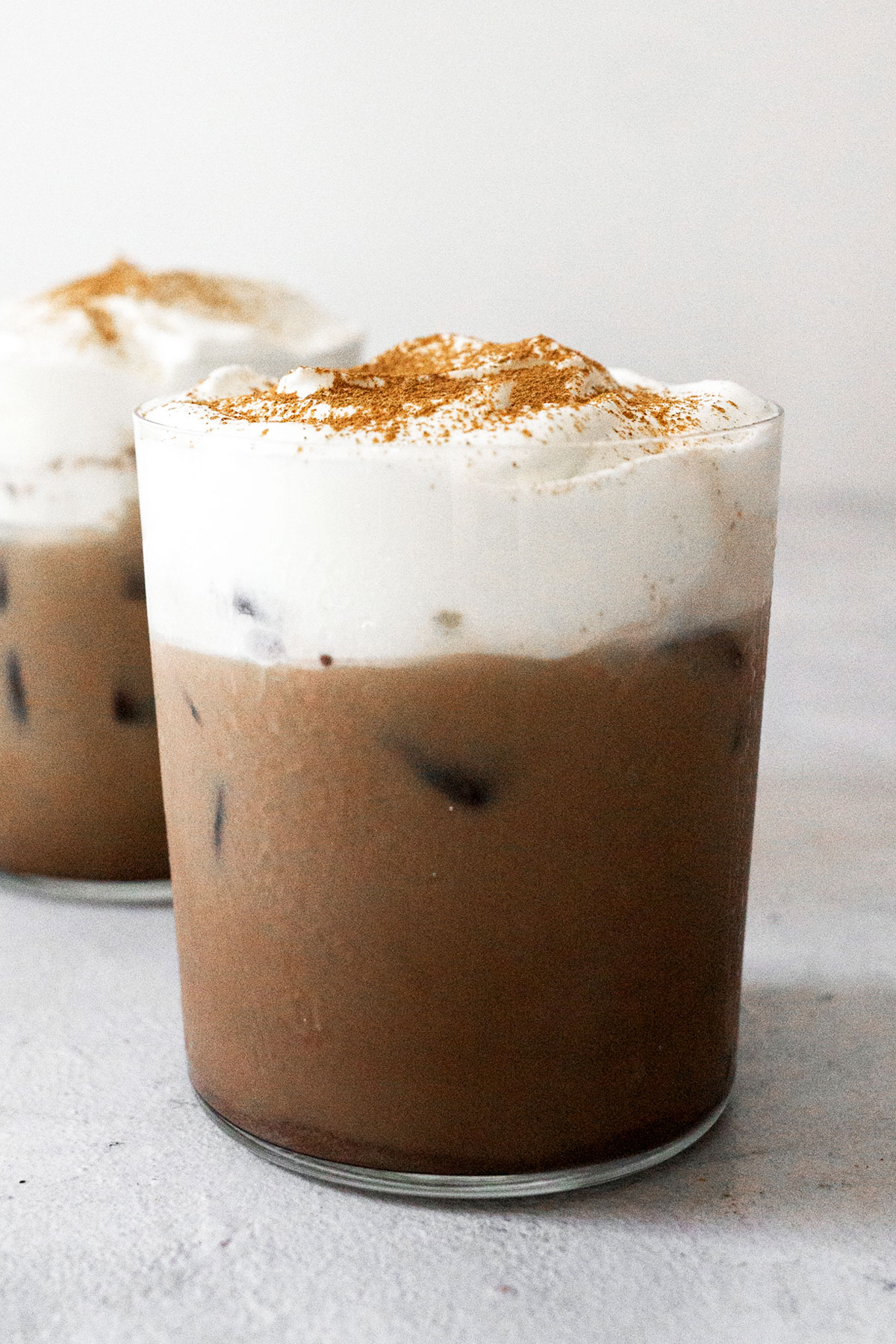 Sweet and spicy, this iced coffee promises to hit the spot with chocolate, cinnamon, and cloves, plus a sweet cream topping.
You likely have these ground spices in your closet, they're two of the most common and are not expensive.
Modifications include a dairy-free version, without ground cloves, and alternate coffees.
Even though the coffee in the recipe is brewed coffee, it can be replaced with cold brew if you already have some made. Just as easily, brew strong coffee with your drip coffee maker, Nespresso, or prep 1-2 shots in your espresso machine. Directions include how to use these coffee variations.
Ingredients: Strong brewed coffee, ground cinnamon, ground cloves, chocolate syrup, milk, ice, heavy cream, sugar
It just takes a few more minutes to make boba at home, but it will really elevate this iced coffee to something special.
Included are all the best tips and tricks for making boba the right (and best) way, especially when using these easy to find tapioca balls.
Don't forget the extra-wide straws you'll need to drink it.
This one calls for brewed coffee that's cooled down. If you have cold brew already in your refrigerator, you can use that instead.
Ingredients: coffee, tapioca balls, brown sugar, half & half, water, ice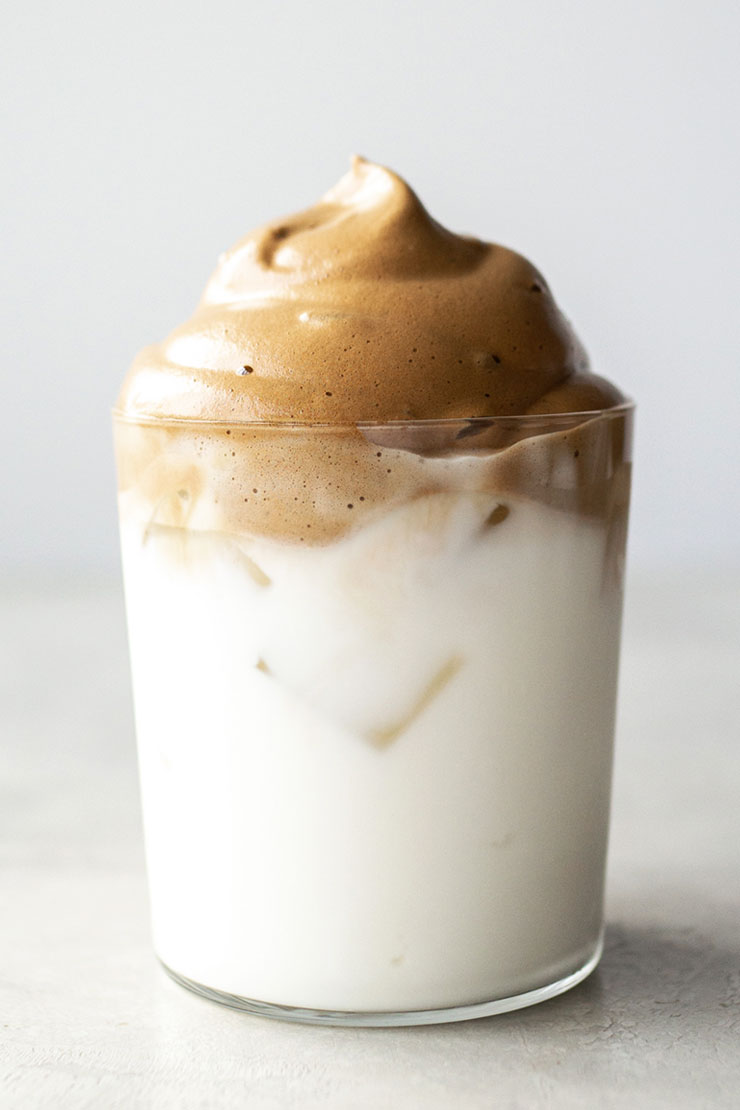 See simple step-by-step directions for making the very popular dalgona coffee.
Have a handheld milk frother on hand since it's key (and the only equipment needed) to making this quick and easy. Included is the recommendation for the best instant coffee for a super fluffy that turns out perfectly.
Tips include making the drink fluffier, milk modifications, sugar suggestions, and comparing types of coffee. Unlike other iced coffees, this one can't be replaced with cold brew since it is based on the specific chemistry from using instant coffee.
Use a clear glasses since this iced coffee drink is super cute to look at as well as delicious to drink.
Ingredients: instant coffee, filtered water, milk, sugar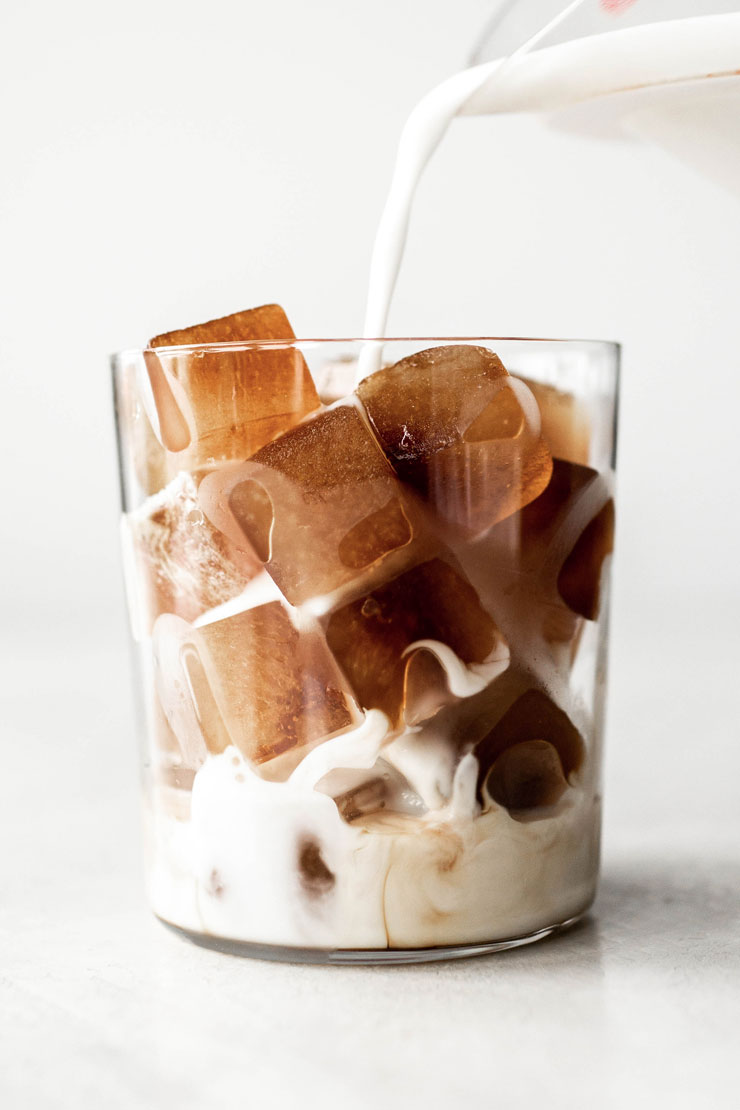 Cubes of coffee are going to change your iced coffee game.
Coffee ice cubes can be used in any iced coffee drink or made into a quick iced coffee or iced latte with a few tips.
Easily adjusted for as few as 2 ingredients (just coffee grinds and water), or as many as 4 if you want to sweeten your cubes and add milk. Further customize by using caffeinated or decaf grinds.
Leave out the sugar if you don't want the ice cubes sweetened, although it avoids having to add simple syrup later if you do like your iced coffee with sugar.
A great make-ahead recipe, and it's convenient for commuting since the cubes will melt without watering down the drink.
Ingredients: ground coffee, filtered water, sugar, ice cube tray, milk (for iced latte)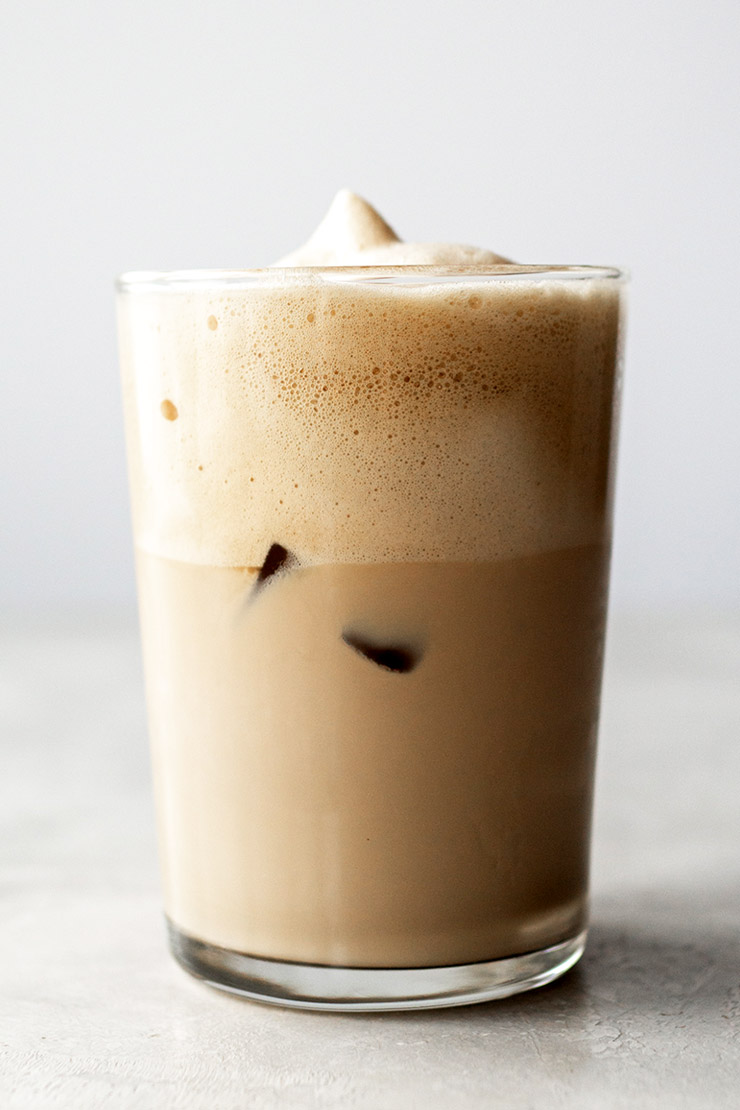 If you want an iced coffee but don't want to make coffee, make this! No need to bother with brewing coffee, making shots of espresso, or even preparing cold brew.
Nescafe Greek instant coffee is the key ingredient in this drink, just like in the dalgona whipped coffee.
This is ideal if you prefer your iced coffee sweet, creamy, with a solid boost of caffeine, and ready in almost no time.
Suggestions are included for making this without a handheld milk frother, adjusting the sweetness, and alternative instant coffees.
Ingredients: Instant coffee, filtered water, sugar, ice, half & half or milk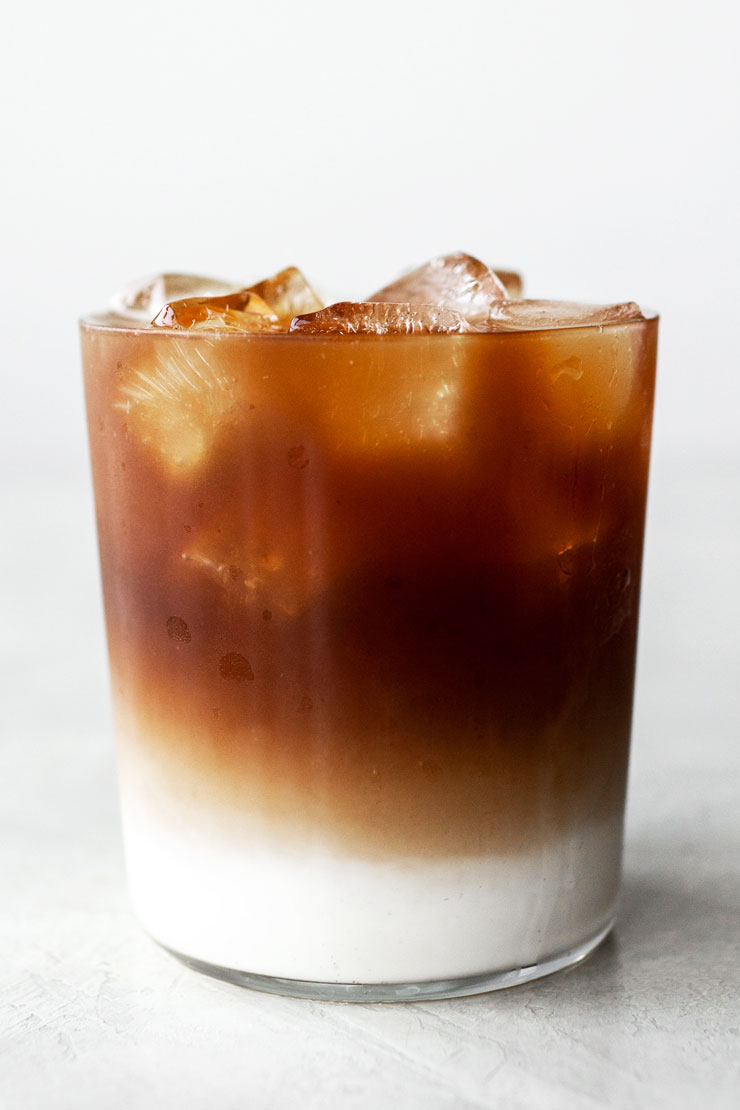 Try this recipe if you're already a fan of cold brew with milk and sugar, and want to learn how to make it pretty by layering it. Learn how to get that layering look without any fuss.
It uses a brown sugar simple syrup for a more flavorful and rounded sweetness but you can use any sugar you like. The step-by-step for making the simple syrup is included.
The milk is whole milk but it can be swapped out with any kind, even your plant-based favorite.
There are only 4 ingredients, but additional tips are included for suggesting adjustments for the coffee, milk, and sugar.
Ingredients: cold brew coffee, milk, brown sugar, filtered hot water, ice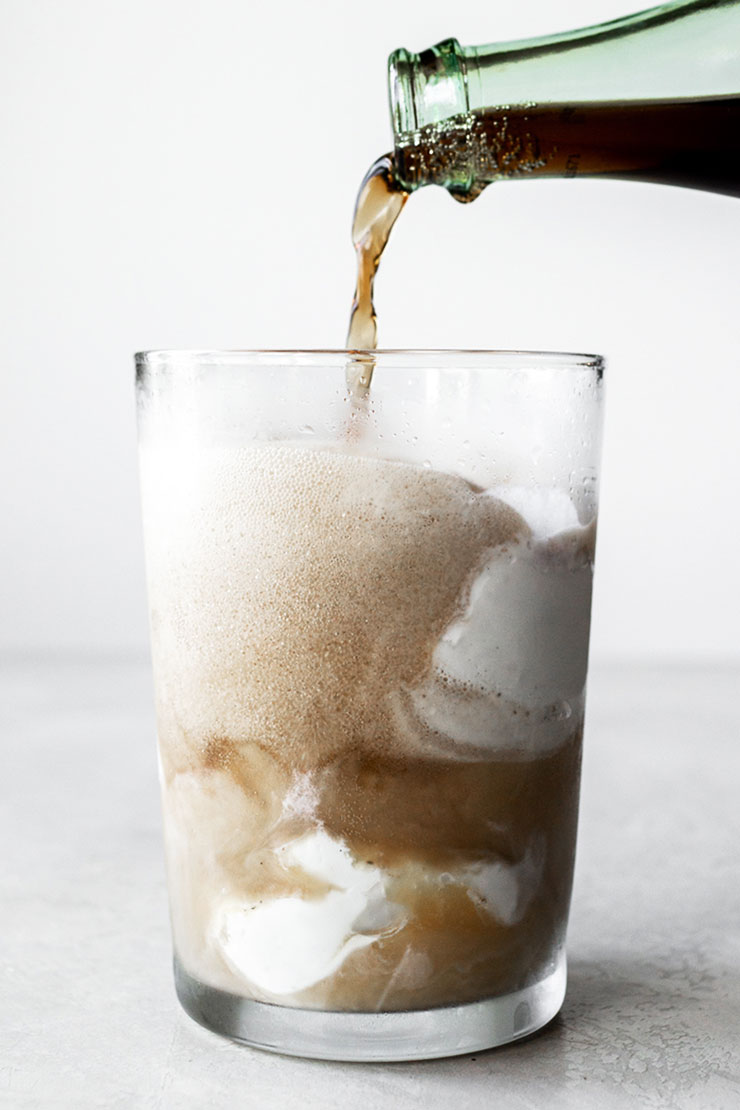 A drinkable delicious dessert ready in seconds with only cold brew coffee, Coke, and ice cream.
Have your cold brew already steeped, chill a can of Coke, and scoop out the vanilla ice cream. Make sure to chill your glass in the freezer for a few minutes before assembling and serving this drink.
Choose your favorite vanilla ice cream for the best flavor and texture, or any dairy-free alternative for your preference.
Coca-Cola gives this drink that signature Coke flavor that pairs well with the cold brew. Mexican Coke tastes even better since it's made with real cane sugar.
It's easiest to drink with a regular straw (paper works too!) since drinking it from the glass will get soda and ice cream foam on your nose.
Ingredients: Cold brew coffee, Coke, vanilla ice cream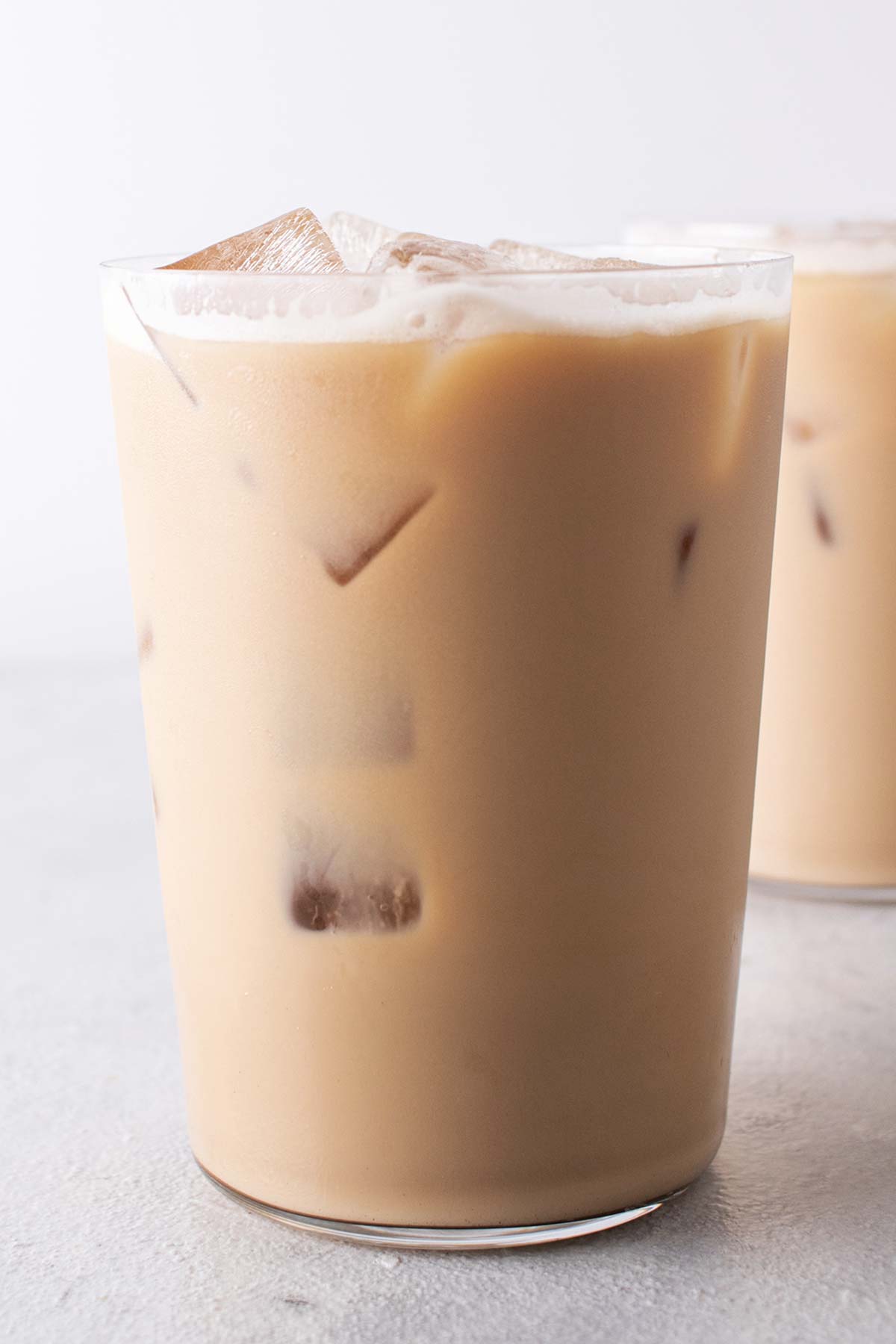 This Starbucks copycat recipe will make a grande sized latte with 4 ingredients and any espresso machine.
Choose Starbucks' Blonde Espresso for a true copycat drink. Available in whole beans, ground, and Nespresso pods. You'll need 2 espresso capsules for the Nespresso directions.
Step-by-step instructions for homemade vanilla syrup to make it fresher and more vanilla flavored, but store bought will also work.
Use any milk you have, even plant-based, but 2% is the go-to at Starbucks and in this recipe.
Expert tips for customizing this drink include cold foam, alternate coffees, and syrup suggestions.
Ingredients: Blonde espresso, vanilla syrup, milk, ice
Perfect for fans of Pumpkin Spice Lattes, this adds that same flavor to cold foam and uses a cold brew base.
Cold brew is easily made in a cold brew maker or using Starbucks Cold Brew Pitcher Packs like this recipe calls for.
Cold foam is easier to make than you think and doesn't require the special blender at Starbucks. It's a really delicious topping for any iced coffee drink.
Since there's no Pumpkin Spice in the coffee, just the topping, you can adjust how much spice to suit your taste.
With 6 ingredients, and made more streamlined by using Pumpkin Spice blend (instead of individual spices), this drink will be ready in about 5 minutes.
Expert tips will guide you through alternative ways to make the topping, pumpkin sauce, coffee, and flavoring.
Ingredients: Cold brew coffee, vanilla syrup, half & half, pumpkin sauce, pumpkin spice, ice.
A 5-minute iced coffee with 4 ingredients using a French press and condensed milk.
Make your ice with filtered water and use it to prep the coffee since this drink has minimal ingredients and it'll taste better. Select medium-coarse grinds for the coffee, like you would for making cold brew.
Sweetened condensed milk is the star of this one and can't be replaced with other milks since that's the signature taste in a Vietnamese Coffee, iced or hot.
Expert tips include suggestions for coffee grinds and preparation.
Ingredients: Coffee, filtered water, sweetened condensed milk, ice
Related
Want to save these recipes for later? Pin it now to your Pinterest board!