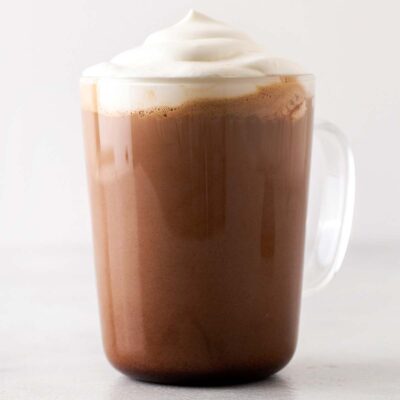 Starbucks Mocha Copycat
Make your own mocha with chocolate, espresso, milk, and whipped cream at home.
Milk will increase in volume when frothed, so to get 1 ⅓ cups of frothed milk for this recipe, use 1 cup of cold milk.
Use store-bought or homemade chocolate syrup.
All mochas and lattes at Starbucks are made with 2% milk, but you can use any milk you like.
Starbucks sweetens and flavors their whipped cream with vanilla syrup. Use store-bought or homemade.
Vanilla syrup can be purchased at Starbucks by asking the barista if they have any extra in stock. It should cost around $14. They'll only sell you the vanilla syrup if they have extras to sell.
Instead of chocolate syrup, you can make a mocha the way it's done at Dutch Bros by using chocolate milk. Steam chocolate milk and combine it with the espresso.
If you don't have a way to make espresso, use instant coffee. Combine 1 tablespoon of instant coffee and 1/4 cup hot water to replace the espresso in the recipe.
---
Using A Nespresso Machine
1 shot of espresso = 1 Nespresso espresso capsule
To make a 16 ounce (grande) Starbucks drink, you'll need 2 Nespresso espresso or ristretto capsules. You can also use 1 Vertuo double espresso.
With the Vertuo machine capsules, only use espresso capsules and not the coffee capsules that make 7.77 ounces.
Recommended Nespresso capsules to make Starbucks drinks at home:
Starbucks Blonde Espresso Roast
Nespresso Vertuo capsules
Nespresso Original capsules
Calories:
471
|
Carbohydrates:
66
g
|
Protein:
3
g
|
Fat:
22
g
|
Saturated Fat:
14
g
|
Polyunsaturated Fat:
1
g
|
Monounsaturated Fat:
6
g
|
Cholesterol:
67
mg
|
Sodium:
90
mg
|
Potassium:
306
mg
|
Fiber:
2
g
|
Sugar:
54
g
|
Vitamin A:
875
IU
|
Vitamin C:
1
mg
|
Calcium:
54
mg
|
Iron:
2
mg