So much better than store-bought, make this rich and delicious chocolate syrup at home with just a few simple ingredients.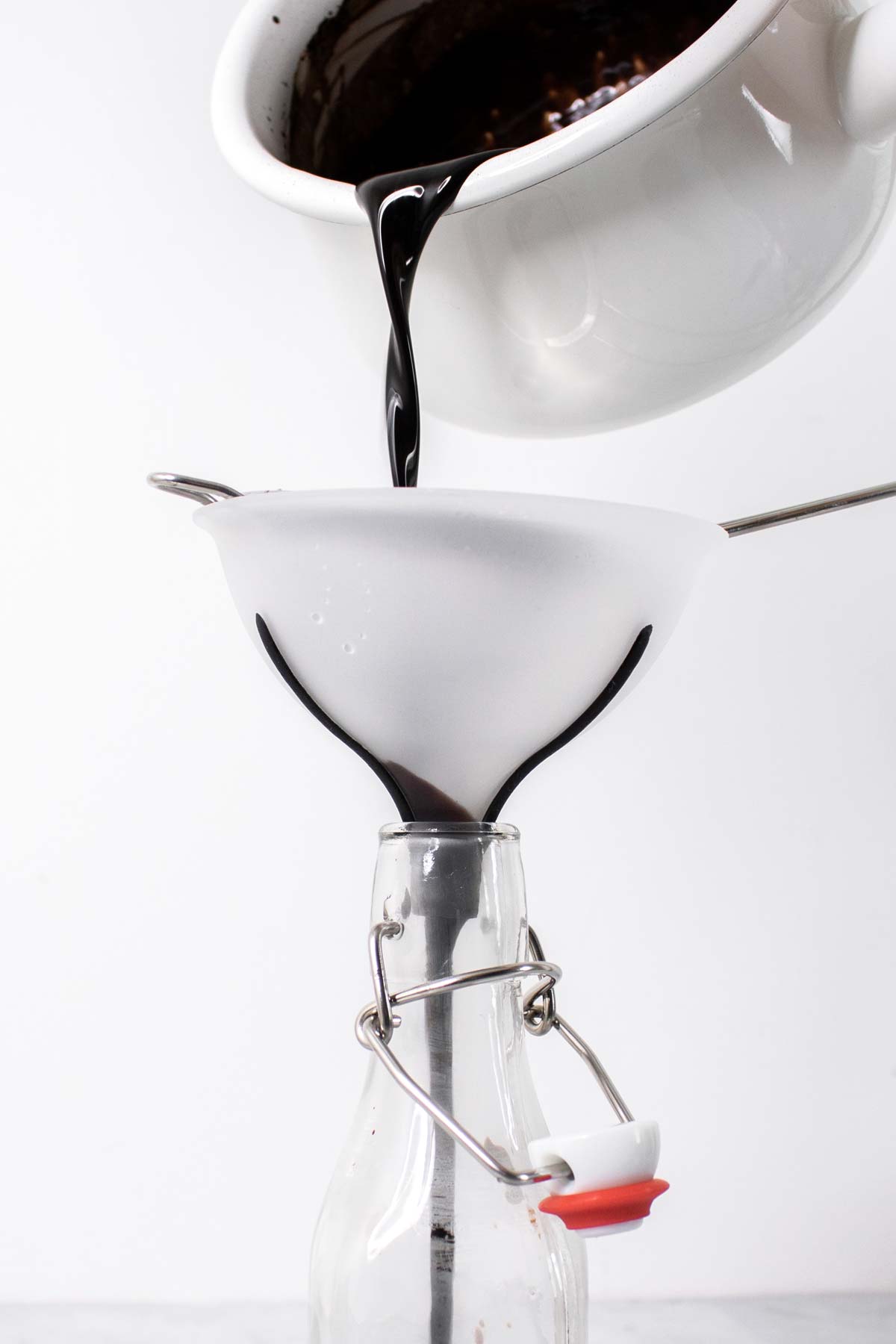 About This Chocolate Syrup
Sugar, water, double Dutch dark cocoa powder (the secret to make it rich and delicious), salt and vanilla extract are the only ingredients need to make this delicious, rich chocolate syrup at home.
It's super simple to make at home and so much better than store-bought chocolate syrup, like Hershey's, that are loaded with chemicals.
This recipes makes a cup of chocolate syrup that can be used to flavor and sweeten coffee and tea. Drizzled the syrup on ice cream or add it to milk to make chocolate milk.
Add this chocolate syrup to coffee to turn your drink into mocha.
RELATED: Starbucks Classic Syrup
Ingredient Notes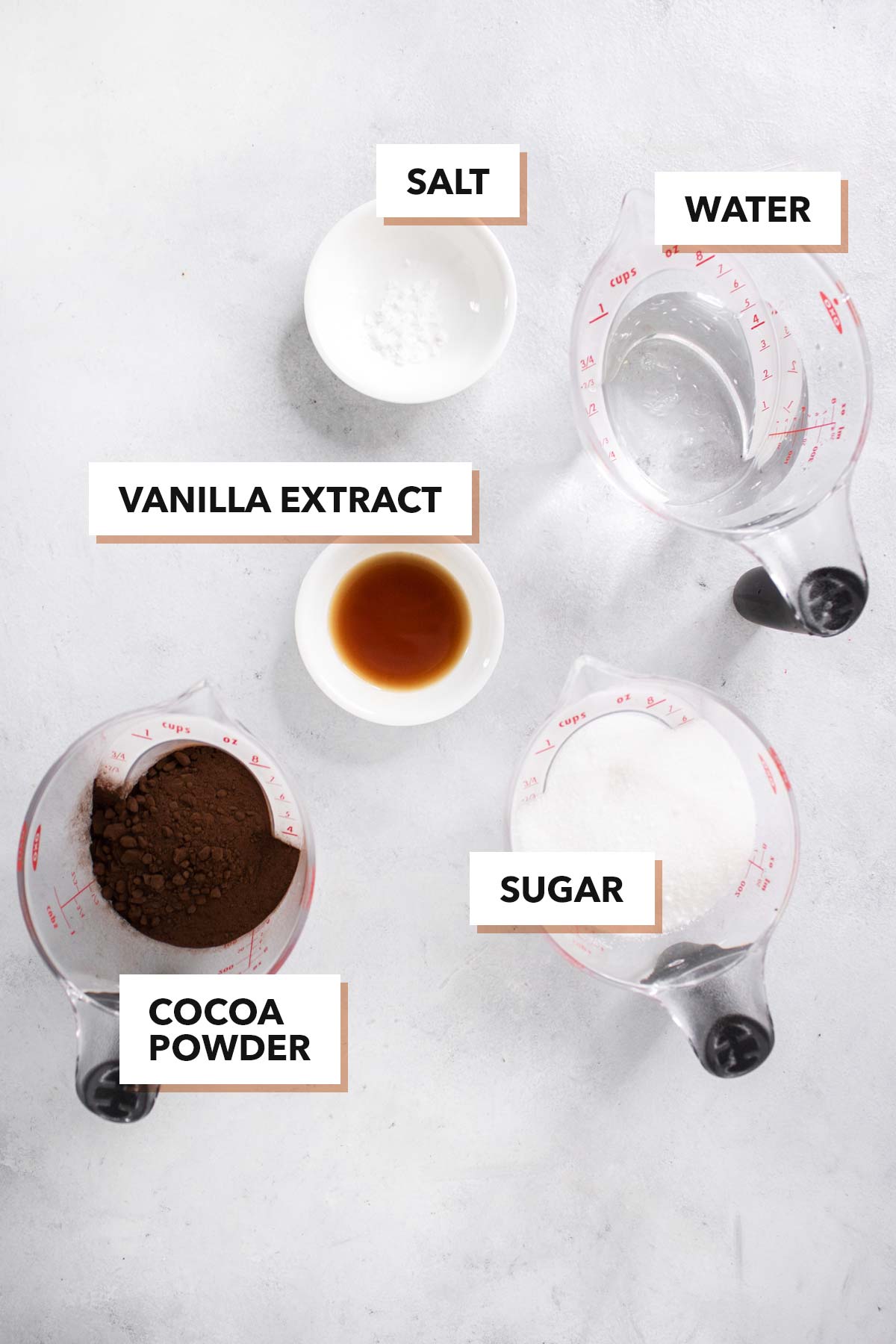 Step-by-Step Instructions
Here's a quick overview of the steps to make this syrup. For full ingredients and instructions, scroll down to the recipe.
Put all ingredients except vanilla extract into a saucepan and simmer.
Stir and make sure sugar dissolves completely.
Cool down syrup and add vanilla extract.
Pour syrup into an airtight container.
My Glass Bottle Pick
Photo Credit: amazon.com
Set of 6 glass bottles each perfectly sized to hold a cup of syrup. The stopper seal is attached, which means you'll never lose the cap.
SHOP NOW
Expert Tips
Chocolate syrup will be thin right after cooking but will thicken a bit after it cools. It'll still be pourable.
Using good quality cocoa powder is necessary to make the best tasting chocolate syrup so if you're going to spend extra money on any of the ingredients, have it be that.
Chocolate syrup can be stored in the refrigerator in an airtight container for up to 2 weeks.
To flavor coffee or tea, add 1-2 tablespoons of chocolate syrup to each cup.
To make hot chocolate or chocolate milk, add 1/4 cup syrup into hot or cold milk.
Questions You May Have
Is this homemade chocolate syrup better than Hershey's Syrup?
A hundred times yes! This recipe uses just 5 ingredients. Hershey's has 12 and it includes things like high fructose corn syrup, xanthan gum, and artificial flavor. Plus, the homemade version just simply tastes better.
What's the difference between chocolate syrup and chocolate sauce?
Chocolate sauce is usually made with cream and it's thicker.
Can I add vanilla extract with all the other ingredients in the saucepan?
Vanilla extract will evaporate and the taste will weaken if you heat it for too long so it's best to add it after the syrup has cooled a bit.
What else can I use this chocolate syrup for?
Use it as a topping for desserts like ice cream or as a dip for pretzels. I like to use it to make chocolate milk and hot chocolate.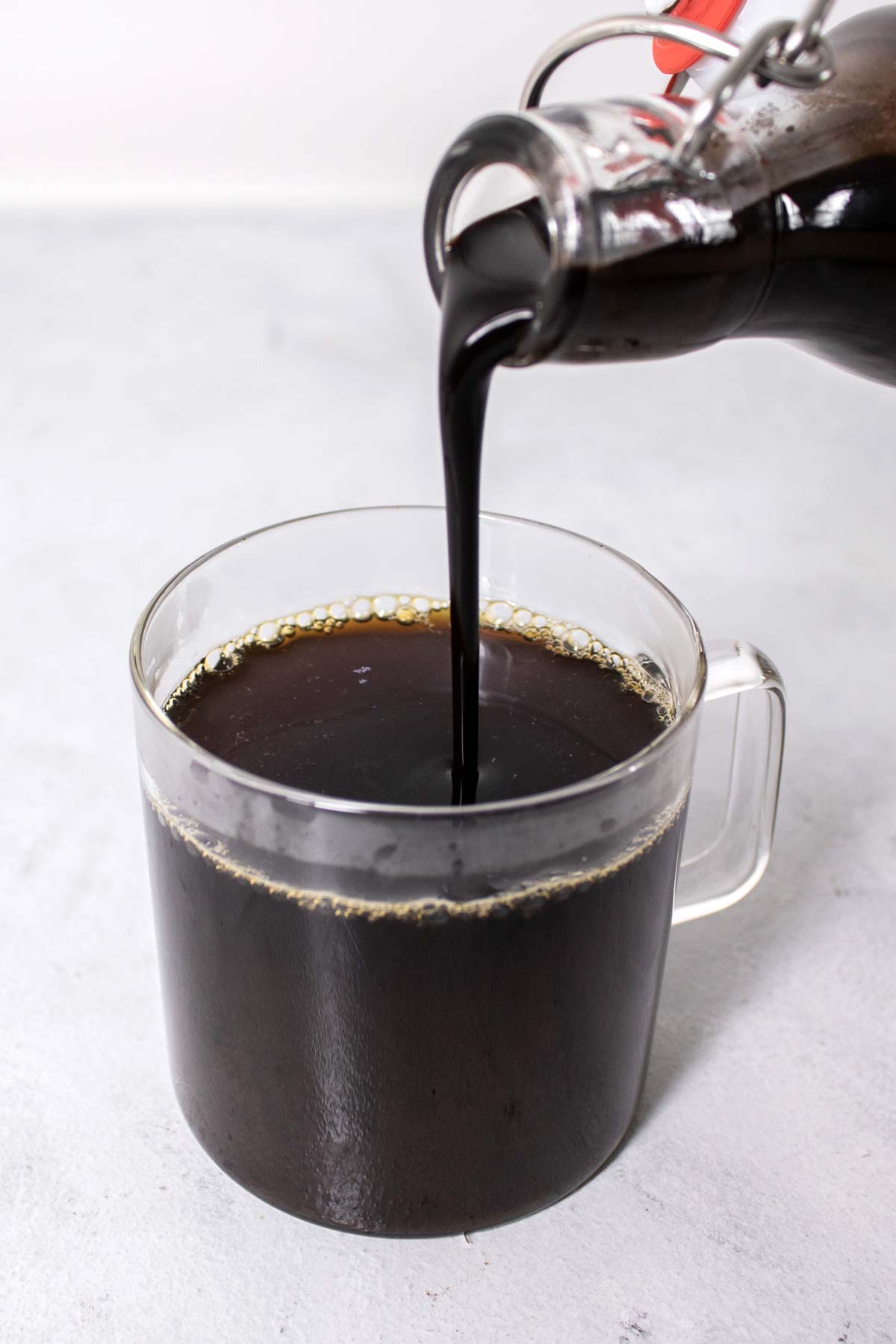 Recipes Using Chocolate Syrup
PIN THIS
Want to save this Homemade Chocolate Syrup recipe for later? Pin it now to your Pinterest board!
SAVE TO PINTEREST
Simple Chocolate Syrup
So much better than store-bought, make this rich and delicious chocolate syrup at home.
INSTRUCTIONS
Put water, sugar, cocoa powder, and salt into a saucepan. Simmer.

Simmer until the sugar has completely dissolved. Stir occasionally. Heat for 30 more seconds on low heat then take off heat and cool.

Add vanilla extract.

Once the syrup has cooled a bit, stir in the vanilla extract.

Pour syrup into an airtight container.

The syrup will keep for up to 2 weeks in the refrigerator.
EQUIPMENT
NOTES
Recipe makes 1 cup (16 tablespoons) of chocolate syrup.
Use 1-2 tablespoons of syrup per 1 cup of coffee.
NUTRITION
Calories:
78
|
Carbohydrates:
20
g
|
Protein:
1
g
|
Fat:
1
g
|
Saturated Fat:
1
g
|
Sodium:
51
mg
|
Potassium:
82
mg
|
Fiber:
2
g
|
Sugar:
17
g
|
Calcium:
7
mg
|
Iron:
1
mg