Perfectly brewed iced coffee made completely decadent with a sweet and salty cream froth.
Iced Coffee with Cream Froth
Iced coffee made in a coffee maker, quickly chilled, then topped with a rich cream froth.
Easy and delicious iced coffee recipe.
Coffee for this recipe is made in a coffee maker.
Decadent, sweet cream froth made in seconds with a handheld milk frother.
Shortcuts to make the drink from start to finish in about 5 minutes.
RELATED: 14 Refreshing Iced Coffee Recipes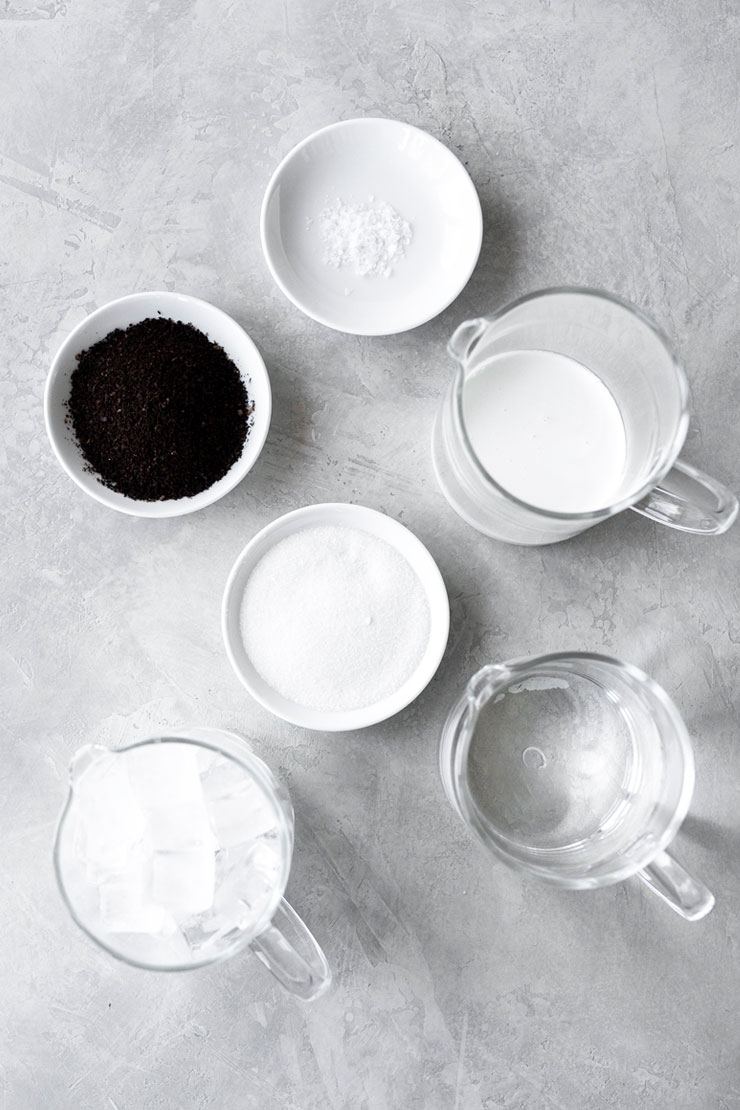 Iced Coffee Ingredients
My handheld Milk frother pick:
How to Make Iced Coffee with Cream Froth
There are 2 parts to this drink:
Brewed coffee poured over ice
Cream froth
STEP 1: Brew coffee.
Use medium-fine grind coffee in a coffee maker to brew.
(If you're grinding your own coffee, in a Barataza Encore coffee grinder, set it to #18.)
Filtered water will usually make a better tasting cup of coffee than tap water.
To make 2 iced coffees, use 3 tablespoons of ground coffee and 1.5 cups of water.
STEP 2: Lightly whip heavy cream, sugar, and salt.
Whisk together 1/3 cup heavy cream, 1 tablespoon sugar, and 1/4 teaspoon salt using a handheld milk frother until the cream thickens but doesn't form any peaks.
It shouldn't take more than 15 seconds.
STEP 3: Slowly pour coffee into 2 cups with ice.
Into a cup with ice, pour the coffee, leaving room at the top for the cream froth.
Make sure your glass can handle hot and cold temperature changes.
STEP 4: Pour cream froth on top.
The lightly whipped cream will float on top for a bit then make its way down.
Stir before drinking.
ICED COFFEE WITH CREAM FROTH TIPS
The cream froth can be made ahead of time and stored in the refrigerator in an airtight container for 3-4 days.
Don't overwhip the cream froth. You want it to be pourable. If you've overwhipped, don't worry — just add some heavy cream and stir with a spoon.
Make sure you use a cup that can handle high and low temperatures without breaking.
QUESTIONS YOU MAY HAVE
Related