Make delicious cold foam at home for your iced drinks! See how quick and easy it is to make flavored cold foam in just a couple of minutes.
Homemade Cold Foam
Cold foam is a foamy drink topping for iced beverages. It's velvety, smooth, and adds a frothy layer of richness to a drink.
It's made with heavy cream, milk, and syrup or sauce to flavor and sweeten the cold foam.
Starbucks makes cold foam using a special blender that's only used for making cold foam. The blender has a circular disc that aerates the cream and milk to create cold froth.
There are three easy ways to make cold foam at home:
French press
A French press makes perfect cold foam. The filter with its mesh strainer pushes air into the milk and cream, creating tiny little bubbles of foam.
Electric milk frother
The easiest way to make cold foam is with an electric milk frother since it just takes a push of a button. Make sure your frother has a cold setting.
Handheld milk frother
This does the job, but not as well as the French press or the electric milk frother.
RELATED: Starbucks Salted Caramel Cream Cold Brew Copycat
Expert Tips
A shortcut I like to use is replacing the heavy cream and milk with half & half when I want super quick cold foam. There's one less ingredient to measure and it's like a light version of cold foam.
The best cold foam is when tiny, uniform bubbles are created in the cream and milk since that's what creates the smooth texture.
Use cold foam instead of milk or cream in iced drinks. It can also be added into drinks with milk or cream to make it even creamier.
Cold foam is best when it's made and served immediately.
RELATED: Starbucks Cold Brew Coffee Copycat
Cold Foam at Starbucks
All cold foams are made in a special cold foam blender.
Vanilla sweet cream cold foam
Vanilla flavored cold foam with heavy cream and milk. This is the base used for all other flavored cold foams.
Salted caramel cream cold foam
This cold foam goes on top of the Salted Caramel Cream Cold Brew.
Chocolate cream cold foam
Chocolate malt (not mocha sauce) is blended with vanilla sweet cream create this tasty foam.
Customized cold foams can be added to any cold drink. Ask for any available syrup to be blended into vanilla sweet cream cold foam.
Cold Foam at Dunkin'
Dunkin's cold foam comes in a can! They use Reddi-wip's sweet cream which is made with nonfat milk, sugar, and cream.
Their cold foam can be added to any cold drink at Dunkin' and it's popular on cold brews like "The Charli Cold Foam" drink.
RELATED: Best Dunkin' Iced Coffees
10+ Easy Cold Foam Recipes
Delicious cold foam with brown sugar syrup and ground cinnamon.
SEE RECIPE
---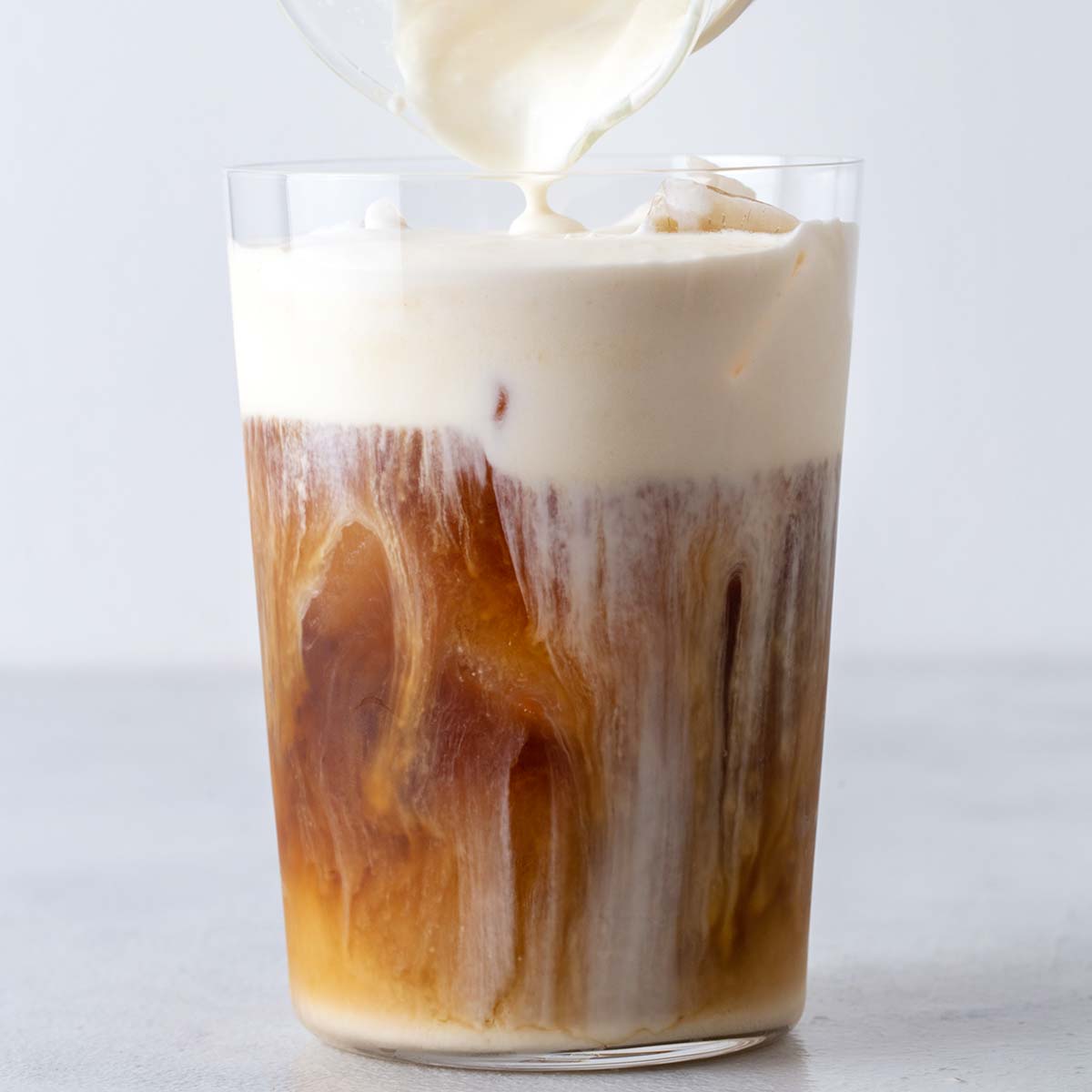 Use store-bought caramel sauce to make this deliciously sweet cold foam.
SEE RECIPE
---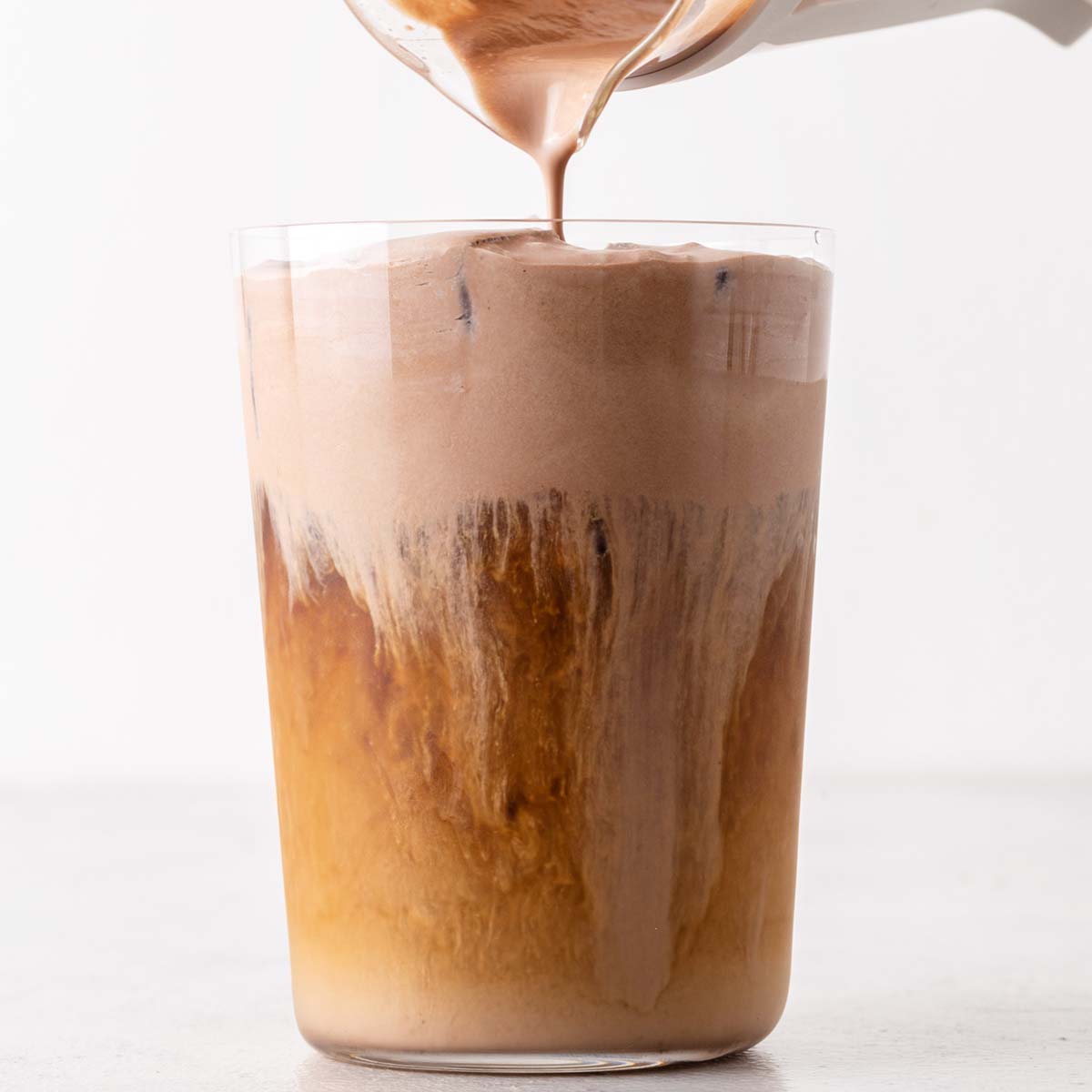 Add this to your next cold brew to make a layered iced mocha!
SEE RECIPE
---
A Starbucks copycat recipe, this is a great cold foam to add to any cold drink.
SEE RECIPE
---
Bright green tea cold foam is great with strawberry milk or homemade Pink Drink.
SEE RECIPE
---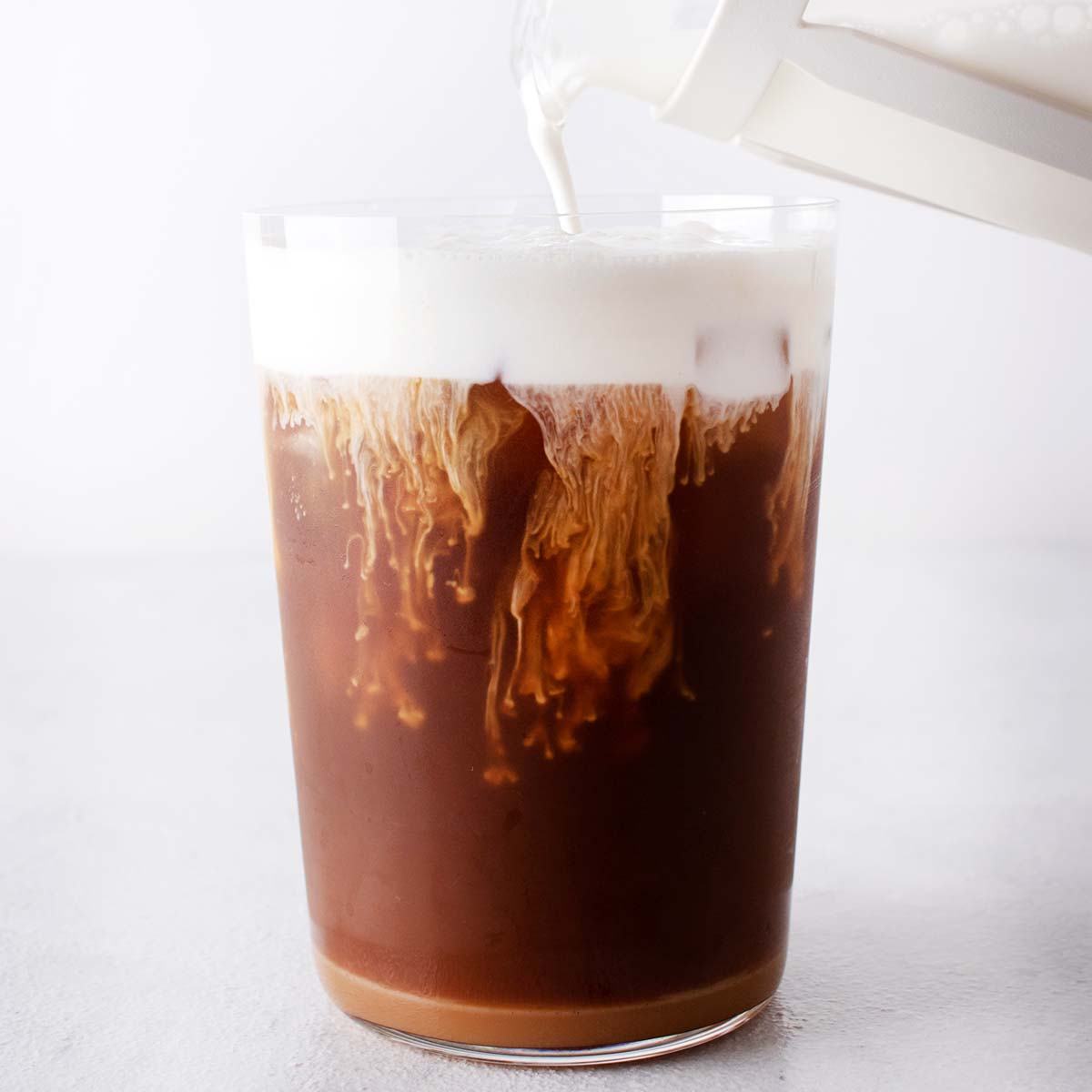 Top cold brew or iced coffee with this sweet and salty topping.
SEE RECIPE
---
Enjoy the flavors of fall all year with this creamy cold foam made with pumpkin spice flavors.
SEE RECIPE
---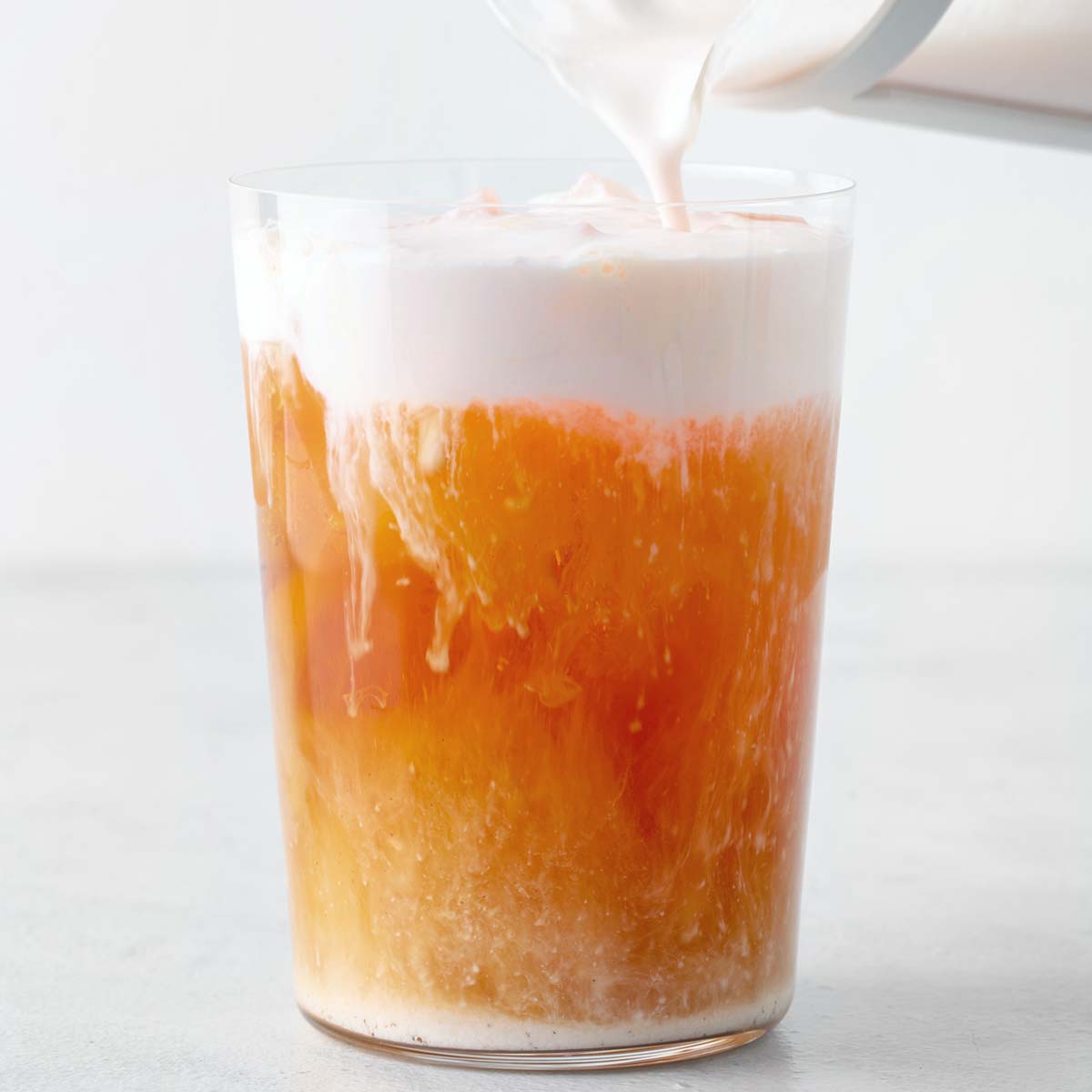 Great on top of iced coffee or iced tea, give this fruity cold foam a try.
SEE RECIPE
---
2 ingredients are all that's needed to make this cold foam using my half & half shortcut.
SEE RECIPE
---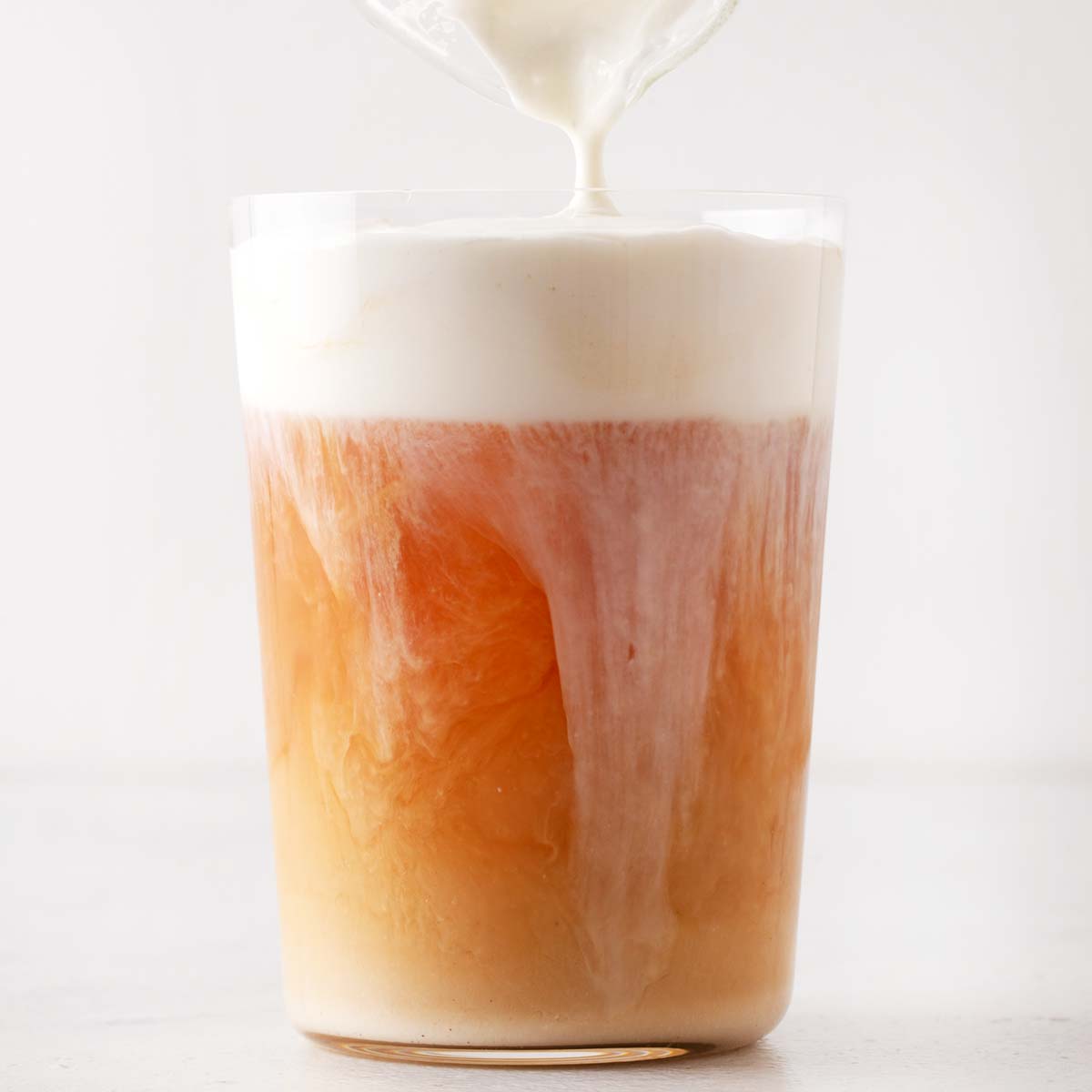 Top off an iced drink with cafe-quality lavender flavored cold foam.
SEE RECIPE
---
This floral and sweet drink topping is so easy to make at home.
SEE RECIPE
---
Top your favorite iced drink with this frothy butterfly pea flower cold foam.
SEE RECIPE
---
Make iced drinks even better with this sweet and floral hibiscus cold foam.
SEE RECIPE
Related
Want to save these recipes for later? Pin it now to your Pinterest board!