Seasonal drink like Pumpkin Spice Latte and Apple Crisp Oatmilk Macchiato are back on the Starbucks menu for the fall. See which drinks are the most popular!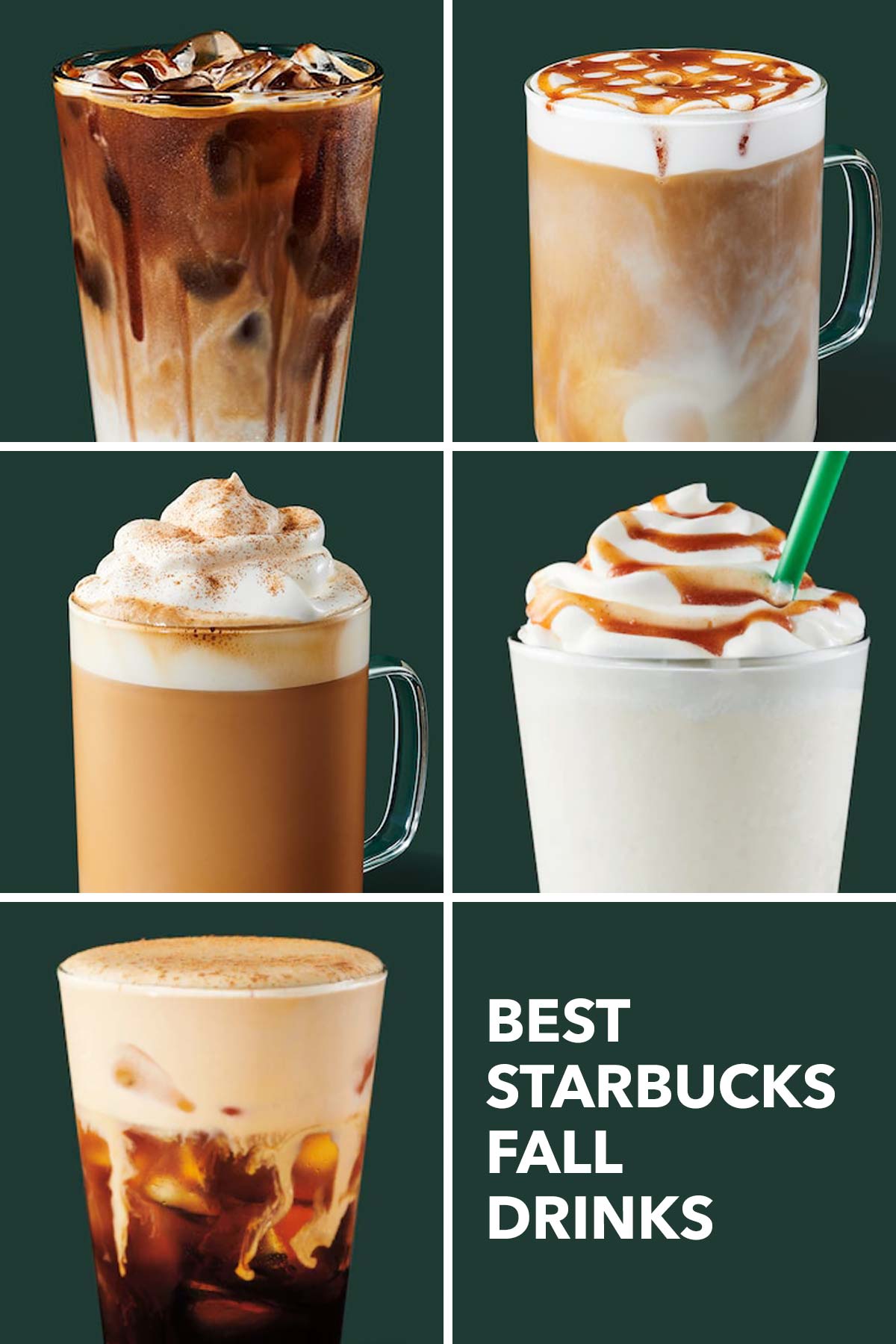 Seasonal Fall Drinks at Starbucks
To kick start every fall, Starbucks launches a line of seasonal drinks that includes the famous Pumpkin Spice Latte.
Last year, the Apple Crisp drinks were introduced for the first time, and this year, they gave it a twist by replacing 2% milk with oatmilk.
There are 10 drinks on the fall menu that are made using pumpkin spice and apple crisp flavors.
RELATED: 13 Starbucks Pumpkin Drinks (Including Secret Menu)
Fall Syrups, Sauces, and Toppings
These syrups, sauces, and toppings can be added to any drink like an Iced Latte or brewed coffee.
Pumpkin Spice Sauce
Made with condensed skim milk and pumpkin puree, this sauce contains dairy and is added to drinks like Pumpkin Spice Latte.
Pumpkin Spice Topping
A combination of cinnamon, ginger, nutmeg, and clove, this topping is dusted on top of pumpkin spice drinks.
Pumpkin Cream Cold Foam
Cold foam made with pumpkin spice sauce, it's only on the menu when the sauce is available in the fall.
Apple Brown Sugar Syrup
This syrup flavors the apple crisp drinks like Iced Apple Crisp Oatmilk Macchiato.
Spiced Apple Drizzle
Made with sugar, apple juice concentrate, cinnamon, and salt, the drizzle is added to the apple crisp drinks.
RELATED: Starbucks Fall 2022 Cups
Tips on Ordering Fall Drinks
The Apple Crisp Oatmilk drinks don't have to be made with oatmilk and can be made with any milk available at Starbucks.
Chai drinks are especially popular to customize with the fall syrups and toppings since the flavors are similar. Try adding a couple of pumps of apple brown sugar syrup into an Iced Chai Latte or topping it with pumpkin cream cold foam.
Top iced drinks with apple brown sugar cold foam, a customized cold foam by blending 2 pumps of apple brown sugar syrup into vanilla sweet cream cold foam. This modification must be done in person since it's not possible to request this on the app.
The fall syrup, sauces, and toppings can be added to any drink, but there may be an extra cost.
RELATED: 27 Best Starbucks Drinks (Including Secret Menu)
Best Starbucks Fall Drinks, Ranked
10. Pumpkin Spice Creme Steamer
2% Milk + Pumpkin Spice Sauce + Whipped Cream + Pumpkin Spice Topping
Caffeine in a grande: 0 mg
Calories in a grande: 400
Sugar in a grande: 52 g
A caffeine-free hot drink, this drink is just hot steamed milk with pumps of pumpkin spice sauce and contains no coffee.
Drink sizes: Kids/Short, Tall, Grande, Venti
9. Pumpkin Spice Creme Frappuccino
Ice + Whole Milk + Creme Frappuccino Syrup + Pumpkin Spice Sauce + Whipped Cream + Pumpkin Spice Topping
Caffeine in a grande: 0 mg
Calories in a grande: 360
Sugar in a grande: 47 g
Made with any coffee, this pumpkin spice flavored Frappuccino is caffeine-free.
Drink sizes: Tall, Grande, Venti
8. Apple Crisp Oatmilk Creme Frappuccino
Ice + Oatmilk + Creme Frappuccino Syrup + Apple Brown Sugar Syrup + Whipped Cream + Spiced Apple Drizzle
Caffeine in a grande: 0 mg
Calories in a grande: 380
Sugar in a grande: 46 g
An Apple Crisp Oatmilk Frappuccino, but made without any coffee, so it's caffeine-free.
Drink sizes: Tall, Grande, Venti
7. Apple Crisp Oatmilk Frappuccino
Ice + Oatmilk + Coffee Frappuccino Syrup + Coffee + Apple Brown Sugar Syrup + Whipped Cream + Spiced Apple Drizzle
Caffeine in a grande: 100 mg
Calories in a grande: 420
Sugar in a grande: 60 g
Made with oatmilk, instead of whole milk like all other Frappuccinos, it's a frozen drink with the flavors of apple brown sugar and spiced apple.
Drink sizes: Tall, Grande, Venti
6. Apple Crisp Oatmilk Macchiato
Oatmilk + Blonde Espresso + Apple Brown Sugar Syrup + Spiced Apple Drizzle
Caffeine in a grande: 170 mg
Calories in a grande: 320
Sugar in a grande: 29 g
This hot drink has hot, steamed oatmilk on the bottom and blonde espresso on top along with a drizzle of spice apple.
Drink sizes: Tall, Grande, Venti
5. Pumpkin Spice Frappuccino
Ice + Whole Milk + Coffee Frappuccino Syrup + Coffee + Pumpkin Spice Sauce + Whipped Cream + Pumpkin Spice Topping
Caffeine in a grande: 100 mg
Calories in a grande: 420
Sugar in a grande: 65 g
A frozen drink made with coffee and pumpkin spice flavors.
Drink sizes: Tall, Grande, Venti
RELATED: Starbucks Pumpkin Spice Frappuccino Copycat
4. Pumpkin Cream Cold Brew
Ice + Cold Brew + Vanilla Syrup + Pumpkin Cream Cold Foam + Pumpkin Spice Topping
Caffeine in a grande: 185 mg
Calories in a grande: 250
Sugar in a grande: 31 g
This cold brew is flavored with vanilla syrup, not pumpkin spice sauce, so the pumpkin spice flavors are only in the pumpkin spice cold foam and topping.
Drink sizes: Tall, Grande, Venti, Trenta
RELATED: Starbucks Pumpkin Cream Cold Brew Copycat
3. Iced Apple Crisp Oatmilk Macchiato
Ice + Oatmilk + Blonde Espresso + Apple Brown Sugar Syrup + Spiced Apple Drizzle
Caffeine in a grande: 170 mg
Calories in a grande: 310
Sugar in a grande: 34 g
This iced drink has oatmilk on the bottom and blonde espresso on top. The spiced drizzle is added on top of the espresso.
Drink sizes: Tall, Grande, Venti
2. Iced Pumpkin Spice Latte
Ice + 2% Milk + Espresso + Pumpkin Spice Sauce + Whipped Cream + Pumpkin Spice Topping
Caffeine in a grande: 150 mg
Calories in a grande: 370
Sugar in a grande: 45 g
An iced version of the hugely popular Pumpkin Spice Latte, it comes with whipped cream and pumpkin spice topping.
Drink sizes: Tall, Grande, Venti
RELATED: Starbucks Iced Pumpkin Spice Latte Copycat
1. Pumpkin Spice Latte
2% Milk + Espresso + Pumpkin Spice Sauce + Whipped Cream + Pumpkin Spice Topping
Caffeine in a grande: 150 mg
Calories in a grande: 390
Sugar in a grande: 50 g
The number drink on the list is the most anticipated drink every fall. Pumpkin Spice Latte (PSL for short), has been on the Starbucks menu every fall for the last 19 years!
Drink sizes: Short, Tall, Grande, Venti
RELATED: Starbucks Pumpkin Spice Latte Copycat
Fall Secret Menu Drinks to Try
Iced Apple Brown Sugar Oatmilk Chai Latte [Secret Menu]
Base drink: Iced Chai Latte
Customizations:
Add 2 pumps of apple brown sugar syrup
Replace 2% milk with oatmilk
How to order: "Can I get a grande Iced Chai Latte with oatmilk and 2 pumps apple brown sugar?"
An apple brown sugar twist on an Iced Chai Latte.
Drink sizes: Tall, Grande, Venti
Iced Pumpkin Spice Coffee [Secret Menu]
Base drink: Iced Coffee with Milk
Customizations: Add pumpkin spice sauce
How to order: "Can I get a grande Iced Coffee with Milk and pumpkin spice sauce?"
This drink is made with Classic syrup so you can replace the sweetener or add pumpkin spice sauce to make the drink sweeter.
Drink sizes: Tall, Grande, Venti, Trenta
Apple Brown Sugar Oatmilk Shaken Espresso [Secret Menu]
Base drink: Iced Brown Sugar Oatmilk Shaken Espresso
Customizations: Replace brown sugar syrup with apple brown sugar syrup
How to order: "Can I get a grande Iced Brown Sugar Oatmilk Shaken Espresso but with apple brown sugar?"
The small tweak of replacing brown sugar in the drink with apple brown sugar makes this an instead fall favorite.
Drink sizes: Tall, Grande, Venti
Related