Coffee ice cubes can be used to cool down coffee without watering it down or made into an instant latte.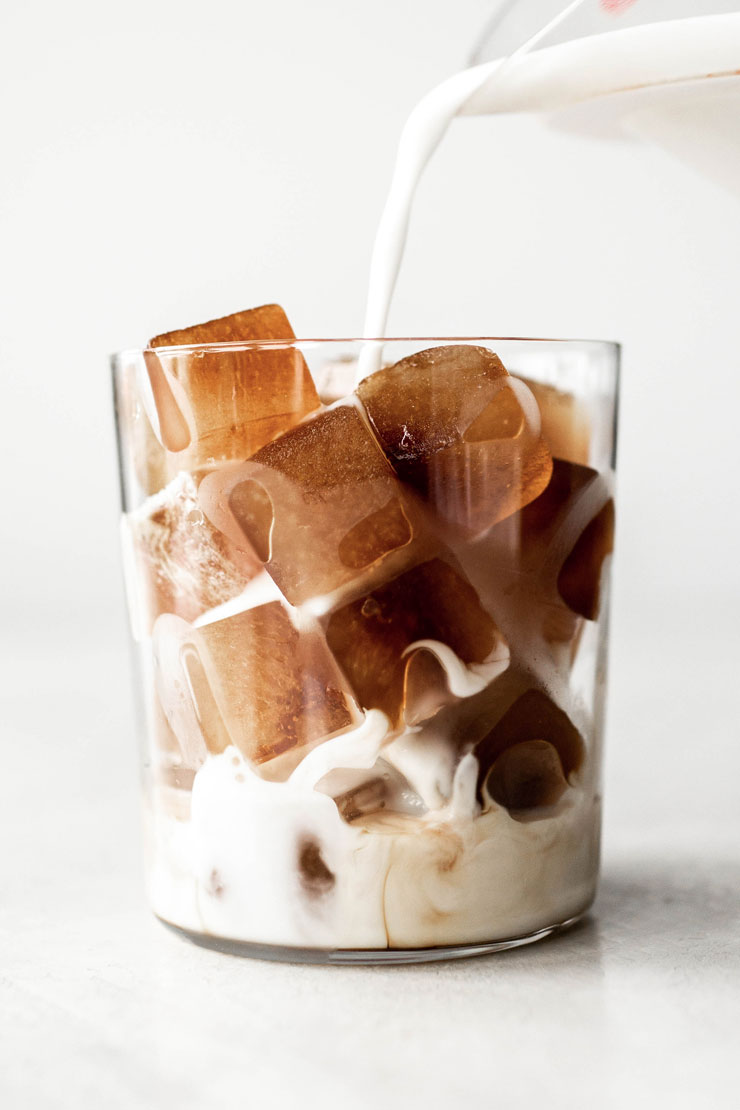 Coffee Ice Cubes
Super easy to make! Just brew coffee (hot or cold brew) and freeze in ice cube trays.
Coffee for this recipe is made in a coffee maker but cold brewed coffee can also be used.
Sugar is added to the coffee, then frozen so it's pre-sweetened.
Add milk to make an iced latte.
Add hot coffee to make quick iced coffee.
Coffee Ice Cube Ingredients
My Coffee Maker Pick:
How to Make Coffee Ice Cubes
STEP 1: Make coffee.
I use my trusty Zojirushi coffee maker to brew coffee.
Better tasting water makes better tasting coffee — use filtered water if possible.
STEP 2: Stir in sugar.
While the coffee is still hot, stir the sugar until it completely dissolves.
STEP 3: Pour coffee into ice cube trays.
I use a silicone ice cube tray and I pour hot coffee directly into the trays.
Each tray holds a cup of coffee so with the upper and lower trays, it'll hold 2 cups.
STEP 4: Freeze ice cube trays.
Depending on the size of your ice cube tray, it'll take about 4 hours to freeze the coffee. I usually leave it in the freezer overnight.
STEP 5: Add ice cubes into a cup.
At this point, you can either add milk to make an iced latte or you can add hot coffee to make it cold without watering it down.
I like adding milk to make an iced latte.
As the coffee ice cube melts, it'll flavor the milk. It's refreshing and delicious.
COFFEE ICE CUBES TIPS
Don't want to use sugar? Stir in any sweetener you like. Try maple syrup, date syrup, or honey.
To make vanilla flavored coffee ice cubes, add 1/2 teaspoon vanilla extract to the coffee after you stir in the sugar.
Any kind of milk can be used to make the iced latte.
QUESTIONS YOU MAY HAVE
Related