A list of caffeine-free and low caffeine hot and cold drinks at Dunkin'.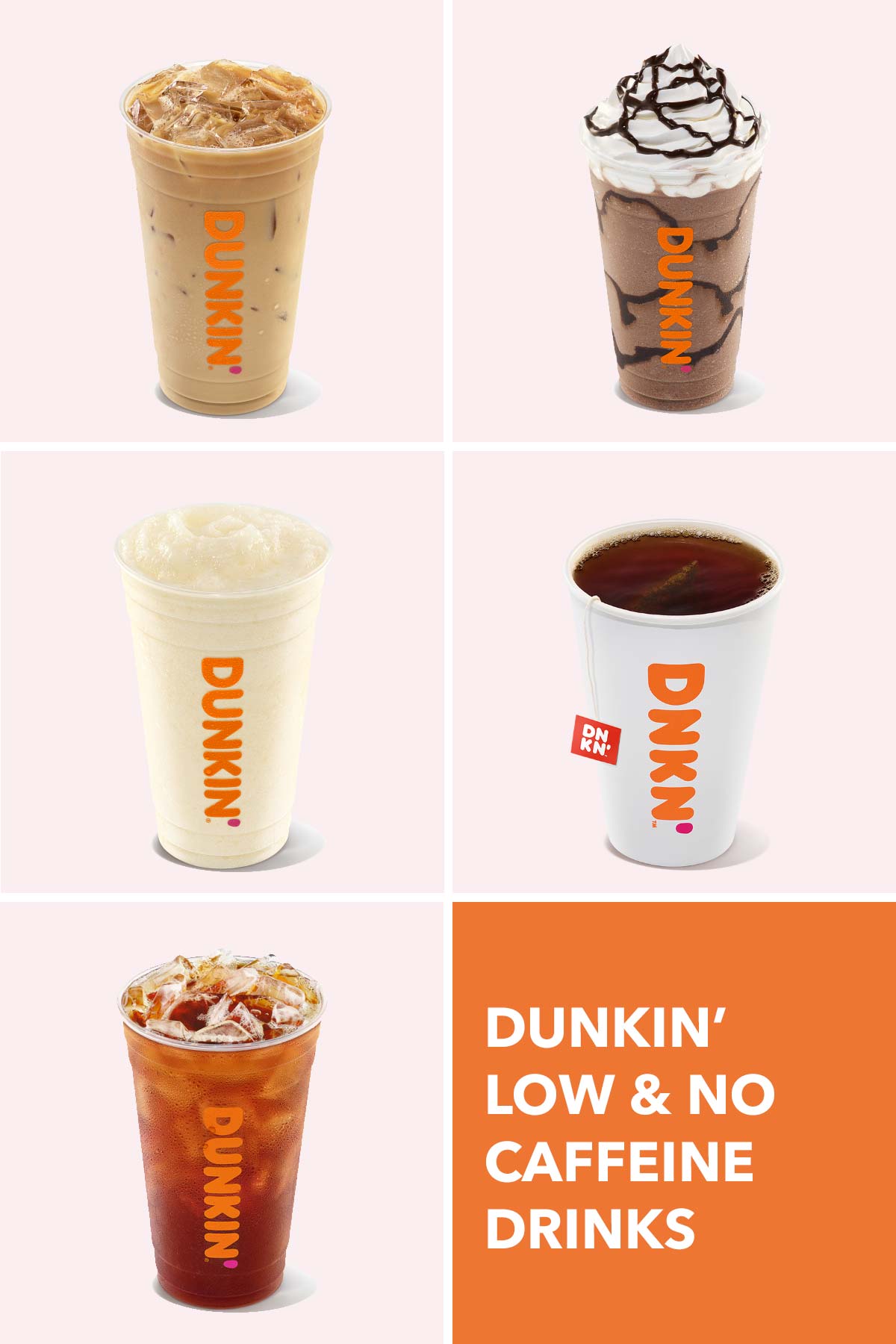 Caffeine-Free & Low Caffeine Drinks at Dunkin'
Dunkin' is known for their coffee, but there are a few drinks that are caffeine-free or low in caffeine.
Only 5 drinks on the the Dunkin' menu contain no caffeine but there are a few that are low in low caffeine (less than 30 mg of caffeine in a medium).
Although some coffee places will tell you that their decaf coffee, espresso, or tea has 0 mg of caffeine, that's simply not possible.
Since the FDA doesn't require companies to list the exact amount in "trivial" amounts of caffeine, some places just note 0 mg.
If you're really sensitive to caffeine, or just want to know which drinks Dunkin' offers that would be safe to drink later in the day and not keep you up at night, this is the list!
RELATED: Caffeine-Free Drinks at Starbucks
Tips for Ordering Caffeine-Free at Dunkin'
Herbal teas contain zero caffeine
The herbal teas on the Dunkin' menu are naturally caffeine-free. Dunkin' has 3 herbal teas: Chamomile Fields, Cool Mint, and Hibiscus Kiss.
Frozen Chocolates have very little caffeine
Chocolate naturally has a small amount of caffeine. The flavored Frozen Chocolate drinks at Dunkin' have about 6 mg of caffeine in a medium, while the Original Frozen Chocolate drink has 30 mg in the same size.
Decaf has some caffeine (always)
There's about that 5 mg of caffeine in decaf espresso and a cup of brewed decaf coffee has about 10 mg of caffeine in a medium size cup.
Decaf Americano, Cappuccino, and Lattes
Dunkin' Americanos, cappuccinos, and lattes have less than 30 mg of caffeine in a medium.
Some Coolattas are caffeine free
Blue Raspberry, Strawberry, and Vanilla Bean Coolattas have 0 mg of caffeine, while the Coffee Coolatta has 23 mg of caffeine.
RELATED: 12 Dunkin' Drinks for Kids
Caffeine-Free Dunkin' Drinks
Chamomile Fields Herbal Infusion
A caffeine-free hot tea, usually enjoyed on its own or lightly sweetened. Try it with a splash of almond milk.
Cool Mint Herbal Infusion
A blend of peppermint and cornflower, this caffeine-free hot tea has a cool, invigorating taste.
Hibiscus Kiss Herbal Infusion
Hibiscus, herbs, and natural berry flavors gives this hot tea a tropical floral flavor. Try it sweetened with sugar or an alternative sweetener.
Blue Raspberry Coolatta
A favorite frozen drink, this is the Coolatta flavor most popular with kids. Although it has a lot of sugar, it is caffeine-free.
Strawberry Coolatta
Almost as popular as the Blue Raspberry, the Strawberry Coolatta also has 0 mg of caffeine.
Vanilla Bean Coolatta
Try this vanilla flavored frozen drink topped with whipped cream. If you order it in person, you can ask for some of the Strawberry Coolatta syrup to be added to your vanilla to make it a "Strawberry and Cream Coolatta."
RELATED: Every Dunkin' Drink Ranked by Caffeine Content
Low Caffeine Dunkin' Drinks
Each drink below has less than 30 mg of caffeine in a medium size based on caffeine info from Dunkin'.
Decaf Breakfast Black Tea
Just like regular black tea but with less caffeine. A medium size has less than 2 mg of caffeine.
Decaf Brewed Coffee
Order it black, flavored, sweetened, or with milk and it's still about 10 mg of caffeine for a medium size.
Decaf Iced Coffee
There's about 27 mg of caffeine in a medium size decaf iced coffee.
Decaf Espresso
If you just want a little boost, a single shot of decaf espresso at Dunkin' will contain about 5 mg of caffeine.
Decaf Cappuccino (Hot or Iced)
Since there's only one shot of decaf espresso in a Dunkin' cappuccino, there's only 5-8 mg of caffeine in the hot or iced drink in a medium size.
Decaf Latte (Hot or Iced)
Dunkin's latte has a little more than one shot of espresso, so a medium decaf hot or iced latte contains about 8 mg of caffeine. Customize it with flavored shots or swirls.
RELATED: Difference Between Dunkin' Flavor Shots and Flavor Swirls
Decaf Signature Latte (Hot or Iced)
The Signature Latte comes with whipped cream, drizzle, and a topping. There's about 8 mg of caffeine in a medium.
Decaf Americano (Hot or Iced)
This espresso-based drink contains about 12 mg of caffeine at Dunkin' and can be flavored (or not) any way you like.
Decaf Macchiato (Hot or Iced)
Made with decaf espresso, there's about 12 mg of caffeine a medium, hot or iced. This drink is made with milk on the bottom and decaf espresso on top.
Frozen Chocolate
The only caffeine in this drink is from the chocolate, and a medium size has about 6 mg of caffeine. Flavors with this low caffeine content are: Caramel Swirl, French Vanilla Swirl, and Hazelnut Swirl.
Original Frozen Chocolate
Because it's got more chocolate than the flavored Frozen Chocolate drinks, the Original Frozen has about 30 mg of caffeine in a medium.
Coffee Coolatta
Unlike the flavored Coolattas that are caffeine free, Coffee Coolatta has about 23 mg of caffeine in a medium size because of the coffee.
Related
Want to save this list of the Dunkin' low caffeine and caffeine-free drinks to Pinterest? Pin it now!