Whether you're pregnant or want a drink that won't keep you up at night, here are a list of Dutch Bros caffeine-free beverages.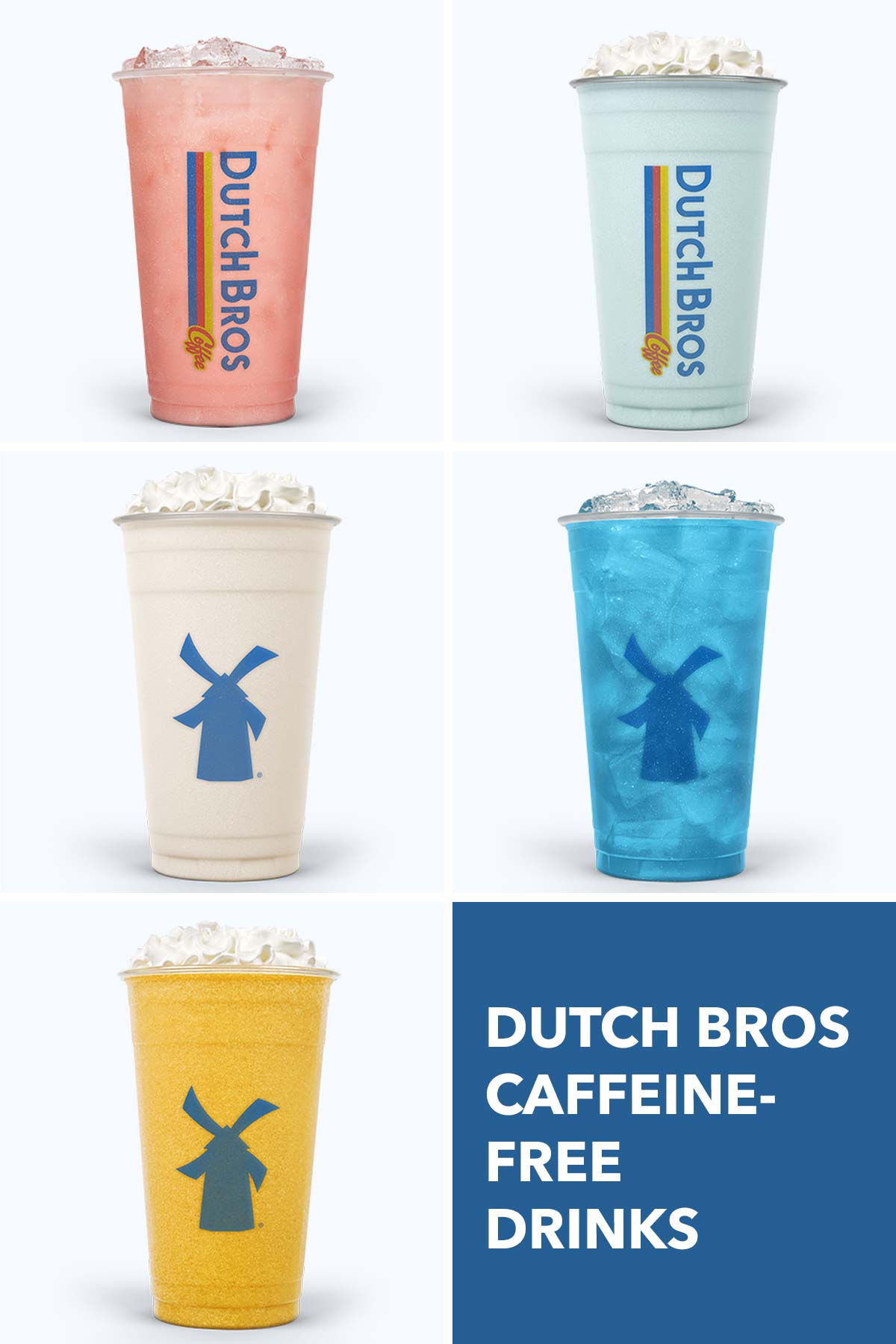 Caffeine-Free Drinks at Dutch Bros
Dutch Bros is known for their coffee drinks, but they also have quite a few caffeine-free options along with some low-caffeine beverages like chocolate milk.
If you're trying to avoid caffeine due to sensitivity or because you're pregnant, take a look at the drinks below for ideas on what to order at your next Dutch Bros visit.
RELATED: Best Dutch Bros Drinks
Tips for Ordering Caffeine-Free Drinks
Rebels contain caffeine.
Rebels are energy drinks so they all contain caffeine. There is no way to order a Rebel without caffeine.
Decaf has caffeine.
Even decaf has some small amount of caffeine. Dutch Bros decaf coffee promises to have remove 99.9% of caffeine, which leaves you with about 2-10 mg of caffeine per drink.
Decaf tea contains some caffeine.
Like decaf coffee, decaf tea also contains a small amount of caffeine. There is a decaf Paris tea on the Dutch Bros menu which has about 2 mg of caffeine.
Chocolate contains caffeine.
There's naturally a little caffeine in chocolate. A kids size Not So Hot (hot chocolate) has 8 mg of caffeine.
White chocolate contain no caffeine.
There's no chocolate in white chocolate, so it's caffeine-free.
RELATED: Best Dutch Bros Kids Drinks
Dutch Bros Drinks Without Caffeine
Dutch Sodas
Add any syrup or combination of syrups to sparkling soda water and you'll get a caffeine-free drink. Ask for an "Italian Soda" and they'll add cream to the soda plus the syrups.
Here are some popular options:
Shark Attack Soda
Coconut, blue raspberry, and lime syrups with pomegranate drizzle.
Electric Berry Soda
Blue raspberry and lime syrups with soda water.
Strawberry Soda
A fizzy strawberry drink.
Peach Ring Soda
Passion fruit and white chocolate syrups with peach drizzle.
Orangesicle Soda
Orange and vanilla syrups in sparking soda water.
Unicorn Blood Soda
Almond, white chocolate, and strawberry syrups combine to make this soda.
OG Gummybear Soda
Passion fruit, watermelon, pomegranate, and grapefruit syrups are in this soda. It's topped with whipped cream.
Watermelon Soda
Soda water with watermelon syrup and a whipped cream topping.
Lemonades
A year round popular caffeine-free drink is a lemonade. Lemonades can be ordered iced or blended. Any syrup can be added to lemonade for a tasty twist.
Lemonades to try:
Strawberry Lemonade
A popular combo of lemonade and strawberry syrup.
Tiger's Blood Lemonade
Strawberry and coconut syrups in lemonade.
Aftershock Lemonade
Strawberry, blackberry, red raspberry, and lime syrups with lemonade.
Electric Berry Lemonade
Lemonade with blue raspberry and lime syrups. It's popular blended!
Galaxy Fish Lemonade
Passion fruit, lime, and strawberry syrups in lemonade.
Aquaberry Lemonade
Strawberry, kiwi, watermelon, and blue raspberry syrups in lemonade.
Dragon Slayer Lemonade
Red raspberry and blue raspberry syrups with blackberry drizzle
RELATED: Best Dutch Bros Lemonades
Frosts
Dutch Bros Frosts are milkshakes topped with whipped cream. It's popular with adults and kids, and comes in kids size (10 ounces).
Cotton Candy Frost
Very popular with kids, this Frost is made with blue raspberry and white chocolate syrups.
Birthday Cake Frost
Another Frost that's popular with kids, this one is made with Almond Roca (toffee and chocolate) and white chocolate syrups.
Strawberry Frost
A simple strawberry milkshake.
White Chocolate Frost
White chocolate flavored milkshake.
Unicorn Blood Frost
Strawberry, white chocolate, and almond syrups are in this milkshake.
Nutty Irishman Frost
Milkshake with Irish cream and hazelnut syrups.
OG Gummybear Frost
Pomegranate, passion fruit, watermelon, and grapefruit syrups in a milkshake.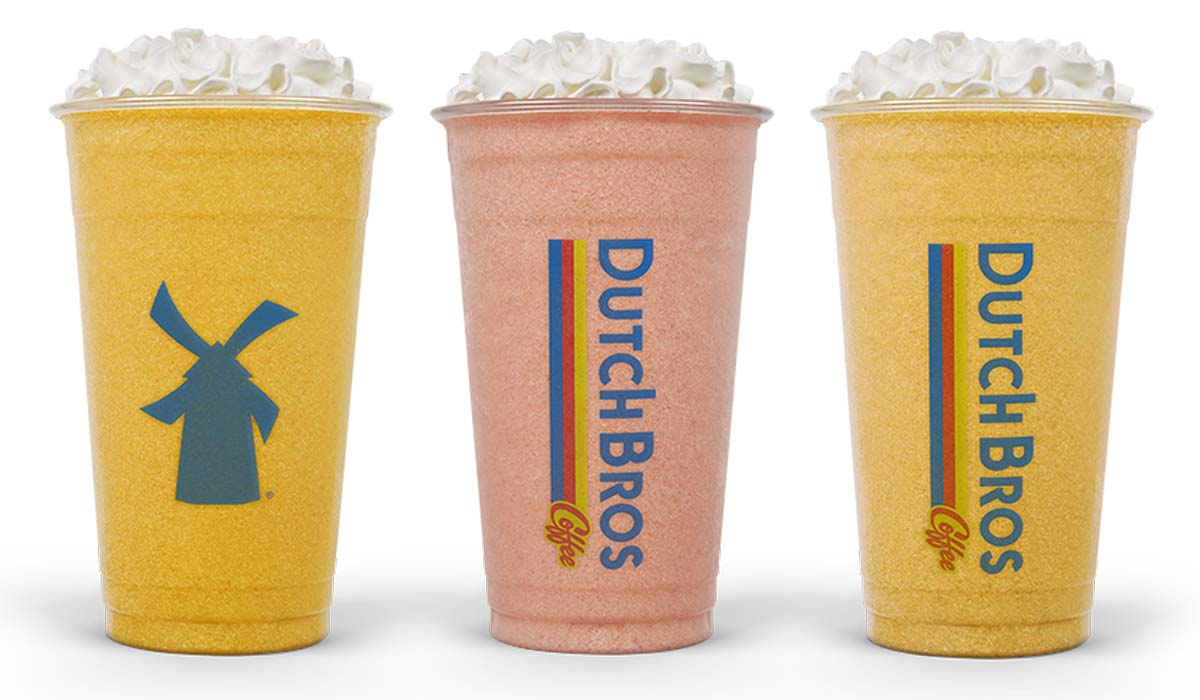 Smoothies
A blended drink of fruit purees and ice topped off with whipped cream. (Ice cream can also be added by request.)
Strawberry
A popular smoothie flavor made with strawberry puree.
Mango
A mango flavored smoothie topped with whipped cream.
Peach
Peach flavored smoothie with whipped cream topping.
Green Apple
Apple puree and ice blended to make this sweet and tart smoothie.
Low-Caffeine Dutch Bros Drinks
If you're ok with just a little caffeine, try these drinks.
Not So Hot
A kids size (10 ounces) hot chocolate steamed to a lower temperature. Kids size has 8 mg of caffeine, small has 10 mg, medium has 12 mg, and a large contains 16 mg.
Decaf Dutch Classics
Any Dutch Classic Breve can be made decaf (or half caf). A medium decaf breve contains only 2 mg of caffeine and a half-caf has about 96 mg. Try a Decaf Golden Eagle (vanilla and caramel syrups with caramel drizzle) or Decaf Caramelizer (chocolate milk and caramel syrup).
Decaf Paris Tea
With only 2-3 mg of caffeine, depending on size of the tea, decaf Paris tea from Harney & Sons is a good low-caffeine alternative to Dutch Bros' regular tea. It can be ordered ice, hot, or blended.
Chai
Hot chai contains 27 mg of caffeine, iced has 27 mg, and blended has about 40 mg in a medium size drink. Make sure they don't add any coffee to your drink.
Try a Vanilla Chai Latte (2% milk and vanilla syrup.), a White Zombie Chai Latte (2% milk, vanilla and white chocolate syrups) or a Horchata Chai Latte (2% milk, caramel, white chocolate, and cinnamon syrups).
Related