Not sure what drink to get for your kids at Starbucks? Here are some on-the-menu and customized caffeine-free drink options that your little ones will love!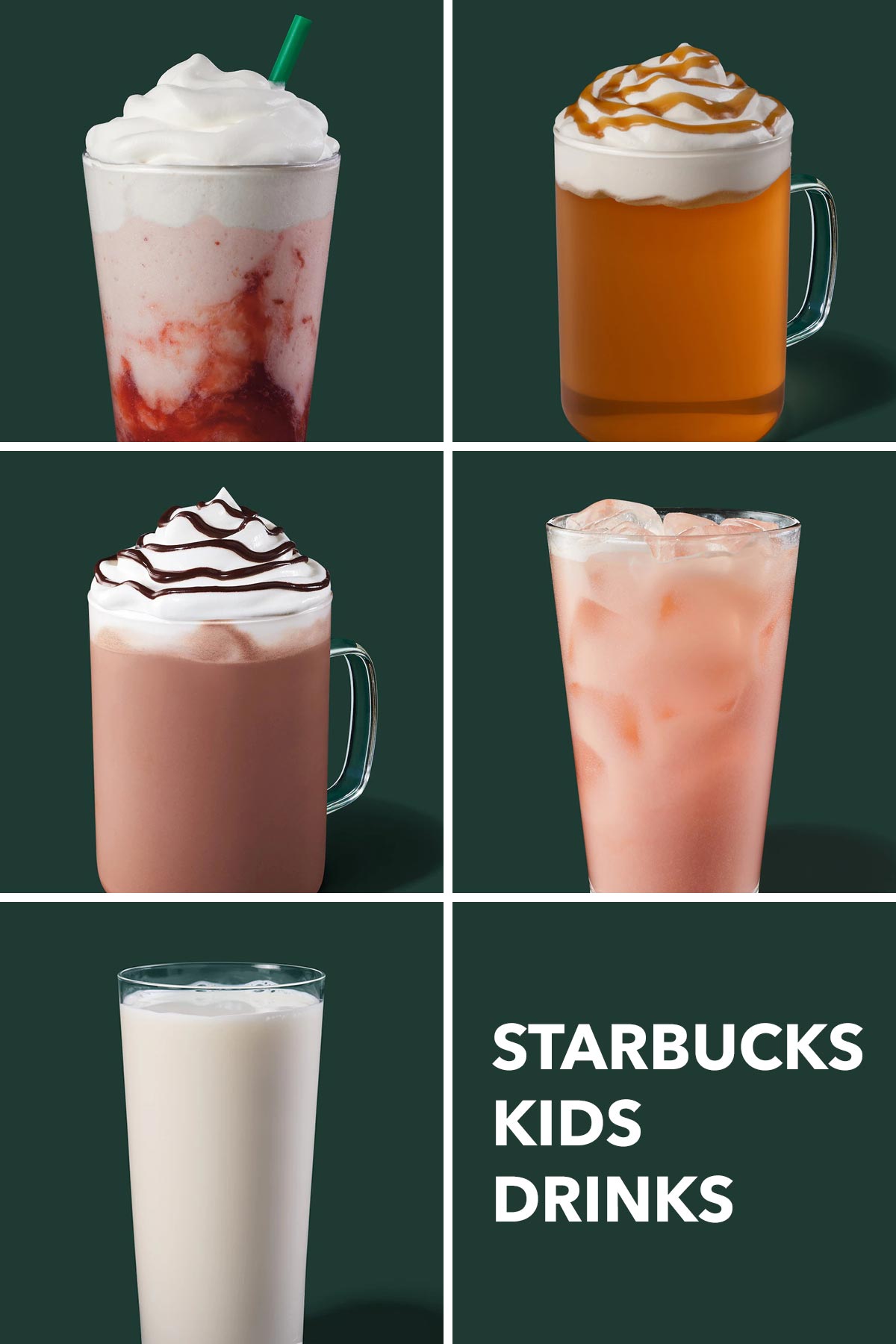 Tips for Ordering Kids Drinks
Kid's drink sizes
The smallest drink sizes are short (8 ounces) for hot drinks and tall (12 ounces) for cold drinks.
They're the cup sizes you'll get when you order a kid drink size. Any drink (for adults or kids) can be ordered in those sizes.
Kid's drink temperature
When you order a hot drink for kids, ask them to make it "kid's temperature."
They'll heat the beverage to 130°F instead of the usual 160°F.
Adjust the sugar
If you're concerned about the amount of sugar in your child's drink, you can always ask for fewer pumps of syrup.
A Cinnamon Dolce Creme Steamer is made with milk and 3 pumps of cinnamon dolce syrup for a tall (12 ounce). You can ask for it to be made with 1 or 2 pumps of syrup instead.
Refreshers contain caffeine
Starbucks Refreshers like the Pink Drink and Strawberry Acai Lemonade are made with green coffee extract, so there's about 35 mg of caffeine in each tall drink.
Chocolate drinks contain caffeine
There isn't a lot of caffeine, but there is some in chocolate-based drinks. A kid's hot chocolate has 15 mg of caffeine.
Customized steamers
Steamers are hot drinks made with just milk and syrup. A steamer can be made with any of the available syrups, including seasonal ones.
Try brown sugar or raspberry steamers for your kids.
To-go boxed drinks in cups
Grabbing one of the to-go boxed juices or drinks? Ask for a cold cup to pour it in so your child gets a Starbucks cup of their own or ask your barista to shake the boxed drink over ice.
Splitting drinks
Starbucks baristas can't split drinks for you but they can give you empty cups so you can do it yourself.
RELATED: 12 Starbucks Hot Chocolates (Including Secret Menu)
17 Starbucks Drinks for Kids
1. Iced Strawberry Milk
Ice + Milk + Strawberry Puree
Any add-ins like strawberry puree can be added to a drink. To get this customized drink, ask for a tall (12 ounce, smallest cold drink cup size) milk on ice shaken with a scoop of strawberry puree.
You can get this drink in a tall, grande, or venti and you can specify what kind of milk you like. There's nonfat, 2%, whole, almond, coconut, soy, and oat.
2. Steamed Vanilla Milk
Milk + Vanilla Syrup
This drink isn't on the menu but it's easy to order. Ask for a tall steamed milk with 1-2 pumps of vanilla syrup.
If your kid doesn't like vanilla, it can be made with any available syrup, including brown sugar syrup and cinnamon dolce syrup.
3. Iced Brown Sugar Oatmilk
Ice + Oatmilk + Brown Sugar Syrup
Ask for a tall oat milk on ice with 1-2 pumps of brown sugar syrup. This would be a child's caffeine-free version of the popular Iced Shaken Espresso drink.
4. Vanilla Bean Frappuccino
Vanilla Bean Frappuccino without any customizations
A popular Frappuccino for kids, it's made without any coffee and doesn't contain any caffeine.
The smallest size you can get in this drink is a tall (12 ounces).
RELATED: Starbucks Vanilla Bean Frappuccino Copycat
5. Water with Strawberry Inclusions
Ice + Water + Strawberry Inclusions
A hydrating drink for kids when you don't want to give them anything sweet.
Order a tall iced water with strawberry inclusions, which are freeze-dried strawberries. They'll think it looks like a grown-up drink.
6. Hot Chocolate
Hot Chocolate + Optional Vanilla Syrup or White Chocolate Mocha Sauce
A kid's hot chocolate comes in an 8 ounce cup (short size) and it's warmed up to 130°F.
It's made with 2% steamed milk, 2 pumps of mocha sauce, and comes topped with whipped cream and mocha drizzle.
Get it with a pump of vanilla syrup or white chocolate mocha sauce to make it a little sweeter and tastier since mocha sauce isn't really sweet.
There's 15 mg of caffeine in this drink.
RELATED: 10 Easy & Delicious Hot Chocolate Recipes
7. White Hot Chocolate
White Hot Chocolate without any customizations
A caffeine-free hot chocolate, this drink is made with white chocolate sauce, steamed milk, and whipped cream.
The kids drink size (8 ounces) has 2 pumps of white chocolate mocha sauce.
RELATED: White Hot Chocolate Recipe
8. Warmed Horizons Chocolate Organic Milk
Horizons Boxed Chocolate Milk
The boxed Horizons chocolate milk in the refrigerated display case can be warmed up to "kids temperature."
The Starbucks kid's hot chocolate is made with a dark chocolate so if you want a sweeter hot chocolate without adding syrups, go for this option.
9. Double Chocolaty Chip Crème Frappuccino
Double Chocolaty Chip Crème Frappuccino without customizations
Creme Frappuccinos are all made without coffee, including this chocolate flavored one made with chocolate chips and mocha sauce.
A tall drink has just 10 mg of caffeine from the chocolate.
RELATED: Starbucks Double Chocolaty Chip Frappuccino Copycat
10. Babyccino
Steamed Milk + Extra Foam
This off-the-menu Starbucks drink is steamed milk with extra foam served in a short size (8 ounces).
Get it with caramel drizzle to make it look like a Caramel Macchiato on top. For more foam, ask for it to be "bone dry."
11. Milk
Milk without customizations
You can always simply ask for milk in a glass, a perfect accompaniment to a cookie or a cake pop. Add mocha sauce to make it a chocolate milk.
12. Strawberry Lemonade
Ice + Lemonade + Strawberry Puree
A kid-size lemonade comes in a tall (12 ounce) cup and any fruit add-ins can be added (for an additional cost), including a scoop of strawberry puree to make it a Strawberry Lemonade.
13. Blended Strawberry Lemonade
Blended Strawberry Lemonade without Customizations
Made with lemonade and strawberries, this frozen beverage is fruity, with a little zing.
14. Strawberry Crème Frappuccino
Strawberry Crème Frappuccino without customizations
Strawberry puree is blended with ice and milk to make this delicious frozen drink.
RELATED: Starbucks Strawberry Frappuccino Copycat
15. Steamers
Steamed Milk + Any Flavored Syrup
Steamers are steamed 2% milk with flavored syrups. You can swap out the 2% milk with any other kind of milk, like oat, almond, or coconut.
A steamer can be made with any available syrup.
It'll make a caffeine-free drink look like a latte. Popular syrup options include vanilla, cinnamon dolce, and caramel.
16. Caramel Apple Spice
Caramel Apple Spice without customizations
A dressed-up apple juice that tastes like a candied apple, this hot drink is made with steamed apple juice, cinnamon syrup, whipped cream, and caramel drizzle.
17. Iced Passion Tango Tea Lemonade with Strawberry Inclusions
Ice + Passion Tango Tea Lemonade + Strawberry Inclusions
Not only is this iced tea vibrant and fun to look at, it's completely caffeine-free, unlike some other teas on the menu.
Adding freeze-dried strawberries give it a fun touch.
RELATED: Starbucks Iced Passion Tango Tea Copycat
Questions You May Have
Does Starbucks have a kids' menu?
There's no specific section of the menu for kids, but Starbucks has plenty of kid-friendly drinks. If you're not sure if a drink contains caffeine, ask your barista.
Does Starbucks have a kid size?
Yes. For hot drinks, a kid's size is 8 ounces, and for cold drinks, a kid's size is 12 ounces. These aren't called "kid's sizes" but if you ask for a kid's drink, they'll come in those cups.
What if I want less sugar in the drinks I order for my kids?
Starbucks can easily accommodate customizations and requests. If you want a Vanilla Cremé with just a little less sugar, ask for half the pumps.
Related
Want to save this Starbucks Kids Drink list to Pinterest? Pin it now to your Pinterest board!