Starbucks Pink Drink is taken to another level with this Tiktok Pink Drink, a Starbucks secret menu item. See what's in the drink and how to order it.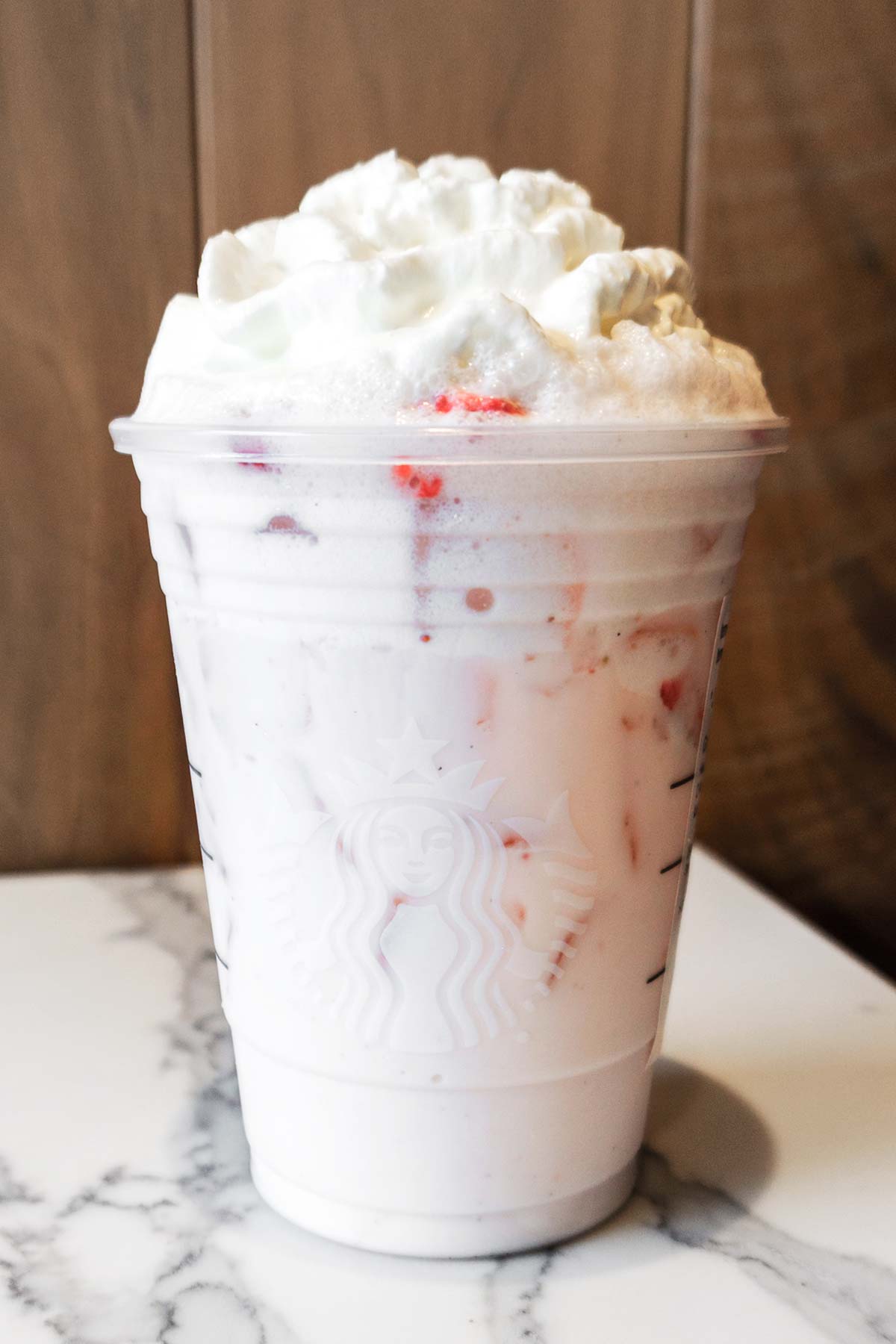 TikTok Pink Drink
The TikTok Pink Drink takes the Starbucks Pink Drink and makes it rich and decadent with some customizations.
This is a Starbucks secret menu drink since it's not on the official Starbucks menu.
The regular Pink Drink is made with coconut milk but the TikTok Pink Drink takes out the coconut milk and replaces it with heavy cream. If you've been not ordering the Pink Drink because you don't like coconut milk, try it with this substitution.
RELATED: 23 Pink Starbucks Drinks (Including Secret Menu)
How It Tastes
If you love strawberries, this drink is for you. The drink tastes like a creamy strawberry milkshake.
RELATED: TikTok Matcha Pink Drink (Starbucks Secret Menu)
What's in the Drink
Base drink: Pink Drink
The TikTok Pink Drink builds on the regular Pink Drink that's on the Starbucks official menu.
Customizations: Substitute heavy cream for coconut milk, add 2 scoops of vanilla bean powder and whipped cream
RELATED: TikTok Iced White Mocha (Starbucks Secret Menu)
How to Order the Drink
"Can I get a grande Pink Drink with heavy cream instead of coconut milk, and 2 scoops of vanilla bean powder shaken in, and topped off with whipped cream?"
Drink Cost
Price will vary a bit depending on where you live but a grande size of this drink came out to $5.74 plus tax.
It was $4.45 for a grande Pink Drink, $0.79 for the heavy cream, and $0.50 for the vanilla powder.
RELATED: TikTok Iced Chai Latte (Starbucks Secret Menu)
Questions You May Have
What is a TikTok Starbucks drink?
TikTok Starbucks drinks are beverages on the Starbucks regular menu that has been customized and gained popularity on TikTok.
Can I go into a Starbucks and order the TikTok Pink Drink?
Starbucks baristas aren't trained on making drinks that are off-the-menu, so it's best to order the drink with the specific customizations.
What sizes can I get this drink in?
You can get this drink in the same sizes available for a Pink Drink. The 4 sizes are: tall (12 ounces), grande (16 ounces), venti (24 ounces), and trenta (30 ounces). Add or reduce the number of vanilla powder scoops depending on the drink size.
Related
Want to save this drink to Pinterest? Pin it now to your Pinterest board!