See how easy it is to make an iced latte with cold brew coffee and milk. See tips and tricks to make it layered!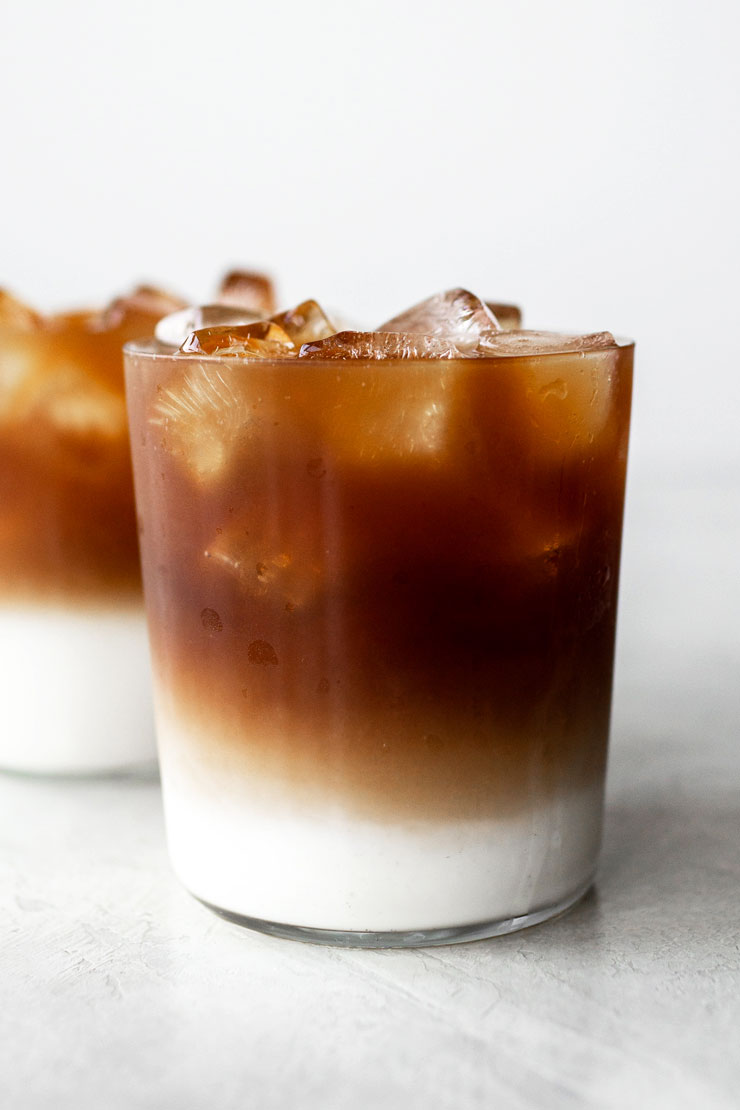 Layered Cold Brew Latte
Cold brew coffee, milk, simple syrup, and ice are needed to make this caffeinated drink.
Cold brew coffee takes at least 8 hours to make, so be sure to make that first.
The trick with layering is sugar and ice. The bottom layer must be sweeter than the top layer. Ice helps to keep the layers separated. Easy!
RELATED: Cold Brew Coffee Made Easy
Cold Brew Latte Ingredients
How to Make Cold Brew Latte
STEP 1: Make quick simple syrup.
Combine hot water and brown sugar and stir until sugar completely dissolves. Quick simple syrup is done!
I have an electric kettle with temperature setting and that's what I use to boil water instead of using the stovetop. I always use filtered water whenever possible.
STEP 2: Assemble the drink. Milk, simple syrup, ice, then cold brew.
Start with pouring milk into a cup.
Add quick simple syrup and stir to combine.
The trick to keep it layered is to make sure the bottom layer has more sugar content than the one above.
The ice goes in next.
Pour the cold brew directly on top of the ice.
Cold Brew Latte Tips
The more sugar the bottom layer (milk) has, the more of a separation you'll see between the milk and the coffee.
Don't add cold brew coffee that's already sweetened since you want the top layer unsweetened.
Always pour the coffee directly on top of the ice instead of into the milk to keep the layers separated.
Add more milk (1/3 cup) if you want more of the milk layer to show.
Questions You May Have
Related