Snuggle up with a cozy cup of this perfectly sweet and spicy gingerbread latte that's topped with fluffy homemade whipped cream.
About This Gingerbread Latte
Coffee or espresso, milk, molasses, and gingerbread flavors come together in this delicious caffeinated drink. It's all topped off with a quick and easy homemade gingerbread flavored whipped cream.
The gingerbread flavors are made with a blend of ground ginger, ground cinnamon, and ground nutmeg. Molasses and sugar rounds out the flavors with rich sweetness.
The recipe includes a batch of homemade gingerbread syrup that can be made ahead of time and used all week to flavor tea and coffee.
Starbucks used to have a gingerbread latte on their holiday menu but it was taken off after 2018. It's not on this year's drink menu either.
Espresso or strong coffee made in a coffee machine, Nespresso, Keurig, or French press can be used to make this drink.
If you're a fan of Starbucks coffee drinks, try my Salted Caramel Latte and Pumpkin Spice Latte.
Ingredient Notes
Strong coffee
Use any kind of machine that can brew a strong cup of coffee. If you have an espresso machine, shots of espresso can be used instead.
Milk
Any kind of milk you prefer can be used.
Gingerbread syrup:

Molasses
This is a must! It's the key ingredient and without it, the gingerbread syrup just isn't as good. Get dark unsulfured molasses. Blackstrap molasses is another variety and it's less sweet and has a very concentrated, almost bitter flavor so it's not the best kind of molasses to use for this recipe.
Sugar
Basic white sugar is what I'm using but brown sugar works too if that's what you have.
Ground ginger, ground cinnamon, ground nutmeg
These spices give the drink the classic gingerbread flavor.

Water
Use filtered water for a better, cleaner tasting drink.

Heavy cream
To make the whipped cream topping.
Steps to Make Gingerbread Latte
Here's a quick overview of the steps to make this drink. For full ingredients and instructions, scroll down to the recipe.
Make gingerbread syrup.
This recipe makes a batch of gingerbread syrup which makes 6 gingerbread lattes. Make it once and use the syrup all week.
Make cream topping.
Gingerbread syrup and heavy cream are whipped together using a handheld milk frother.
Assemble drink.
Stir gingerbread syrup into a cup of coffee. Add warm or steamed milk. Top with cream topping. Garnish with cinnamon or a gingerbread man cookie.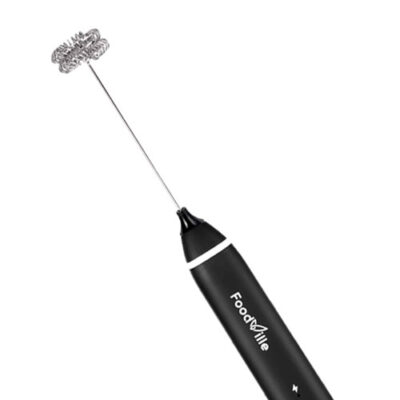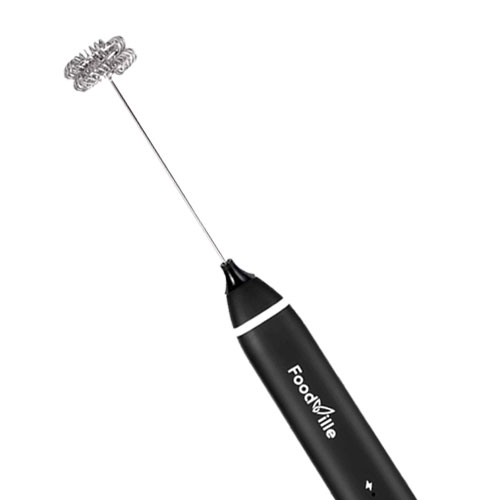 My Handheld Milk Frother Pick
Photo Credit: amazon.com
This is the milk frother I use to make cream toppings for all my hot drinks. Out of all the handheld milk frothers I've used, this one has lasted me the longest and is rechargeable.
SEE PRICE ON AMAZON
Notes & Tips
Gingerbread syrup can be made ahead of time and stored in the refrigerator in an airtight container for up to a week.
The recipe makes a little over a cup of gingerbread syrup, which is enough to make 6 gingerbread lattes.
The molasses is the key ingredient so don't replace it with honey or other sweeteners since it just won't taste as good.
Questions You May Have
How can I make this drink for kids?
Make the gingerbread syrup and stir a tablespoon into a cup of warm milk. Don't add any coffee to the drink.
How many ounces are there in the gingerbread syrup?
The gingerbread syrup makes a little over 9 ounces, or about 18 tablespoons.
Where can I get the Starbucks Gingerbread Latte?
The only place you can get the drink is at the Starbucks in Canada as it's no longer sold in any stores in the US. Starbucks recommends getting the Cinnamon Dolce instead, which they say is similar in taste.
How can I make this with Nespresso or a Keurig?
Use a pod or capsule of dark roast coffee to brew a cup of coffee.
How can I make this with espresso?
Instead of 1 cup of coffee and 1/4 cup milk, use 2 shots of espresso and 3/4 of steamed or warm milk.
More Coffee Shop Favorites
PIN THIS
Want to save this Gingerbread Latte recipe for later? Pin it now to your Pinterest board!
SAVE TO PINTEREST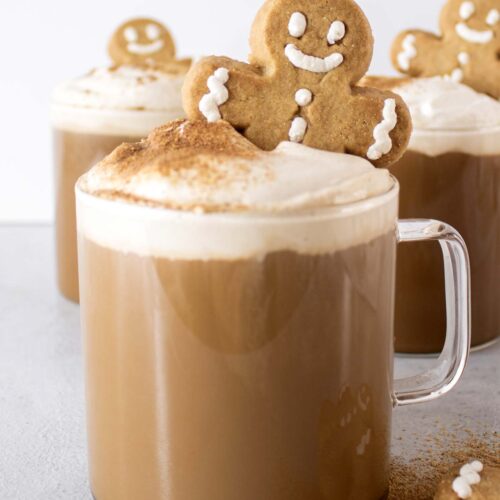 Homemade Gingerbread Latte
Perfectly sweet and spicy gingerbread latte that's topped with fluffy whipped cream.
EQUIPMENT
INGREDIENTS
Gingerbread Cream Topping
INSTRUCTIONS
MAKE GINGERBREAD SYRUP
In a saucepan, bring gingerbread syrup ingredients to a boil.

On medium heat, let it come to a boil, stirring occasionally. Make sure sugar has dissolved.

Turn off heat and let cool.

After syrup has cooled, pour syrup into an airtight container. The syrup can be stored in the refrigerator for up to a week. Makes about 9 ounces of syrup.
MAKE GINGERBREAD CREAM TOPPING
Whip gingerbread syrup and heavy cream.

Use a handheld milk frother to whisk together syrup and heavy cream until it thickens. Just a few seconds is all it takes to get soft peaks.
ASSEMBLE DRINK
Warm or steam milk.

Heat milk in a microwave, stovetop, or using the steam wand on an espresso machine.

In a cup, combine coffee, gingerbread syrup, and warm milk.

Stir gingerbread syrup into a cup of strong coffee. Add warm or steamed milk. Top with gingerbread cream topping. Garnish with a dusting of ground cinnamon and a gingerbread man cookie.
NOTES
TO MAKE STRONG COFFEE: 
Use 2-3 tablespoons of ground coffee to brew a strong cup in a coffee machine. If using a Nespresso or Keurig machine, use 1 pod of capsule to make 1 cup of coffee.
TO MAKE WITH ESPRESSO: Use 2 shots of espresso and 3/4 cup milk instead of 1/4 cup milk.
NUTRITION
Calories:
406
kcal
|
Carbohydrates:
48
g
|
Protein:
3
g
|
Fat:
24
g
|
Saturated Fat:
15
g
|
Cholesterol:
88
mg
|
Sodium:
88
mg
|
Potassium:
241
mg
|
Sugar:
47
g
|
Vitamin A:
973
IU
|
Calcium:
108
mg
|
Iron:
2
mg
The nutrition information is an estimate calculated using an online nutrition calculator.