Want a drink at Starbucks that won't keep you awake all night or irritate your stomach? Here are all the beverages that don't contain any caffeine.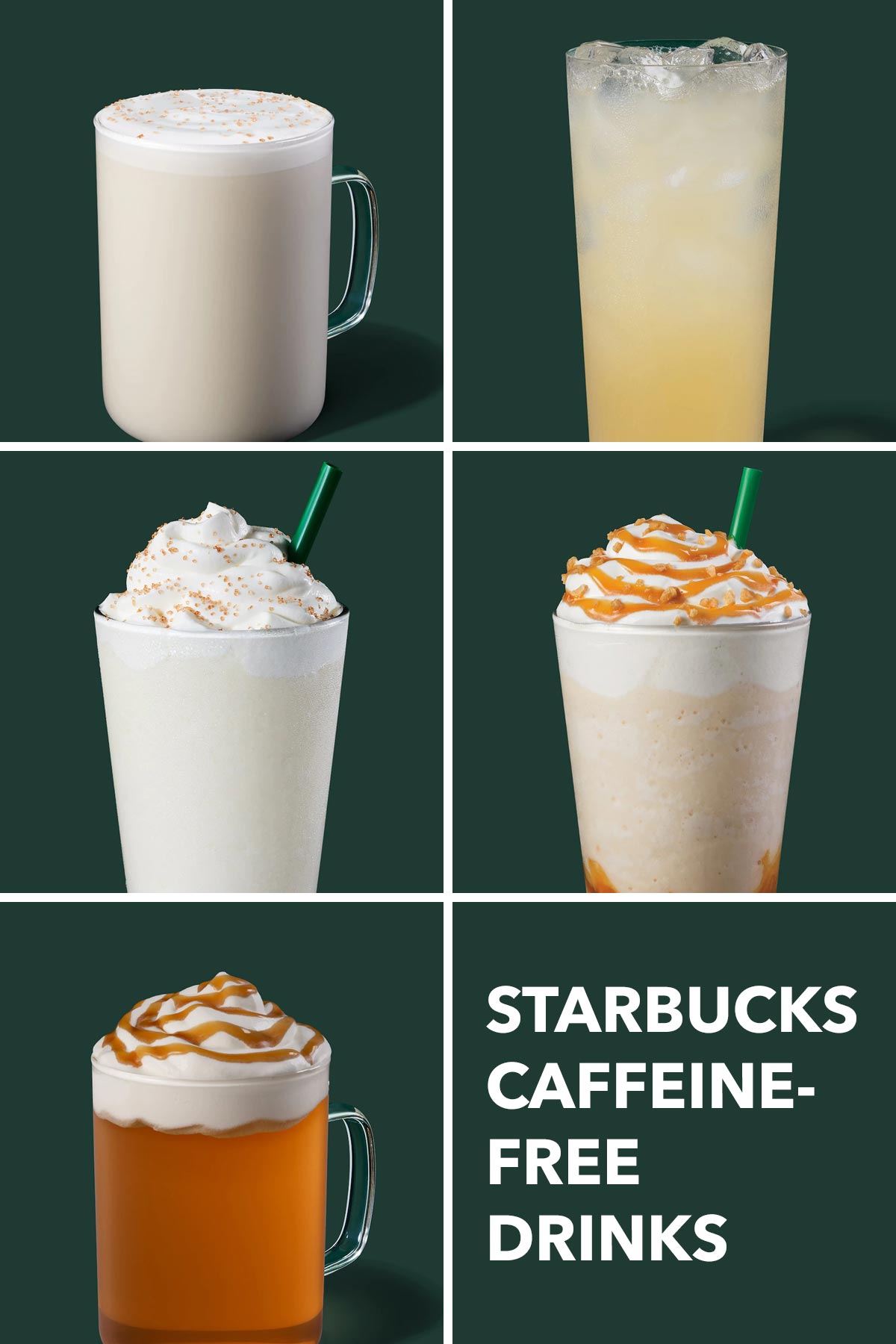 Caffeine-Free at Starbucks
Even though Starbucks is a coffee shop, there are multiple caffeine-free drink options available.
Caffeine is a stimulant that can keep you awake and alert, which is great when you need to stay up, but not so great if you're trying to go to sleep.
If you're sensitive to caffeine, or just want to know which drinks to order that doesn't caffeine, you've come to the right place! Here is a handy list of caffeine-free drinks available at Starbucks.
RELATED: Every Starbucks Drink Ranked by Caffeine Content
Tips for Ordering Caffeine-Free Drinks
Decaf has caffeine
Starbucks has both decaf espresso and decaf coffee, but know that decaf still has some trace amounts of caffeine. There's about 25 mg in a grande size decaf coffee and 12 mg for every shot of decaf espresso. You can customize your drink so if you want a half-caf drink or maybe want a decaf coffee but with a splash of regular coffee, you can do that easily.
Refreshers contain caffeine
Starbucks Refreshers like the Pink Drink are made with green coffee extract, which has about 35 mg of caffeine in each tall drink.
Chocolate contains caffeine
Chocolate has a little bit of caffeine, but not as much as you'd get from a full cup of coffee. If you've eaten chocolate bars or chocolate candy and can tolerate the caffeine in those treats, you'll likely be just fine ordering a hot chocolate.
White chocolate contains no caffeine
White chocolate doesn't have caffeine like regular chocolate does.
Steamers have no coffee or caffeine
Steamers are like a latte without any espresso, and the flavor options available for lattes are also available for steamers.
Herbal teas contain no caffeine
All other types of tea (black tea, green tea) has caffeine but herbal teas don't. Starbucks has two herbal teas: Mint Majesty and Peach Tranquility.
Almost all créme Frappuccinos have no caffeine
The créme line of frappuccinos, like the Strawberries Créme Frappuccino, use a créme frappuccino base that doesn't have any coffee. But watch out for the chai and matcha Frappuccinos which have caffeine.
RELATED: 17 Starbucks Drinks For Kids
Starbucks Drinks without Caffeine
Strawberry Funnel Cake Crème Frappuccino
The latest seasonal Frappuccino, the Strawberry Funnel Cake Crème Frappuccino is made without the Coffee Frappuccino Syrup so there's no caffeine in this drink.
Pistachio Crème Frappuccino [Seasonal]
Sweet pistachio flavored syrup is blended with milk and ice. Like all Frappuccinos, the frozen drink is finished with whipped cream. This one has a salted brown butter cookie topping.
Caramel Ribbon Crunch Crème Frappuccino
Caramel syrup is blended with whole milk and ice. Whipped cream, caramel sauce, and a caramel sugar topping finishes the drink.
Strawberry Crème Frappuccino
Strawberry puree, whole milk, and ice are blended together then topped with vanilla whipped cream.
RELATED: Starbucks Strawberry Frappuccino Copycat
Vanilla Bean Crème Frappuccino
A popular favorite, this Frappuccino is made with vanilla bean powder, whole milk, and ice. Whipped cream tops the drink.
RELATED: Starbucks Vanilla Bean Frappuccino Copycat

White Chocolate Crème Frappuccino
White chocolate sauce, milk, and ice are blended to make this creamy drink. Whipped cream adds a decadent touch.
RELATED: Starbucks White Chocolate Mocha Frappuccino Copycat
White Hot Chocolate
Made with steamed milk and white chocolate sauce (main ingredients: sugar, condensed skim milk, coconut oil, and cocoa butter) and topped with whipped cream.
Pistachio Créme (Steamer) [Seasonal]
Some steamers are simply easy customizations, but some are specially designed drinks from Starbucks, like the Pistachio Créme, which is not only made with pistachio sauce but also comes with a salted brown butter topping.
Cinnamon Dolce Crème (Steamer)
Steamed milk and Cinnamon Dolce syrup combined to make this sweet drink that comes with whipped cream and Cinnamon Dolce Sprinkles, which is a sweet and slightly salty ground cinnamon topping.
Vanilla Crème (Steamer)
Steamed milk flavored with vanilla. The drink is topped with whipped cream.
Steamed Milk (Steamer)
A steamer is steamed milk (with or without flavors) — that's it! You can get any milk steamed from the standard 2% milk to coconut or almond milk.
Milk
Milk of your choice (skim, 2%, soy, almond or coconut) can be ordered chilled or with ice.
Mint Majesty
Mint Majesty is mint-forward and great for when you have a cold or need to clear your head. It's made with mint and lemon verbena, and you can add lemon or honey to make it extra special.
Peach Tranquility
A fruiter tea made with peach, candied pineapple, chamomile blossoms, lemon verbena and rose hips. A common "secret menu" order is a Medicine Ball, which is made with a bag of the Peach Tranquility tea, one bag of the Jade Citrus tea (which is caffeinated), honey, and lemonade.
Iced Passion Tango Tea
A slightly tart and refreshing iced tea made with a blend of hibiscus, lemongrass, and apple. This tea is only made iced. (You may want to stay away from this drink which includes hibiscus if you're pregnant.)
RELATED: Starbucks Iced Passion Tango Tea Copycat
Iced Passion Tango Tea Lemonade
Iced Passion Tango Tea is good on its own but adding lemonade adds an extra tart zing. (You may want to stay away from this drink which includes hibiscus if you're pregnant.)
Iced Guava Passionfruit Drink
Guava juice blend is shaken with ice, pineapple ginger syrup, and coconut milk.
Pineapple Coconut Green Smoothie
Pineapple, toasted coconut, kale, spinach, ice, and coconut milk are blended to make this smoothie.
Blended Strawberry Lemonade
Lemonade and strawberry puree are blended like a Frappuccino since it's made with a Frappuccino base so it's nice and smooth.
Lemonade
Tangy iced lemonade can be ordered on its own. The lemonade is made with water, lemon juice, sugar, and lemon oil.
Caramel Apple Spice
Although you can get just straight apple juice, served hot or cold, what most people get is the Caramel Apple Spice, a delicious drink made with steamed apple juice, cinnamon dolce syrup, whipped cream, and a caramel drizzle.
Steamed Apple Juice
Just 100% apple juice, not from concentrate, that has been freshly steamed. Ask for it to be kid's temperature if you don't want it too hot.
RELATED: 47 Best Starbucks Drinks
Secret Menu Caffeine-Free Drinks
Here are some customized drinks you can order that's not on the official Starbucks menu.
Iced Apple Juice
Steamed apple juice is on the menu but not cold apple juice, but it's something you can order with ice.
Peach Lemonade
Starbucks has a peach juice blend which you can add to lemonade for a sweet and tart drink.
Strawberry Lemonade
Mix strawberry puree and lemonade to make this tasty drink.
Iced Strawberry Milk
Since Starbucks carries both strawberry puree and milk, you can ask for the two ingredients shaken together over ice to make a customized drink that's not on the regular menu.
Vanilla Milk
You can make any flavored steamer using any of the syrups Starbucks has for their other drinks, including vanilla. This would just be vanilla syrup and milk. You can ask for this hot or iced.
Water with Strawberry Inclusions
If you want to stay hydrated but don't want plain water, ask for strawberry inclusions, which are freeze-fried strawberries.
RELATED: Keto Starbucks Drinks
Questions You May Have
How much caffeine is in Starbucks' hot chocolate?
There's 20 mg of caffeine in a tall (12 ounce) hot chocolate. A tall latte, which is made with 1 shot of espresso, has 75 mg of caffeine.
Is there caffeine in mocha?
Yes, mocha made with espresso and chocolate, which both contains caffeine. A tall mocha at Starbucks has 95 mg of caffeine.
Is there caffeine in decaf coffee?
Yup, decaf doesn't mean it's completely caffeine-free. A grande cup of brewed coffee has 310 mg of caffeine and a decaf coffee of the same size has 25 mg of caffeine.
Related
Want to save this list of Starbucks Caffeine-Free Drinks to Pinterest? Pin it now to your Pinterest board!