Find out what TikTok Sunset Drink is and how to order it properly to get the pretty layers. It's three fruity drinks in one refreshing cup!
Starbucks TikTok Sunset Drink
The TikTok Sunset Drink is a customized Mango Dragonfruit Lemonade Starbucks Refresher that became popular on TikTok, making it a secret menu beverage.
It's a layered iced drink with Mango Dragonfruit Lemonade Refresher, peach juice, and iced herbal tea. The different layers create an ombre look, giving it the sunset appearance.
Secret menu items should not be ordered by name since Starbucks baristas aren't trained to make them.
To make sure the barista makes it for you correctly, you need to order it knowing the drink recipe, including the ingredients and any specifications.
This drink can only be ordered in person since there isn't a way to add peach juice or request it layered, using the app.
RELATED: TikTok Starbucks Secret Menu Drinks
How It Tastes
If you love sweet and sour, you'll love this refreshing, fruity layered drink.
The Mango Dragonfruit Lemonade is sweet and tart, the peach juice is sweet and fruity, and the unsweetened but slightly sour Iced Passion Tango Tea balances it all out.
RELATED: 50+ Popular Starbucks Secret Menu Drinks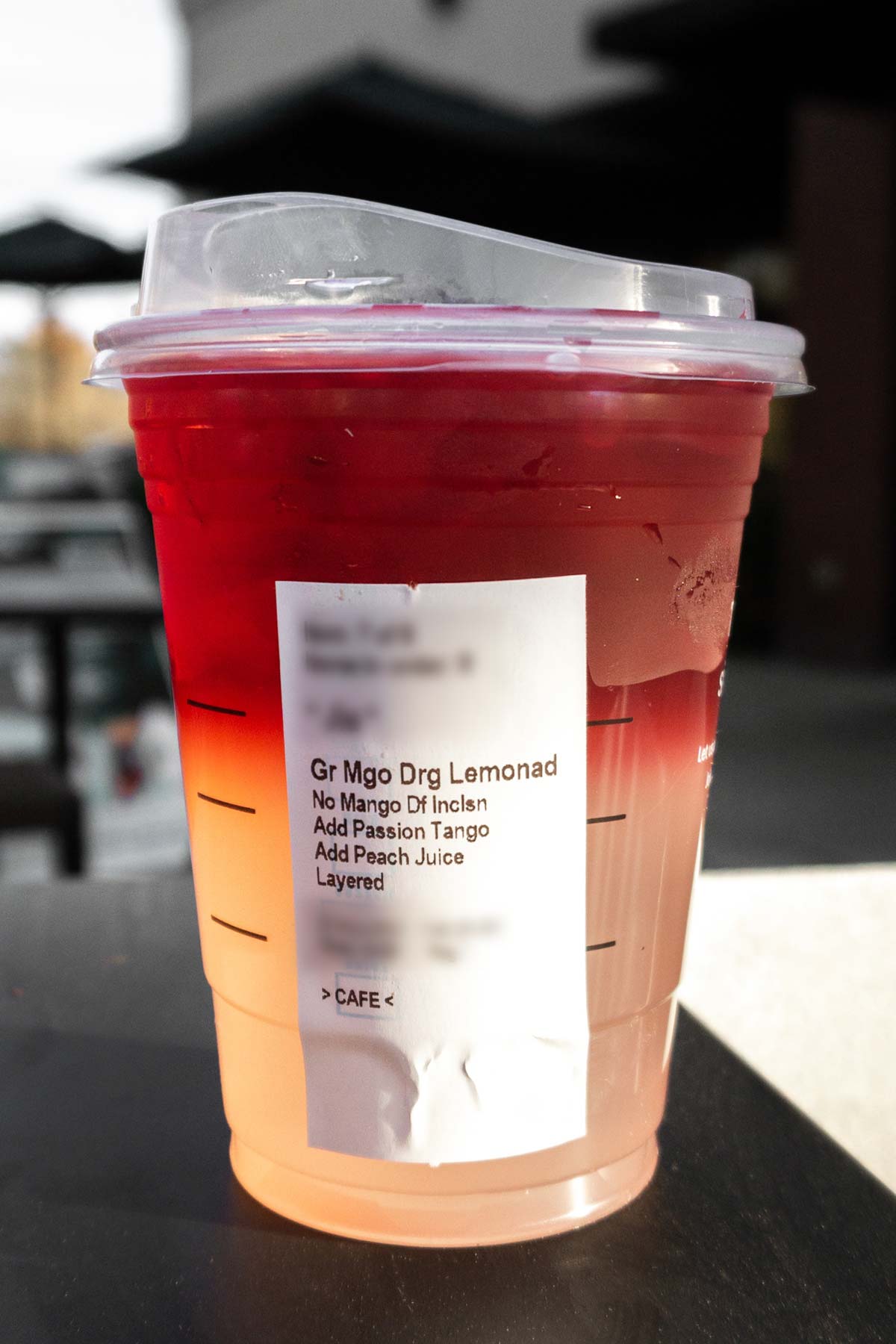 What's in the Drink
Base drink: Mango Dragonfruit Lemonade
All secret menu drinks start with an official menu drink and this one is a Mango Dragonfruit Lemonade, a Starbucks Refresher drink.
Customizations: No dragonfruit inclusions, add splash of peach juice blend and Iced Passion Tango Tea
Iced Passion Tango Tea is hibiscus flavored and it's unsweetened.
How To Order the Drink
"Can I get a grande Mango Dragonfruit Lemonade with no dragonfruit inclusions, and a splash of peach juice, then topped with Iced Passion Tango Tea so that it's layered?"
Drink Cost
A grande size of the TikTok Sunset Drink costs $5.75 plus tax. The price will vary on which Starbucks you buy the drink.
It was $4.45 for the Mango Dragonfruit Lemonade, $0.50 for a splash of Iced Passion Tango Tea, and $0.80 for the peach juice blend.
Tip your barista if you can! Secret menu drinks take more time to make and your barista would definitely appreciated it!
RELATED: TikTok Matcha Pink Drink (Starbucks Secret Menu)
Starbucks Secret Menu
Must-have list of 91 secret menu drinks and how to order each one!
GET IT NOW
Questions You May Have
What is a Mango Dragonfruit Lemonade Starbucks Refresher?
It's a lemonade drink with sweet mango and dragonfruit flavors, shaken with ice and with a scoop of freeze-dried dragonfruit pieces.
Does this drink contain caffeine?
Yes, all Refreshers contain caffeine since there is green coffee extract in the Refresher base. A grande Mango Dragonfruit Lemonade Refresher has about 45 mg of caffeine. To compare, a grande iced coffee has 145 mg of caffeine.
What sizes are available for this drink?
The TikTok Sunset Drink comes in the same sizes as other Starbucks Refreshers. Starbucks cold drink sizes are: tall (12 ounces), grande (16 ounces), venti (24 ounces), and trenta (30 ounces).
How are the layers formed in this drink?
Ingredients with more sugar will sink to the bottom of a drink, so adding the Mango Dragonfruit Lemonade and peach juice will sink to the bottom of the cup while the unsweetened Iced Passion Tango Tea stays layered on top.
Related
Want to save this drink to Pinterest? Pin it now to your Pinterest board!