See the most popular drinks at Dutch Bros (including secret menu). From Rebels to cold brews, this list will help you figure out what to try next!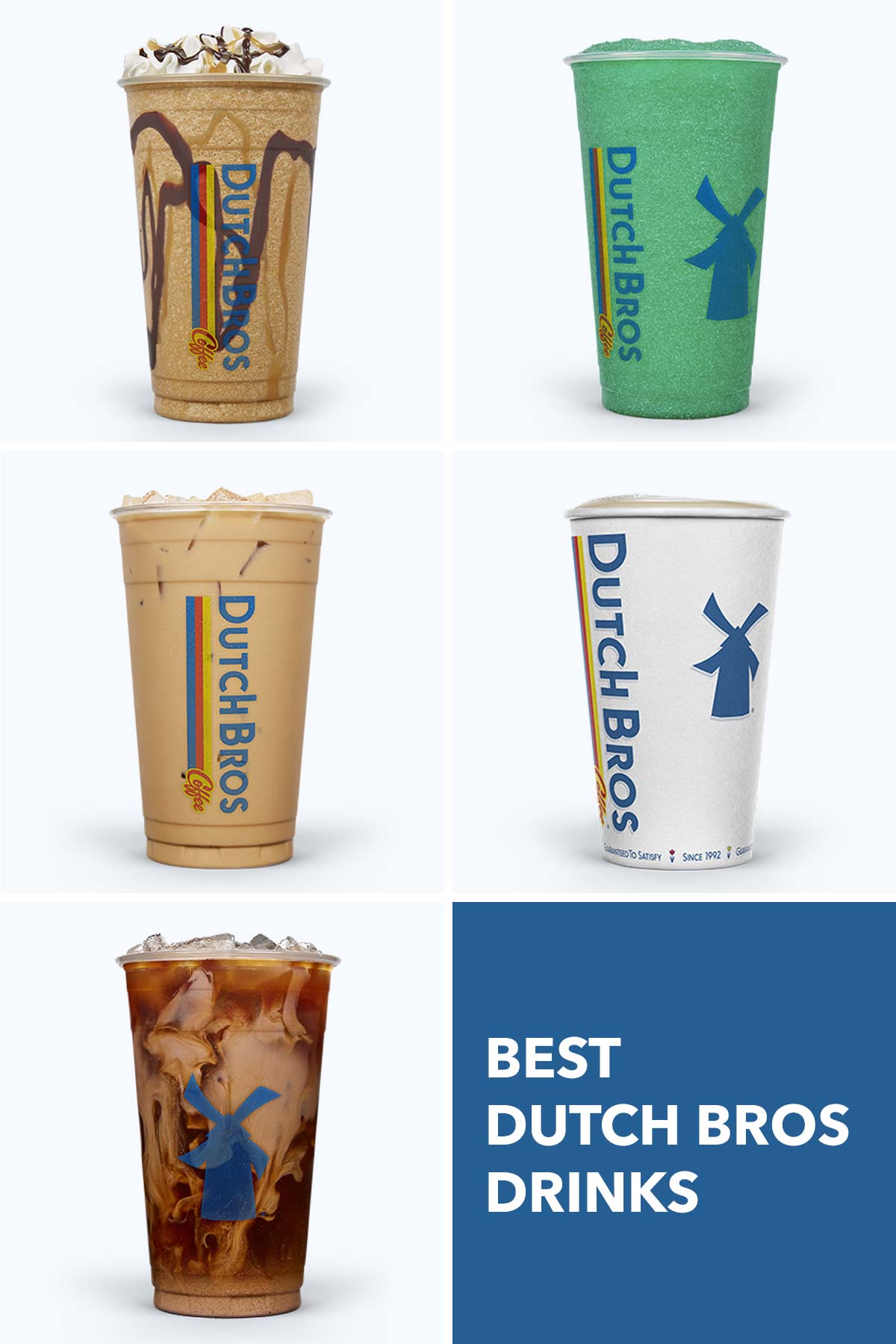 Looking to try a new Dutch Bros drink but don't know what to get?
To help you decide, here is a list of their most popular and best drinks, including ones from the regular menu and secret menu.
RELATED: Best Dutch Bros Iced Coffees
How to Order Dutch Bros Drinks
Always order drinks in this order:
1. Drink Size
Kids: 10 ounces (hot and cold)
Only available for kid-friendly drinks: Dutch Frosts, Smoothies, Dutch Sodas, and Not So Hots (chocolate milk steamed to a kid-friendly warm temperature).
Small: 12 ounces hot, 16 ounces iced and blended
Medium: 16 ounces hot, 24 ounces iced and blended
Large: 20 ounces hot, 32 ounces iced and blended
2. Hot, Iced, Blended, or Toasted
Most drinks can be prepared hot, iced, blended, and some cold brew drinks are toasted (hot).
3. Name of the drink
The name of the drink lets the broista (Dutch Bros barista) know which syrups and flavorings your drink needs. You can order secret menu drinks by name!
4. Customizations (milk, syrups, espresso type, toppings)
Now is when you'll ask for: half-caf, decaf, Cubano, white coffee, alt milks, soft top, drizzle, sprinkles, extra scoop of syrup, sugar-free syrups, etc. If you order a coffee drink and don't specify milk, their signature half & half blend will be used.
RELATED: 100+ Popular Dutch Bros Secret Menu Drinks
Common Customizations
Coffee Options
Dutch Bros has quite a few coffee options and any of these can be used in place of their regular Private Reserve espresso blend.
Decaf
Half-caf
White coffee
Lightly roasted and more caffeine.
Domino
Half white coffee and half regular espresso.
Cubano
Sugar packet is added between pulls of regular espresso.
Fireball
Double-shot Cubano with cinnamon also added between pulls of espresso.
Milk Options
Kick Me Mix (half & half blend)
Dutch Bros puts their Kick Me Mix by default in their coffee drinks with milk.
2% milk
Nonfat milk
Chocolate milk
Heavy whip
Coconut milk
Oat milk
Almond milk
NOTE: They no longer offer soy milk.
Ice Options
More ice
Less ice
No ice
They will leave out the ice to let you add your own after the drink is prepared. You'll essentially get half a drink since there is room left for ice.
Cold pour
A less common customization but if you'd prefer no ice in your cold drink and still filled to the top, ask for a "cold pour." There may be an extra charge.
Soft top
This is a topping you can add to any cold drink. It's lightly whipped buttermilk that's like cold foam at Starbucks.
Picture Perfect
Asking for a drink Picture Perfect will add on whipped cream with chocolate and caramel drizzle on top.
As Sugar Free As Possible
There are the popular, year-round sugar-free syrup flavors (like vanilla, caramel, and chocolate) and sometimes seasonal ones too. When ordering a drink, if you want the broista to use as many sugar-free options as possible, which could include all the syrups in the drink, just say "make it as sugar free as possible."
Not So Hot Temperature
Hot drinks can be steamed to a lower temperature (100ºF) by asking for the drink to be "not so hot" or kids' temperature.
RELATED: Best Dutch Bros Freezes
23 Best Dutch Bros Drinks
Medium is the standard size for all beverages.
23. Snickerdoodle
Chocolate macadamia nut, white chocolate, and cinnamon topped with cinnamon sprinkles, this drink tastes almost like a snickerdoodle cookie. It's commonly ordered as a Freeze instead of a hot or iced breve, and is popularly topped with soft top or whipped cream.
22. Palm Beach
Pomegranate and peach syrups are combined, usually in an Iced Lemonade or blended. Try it with green or black tea for a caffeine boost on a hot day.
21. White Chocolate Chai
The most popular flavor to add to a Dutch Bros Chai is white chocolate syrup. Usually made with 2% dairy milk and chai mix, this can be customized with the Party Works, which is whipped cream and cinnameg (cinnamon + nutmeg) sprinkles. Similar to a Christmas Morning, which is this same Chai but made creamier with half & half instead of 2% milk.
20. Aftershock
A very popular secret menu drink combining strawberry, blackberry, red raspberry, and lime, particularly in the summer months. It's usually ordered as an iced or blended Rebel for those looking for a caffeine kick, or as a caffeine-free Lemonade.
19. OG Gummybear
A balanced combination of pomegranate, passion fruit, watermelon, and grapefruit. A fruity secret menu item that's usually ordered as a soda or blended Rebel. A tasty customization is to add soft top and/or mango smoothie mix drizzle.
18. Peach Blended Rebel
An alternative to coffee for caffeine, this popular Dutch Bros Rebel just uses peach syrup. Ask for it blended to make it a little more special. It can be easily customized with other syrups or soft top, but it's also tasty on its own.
17. Cotton Candy Frost
Frosts are popular drinks for kids since they're basically milkshakes. Cotton Candy combines blue raspberry and white chocolate to create that classic amusement park treat flavor. Add whipped cream and birthday sprinkles for pops of color and to make it more of a dessert.
16. Americano
A no-frills coffee that's just espresso and water, Americano comes hot or iced.
15. Cold Brew
Cold Brew is usually iced but can also come toasted (hot cold brew!)
14. Hazelnut Truffle Mocha
Originally a seasonal drink, this was so popular it's on the regular menu. Like any Dutch Bros Mocha, it starts off with steamed chocolate milk, hazelnut syrup is added and topped with soft top and caramel drizzle. Ask for it with salted caramel to hide the coffee flavor if you like it sweeter.
13. Dragon Slayer
Combines red raspberry and blue raspberry with a blackberry drizzle. This is usually ordered as a green or black tea or iced Rebel. Another option is to ask for it as a Frost with whipped cream.
12. Double Torture
This is a Dutch Classic, flavored with vanilla syrup and commonly made as a mocha, which uses Dutch Bros chocolate milk. Just like the famous 9-1-1, a Double Torture is an extra shot drink used for a jolt of caffeine. A medium has 4 shots of espresso instead of the usual 2 shots.
11. Strawberry and Pineapple
Completely delicious with Lemonade, it combines strawberry and pineapple syrups. Perfectly balanced between the sweet, fruity syrups and tart lemonade. It's usually ordered iced or blended, and popular during the summer months.
10. Electric Berry
Flavored with blue raspberry and lime, a lot of people order it as an iced or blended Rebel or Lemonade. Customize it as a Dutch Soda with cream added in to make it extra special.
9. White Zombie
From the secret menu and usually ordered as a Freeze, it combines vanilla and white chocolate. A favorite customization is with soft top and Picture Perfect (whipped cream with chocolate and caramel drizzle on top).
8. Cocomo
The second most popular mocha, Cocomo is made with coconut syrup and chocolate milk. Not too sweet with a smooth coconut flavor, it can be ordered hot or iced.
7. Caramelizer
The most popular mocha on the Dutch Bros menu, this creamy and delicious drink is made with chocolate milk and caramel syrup. Modify it with sugar-free caramel or any of the alternative milks. A popular customization for those who like a stronger coffee flavor (to keep the flavors but offset the sweetness) is to ask for a triple shot. Order it Picture Perfect (whipped cream, chocolate and caramel drizzle) to make it even tastier.
6. Shark Attack
This drink features coconut, blue raspberry, and lime syrups topped with pomegranate drizzle. Usually ordered iced, blended Rebel, or as a Lemonade.
5. 9-1-1
An Irish cream breve with quite a kick. It's famous for its extra shots of espresso with 6 shots in any drink size. Some get it with white coffee, which is intense, since it has more caffeine per shot than the regular espresso. A 9-1-1 with white coffee, any size, has about 407 mg of caffeine.
4. Kicker
This drink is on the Dutch Classics menu and it's very popular with anyone who loves Irish cream. A hot breve made with Irish cream syrup, can also be ordered iced or blended. It's recommended to add caramel flavor and caramel drizzle. If you like the Kicker, try the Nutty Irishman breve (Irish cream and hazelnut) and White Russian breve (Irish cream and white chocolate).
3. Annihilator
A super popular breve with chocolate macadamia nut syrup, it's commonly ordered with white chocolate syrup and/or white coffee. Customizing it with white coffee adds more caffeine and a slightly smoother coffee taste to the drink.
2. Picture Perfect Freeze
Also known as a way to style any coffee drink, it's popular to order it as a Freeze. It's one of the more simple drinks at Dutch Bros but a great option without too much sweetness.
1. Golden Eagle
Caramel is a very popular flavor at any coffee place, and this number one Dutch Bros drink is no exception. Golden Eagle is a caramel macchiato and it's a sweet breve with caramel and vanilla syrups and topped with caramel drizzle. It's popular hot or iced. Try it as a Golden Eagle Chai.
Want to save this list of the Best Dutch Bros drinks for later? Pin it now!
Related