Unhappy with your purchase from Starbucks? Here's how to return Starbucks food, beverages, gift cards, merchandise, and packaged coffee or tea.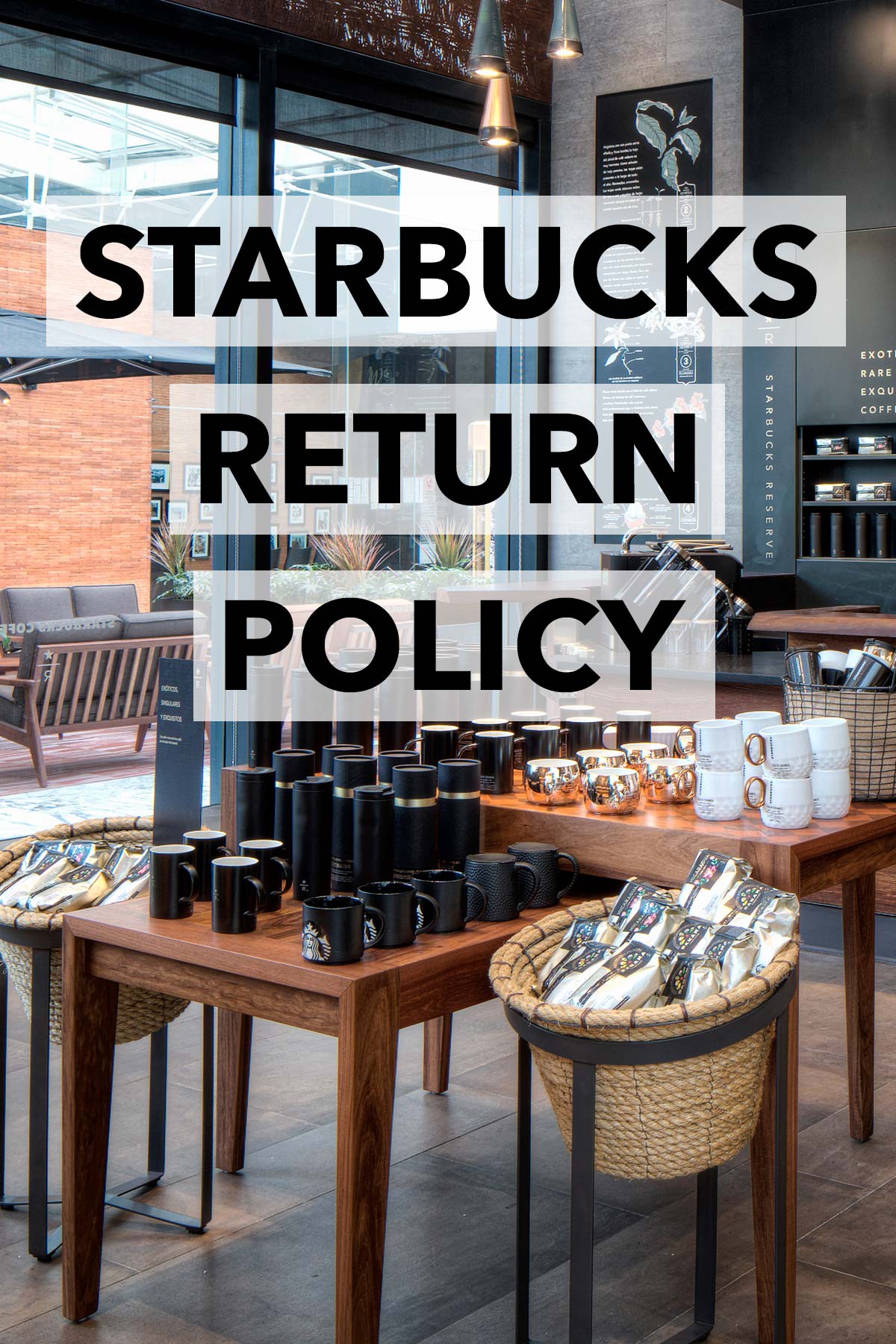 What Can You Return at Starbucks?
Starbucks gift cards, merchandise (tumblers, mugs, etc.), packaged coffee, and packaged tea are returnable at Starbucks.
To get your money back or store credit, the item has to be unused and unopened, you need to bring in the original receipt, and it has to be within 60 days of purchase date on the receipt.
With food and drink, you can get it replaced with a new one.
Starbucks does its best to stand behind their barista promise: "Love your beverage or let us know. We'll always make it right."
If you're unhappy with what you ordered, just tell the barista and they will make you a new drink or get you another of the food item.
I don't like the drink I ordered. Can I return it?
If you ordered a drink or food item and you're not happy with it for any reason, just let the barista know (politely) and they will remake it for you.
It's easiest to take care of this before you leave the store.
But if you picked up a drink at one Starbucks and then started driving and realized en route it's not what you wanted, you can go to another Starbucks to ask for a new one.
They will check that you haven't really had much of the drink and that you just recently purchased it.
A barista will be happy to make you something you know you'll like instead, just ask nicely.
RELATED: How Starbucks Free Refills Work
Tips for Returning Starbucks Food or Drink
Ask politely.
Those who work at Starbucks sometimes get customers who are aggressive or rude, and you're far more likely to quickly get a new drink or food item if you're pleasant. There's no need to yell or insult the staff.
Check the name on the cup (or bag) before you drink or eat it.
It's a common mistake for a customer to grab the wrong item, especially from the mobile order pickup area. If you do make this mistake, just let the barista know and they'll take care of it.
Show the barista the order is wrong.
If there's something actually wrong with the food or drink (like, your name is on the cup or bag but it's not actually what you ordered, tastes off, or is the wrong size), make sure to show it to the barista who will make you a new, correct one.
Don't be shy.
Starbucks baristas have heard it all. Just let someone know what's wrong, and they'll make it right. (Even if you're trying a new drink for the first time, or an old favorite, and you really, really don't like it. They will make you a new drink.)
RELATED: How to Get Free Drinks with Starbucks Rewards
Returning Merchandise, Packaged Coffee or Tea
You can return unused packaged tea or coffee, or merchandise like a new tumbler or coffee mug, as long as it is within 60 days of purchase and you have the original receipt.
If you bought the item(s) with cash or a credit card, you'll get your refund back in the same way you paid.
If you bought any of these with your PayPal or Starbucks Card, either on the app or a physical Card, you'll get your refund as Starbucks Store Credit.
And if you earned Stars from your purchase, you'll be able to keep those Stars after the return.
RELATED: Starbucks Rewards Benefits and Perks
Starbucks Store Credit
Starbucks Store Credit is given as a physical card, but is not the same as a Starbucks Card. It looks like a plain Starbucks Card but says "Store Credit" across the front.
You can't load the credit on to your Starbucks Card or on the app, but you can use the credit on that card to purchase anything from any participating Starbucks location.
Purchases paid for with a Store Credit card do not earn Stars.
I bought a cup from Store A, can I return or exchange it at Store B?
Technically, yes. As long as you have your original receipt, the store should honor the exchange or return within 60 days of purchase.
Some Starbucks locations (airports, hotels, supermarkets) might not be able to accept a return from a Starbucks store, or vice versa.
It is always easier, though, to return it to the Starbucks where you first purchased the item.
RELATED: How to Buy Starbucks Syrups
Returning an Unused Starbucks Card
Have a Starbucks Card that was given as a gift, bought one for a gift, or just have one that you haven't used, and don't want or need it? You can return it, but not at a Starbucks location.
Make sure to have the original receipt and call Starbucks' Customer Service at (800)-STARBUC (800-782-7285) to find out how to return it.
If you partially used it, or added the credit to your Starbucks Card on the app, it can not be returned.
Unavailable Food or Drink
Sometimes you might Order Ahead with the app and your item(s) are not available at the store, don't worry, they'll let you pick another item as a replacement.
This can even happen when you place an order inside a store.
Say, you ordered a butter croissant and they just ran out. The baristas will let you choose another croissant or other bakery item, it's no problem.
Same for a drink. If you ordered something with a syrup or sauce, and the store is suddenly out of that flavor, you can choose another flavor or switch your drink for a different one, as long as its the same size.
They want you to like what you've ordered.
RELATED: Nespresso Starbucks Drink Recipes
Questions You May Have
I bought a Starbucks Card for someone as a gift but didn't end up giving it to them. Can I return it?
Yes. As long as you have the original receipt and none of the credit on the Card was used, you can call 1-800-STARBUC (800-782-7282) and Customer Service will help you.
Is a Starbucks Store Credit the same as a Starbucks Card?
No. If you used PayPal or your physical (or app) Starbucks Card to purchase something that you returned, you will be given a Starbucks Store Credit. The credit on this Store Credit card can not be added to a Starbucks Card, the Starbucks app, or used to make a purchase that earns Stars.
Can I return the package of coffee I haven't used?
Unless the package was part of a specific store-only sale or clearance, you are allowed to return any unopened packages of coffee or tea within 60 days of purchase. Make sure to have the original receipt so that the refund can be credited correctly.
I earned Stars on my purchase, can I keep them after the return?
Yes, once you've earned Stars on a purchase, you can keep those Stars. Any Stars-earned purchase will be refunded as a Starbucks Store Credit, which means that you can use that credit to buy something at Starbucks but won't be able to earn Stars on it.
Related