Starbucks has a Reusable Cup Benefit for their Rewards members to earn Stars and get a discount! See how to make the most of it.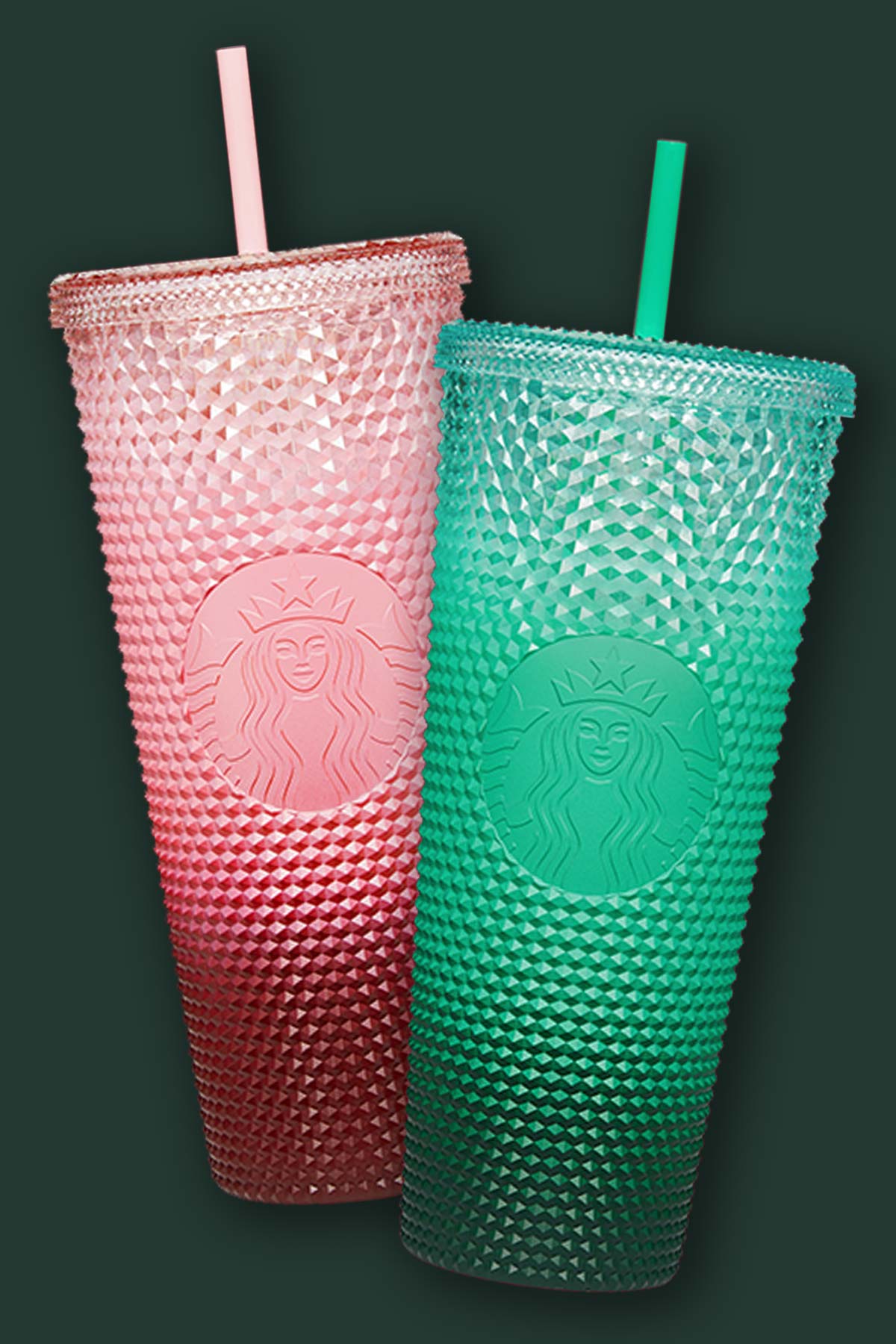 Starbucks Reusable Cup Benefit
Starbucks Rewards members can get a drink made in their own reusable cup to earn 25 Stars and 10 cents off their beverage order.
Reusing your own cup not only cuts down on the amount of waste that Starbucks (and you) create, but it's cheaper in the long run.
This Reusable Cup Benefit for Starbucks Rewards members started on April 2022 to coincide with Earth Day.
Have a Red Cup from Starbucks from Red Cup Day? This is a great way to use the reusable Red Cup to earn Stars.
RELATED: Starbucks Rewards Benefits and Perks
How It Works
You must be a Starbucks Rewards member.
If you're not already, it's easy to sign up online or by downloading the Starbucks app and signing up that way. You'll have your card's barcode to start scanning right away.
Make at least one Star earning purchase within the previous 2 years.
Basically, order anything from the menu using your Starbucks Card. (Purchasing gift cards doesn't count.)
Order your beverage in the Starbucks cafe.
This perk doesn't count for drive thru or Order Ahead on the app. Make sure to show the barista your cup and let them know you want to use your own cup for the order.
The Reusable Cup Benefit is per order.
This means if you use 2 reusable cups in one order, you will get a maximum of 25 Stars for that one order.
You'll be charged the closest cup size.
Bring in your personal cup of any size and order a handcrafted drink, brewed coffee, or brewed tea and you'll be charged for the closest cup size, but not larger than the size of the personal cup.
The maximum number is 3 times per day.
You can order with a reusable cup up to 3 times each day, and each order will earn you 25 Stars and 10 cents off.
The Reusable Cup Benefit can't be combined with other promotions like Double Star Days.
You won't earn 50 Stars on a Double Stars Day if you bring in your reusable cup. It'll still be 25 Stars for the reusable cup.
RELATED: How Starbucks Free Refills Work
Type of Cups You Can Use
Any personal, reusable cup or tumbler counts.
It doesn't have to be Starbucks cup, but it does have to be yours. Starbucks-provided "for here" mugs or glasses don't count.
Personal cups must be clean.
Make sure the cup you hand over to the barista is clean. Baristas won't accept a dirty cup for health reasons.
Large enough to hold the beverage you're ordering.
Getting a Trenta iced tea? Make sure your cup is big enough to hold 30 ounces.
Most reusable cups and tumblers from Starbucks are at least grande sized (16 ounces) or larger, but not all are the biggest size possible.
Make sure you check the cup capacity size.
RELATED: Starbucks Return Policy
Earn Free Drinks Faster
Use your personal cup once to get 25 Stars.
After reusing your cup once to get 25 Stars, you can redeem it to customize a drink with an extra espresso shot, dairy substitute, or one pump of any syrup.
Use your personal cup twice to get 50 Stars.
By reusing your cup in 2 visits, you'll earn 50 Stars, which gets you a free hot coffee, hot tea, or a bakery item.
Use your personal cup 6 times to get 75 Stars.
It'll just take 6 orders to earn enough Stars to get 150 Stars. At 150 Stars, you'll be able to get a free handcrafted drink, hot breakfast, or parfait.
Use your personal cup 8 times to get 200 Stars.
After using your personal, reusable cup for 8 orders, you'll earn 200 Stars to get a free salad, sandwich, or protein box.
Use your personal cup 16 times to get 400 Stars.
400 Stars gets you a free Starbucks reusable cup or a bag of coffee.
RELATED: How to Buy Starbucks Syrups at Starbucks
Questions You May Have
What if I'm not a Starbucks Rewards member, can I get a discount?
Yes, anyone can bring in their own clean cup to Starbucks and get the 10 cents off the cost of the beverage. Just make sure that the cup is big enough to hold the drink you've ordered, and a hot cup for a hot drink or cold cup for a cold drink.
Can I use my own cup that's not from Starbucks?
Yes! As long as the cup is clean and large enough to hold the beverage ordered.
Can I still get a free refill if I've used my own cup?
Yes, as long as you drink the beverage in the cafe you can get a free refill before you go (or stay longer if it's not too busy). It's a perk of being a Rewards member to get a discount, bonus Stars, plus a free drink from ordering one beverage.
I just joined Rewards today and bought my own cup. Can I get the reusable cup benefit right away?
No. In order to qualify for the reusable cup benefit, a member must have made at least 1 Star qualifying purchase in the past two years. That means: buy something and scan your Starbucks card or order from the app. Once that purchase's Stars show up on your account, you can bring in that cup (wash it first!) to get 25 Stars and 10 cents off your beverage.
Related