Enjoy a mint chocolate chip cookie in a cup with this Thin Mint Frappuccino, a secret menu drink at Starbucks. Find out what's inside and how to order it.
Thin Mint Frappuccino
Thin Mint Frappuccino is a customized Matcha Green Tea Creme Frappuccino that became popular on social media, making it a secret menu item.
Secret menu drinks can't be ordered by name since Starbucks baristas are trained to make them. To order a secret menu item, you'll need to know the drink recipe, including all the ingredients and any specifications.
This drink can be ordered in person or via the Starbucks app because each customization is available on the app.
RELATED: 50+ Popular Starbucks Secret Menu Drinks
How It Tastes
Right from the first sip, it tastes like a drinkable mint chocolate chip cookie in a cup!
The mint taste is delicate with a stronger chocolate flavor which comes from the mocha syrup and Frappuccino chips. The matcha flavor is mild so the mint and chocolate are able to come through.
RELATED: 10 Tiktok Starbucks Drinks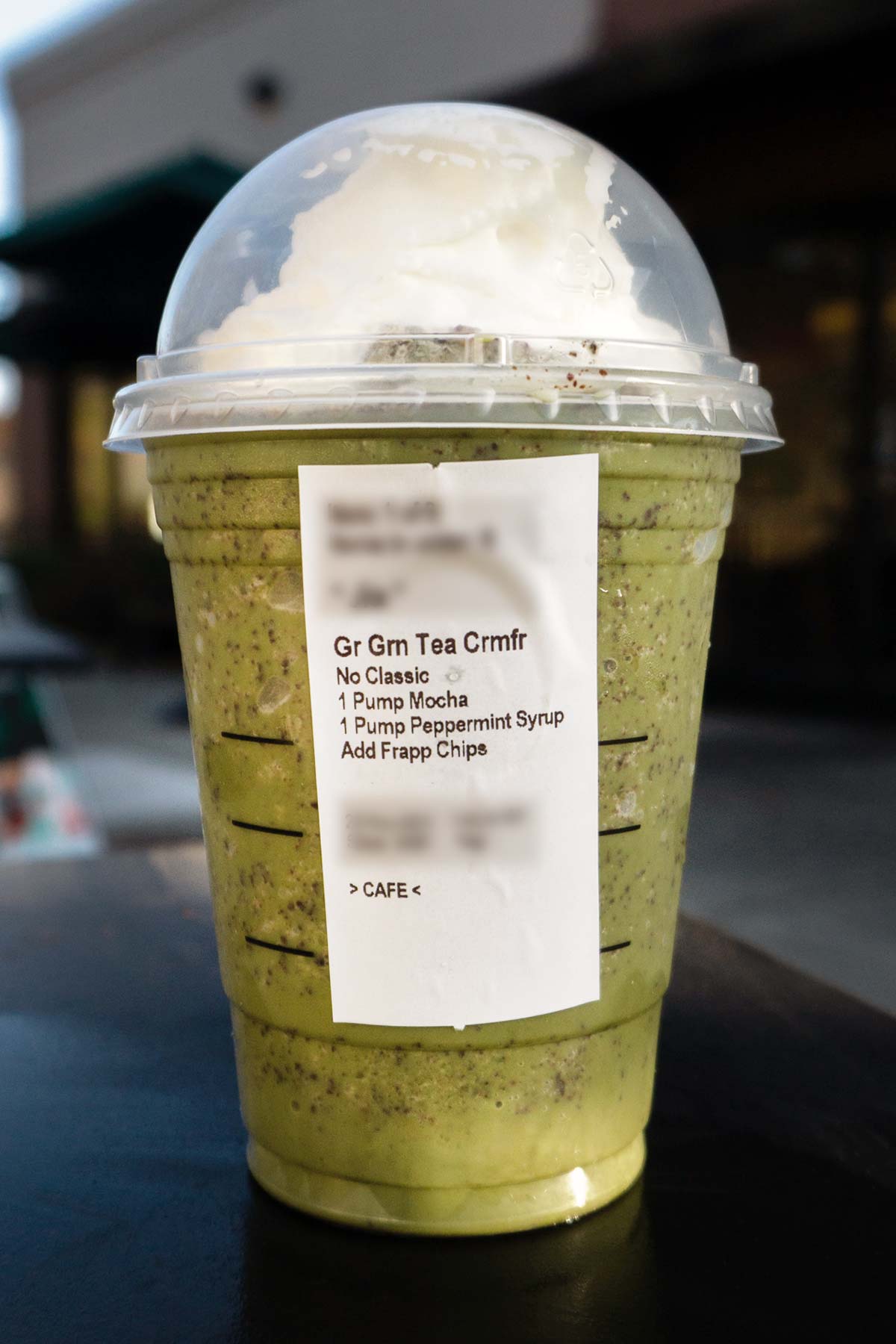 What's In The DRink
Base drink: Matcha Green Tea Creme Frappuccino
Each secret menu drink starts with an official Starbucks menu drink and this one is the Matcha Frappuccino.
Customizations for a grande drink: Remove Classic syrup, add 1 pump of mocha sauce and 1 pump of peppermint syrup, add java chips (Frappuccino chips), add mocha drizzle
Swapping classic syrup for mocha and peppermint give this drink its "thin mint" mint and chocolate flavors. The java chips increase the chocolate flavor while adding bits of chocolate chips to give the drink a texture that's fun to drink.
RELATED: 21 Starbucks Chocolate Drinks (Including Secret Menu)
How to Order the Drink
"Can I get a grande Matcha Frappuccino with no classic syrup, 1 pump mocha, 1 pump peppermint, java chips blended in, and mocha drizzle on top?"
Drink Cost
A grande size of the Thin Mint Frappuccino costs $6.05 plus tax. Depending on which Starbucks you buy the drink from, the price will vary.
It was $4.95 for the Matcha Frappuccino, $0.60 for mocha sauce, no extra charge for peppermint syrup, $0.50 for Frappuccino chips, and no extra charge for mocha drizzle.
If a drink already comes with syrup and you replace it for another, Starbucks doesn't charge extra. So for this drink, you are swapping classic for peppermint syrup.
Tip your barista if you can! Secret menu drinks take more time to make and your barista would definitely appreciated it!
RELATED: Best Starbucks Frappuccinos
Questions You May Have
Does this drink have caffeine?
Yes. Although this is a Creme Frappuccino, which means it doesn't contain coffee, the base drink is a Matcha Frappuccino and matcha green tea has caffeine. This drink has 70 mg of caffeine in a grande size.
Can I replace the dairy milk?
Yes, like other Frappuccinos, the whole milk in this recipe can be replaced with 2%, skim, or any of Starbucks' alternative milks.
What sizes are available for this drink?
This comes in the same sizes that Matcha Frappuccinos, the base drink, are available: tall (12 ounces), grande (16 ounces), venti (24 ounces), and trenta (30 ounces).
Related
Want to save this drink to Pinterest? Pin it now to your Pinterest board!