A simple Starbucks secret menu drink, this Frappuccino can be ordered even after the holidays. Delicious with the perfect touch of peppermint, see how to order this drink.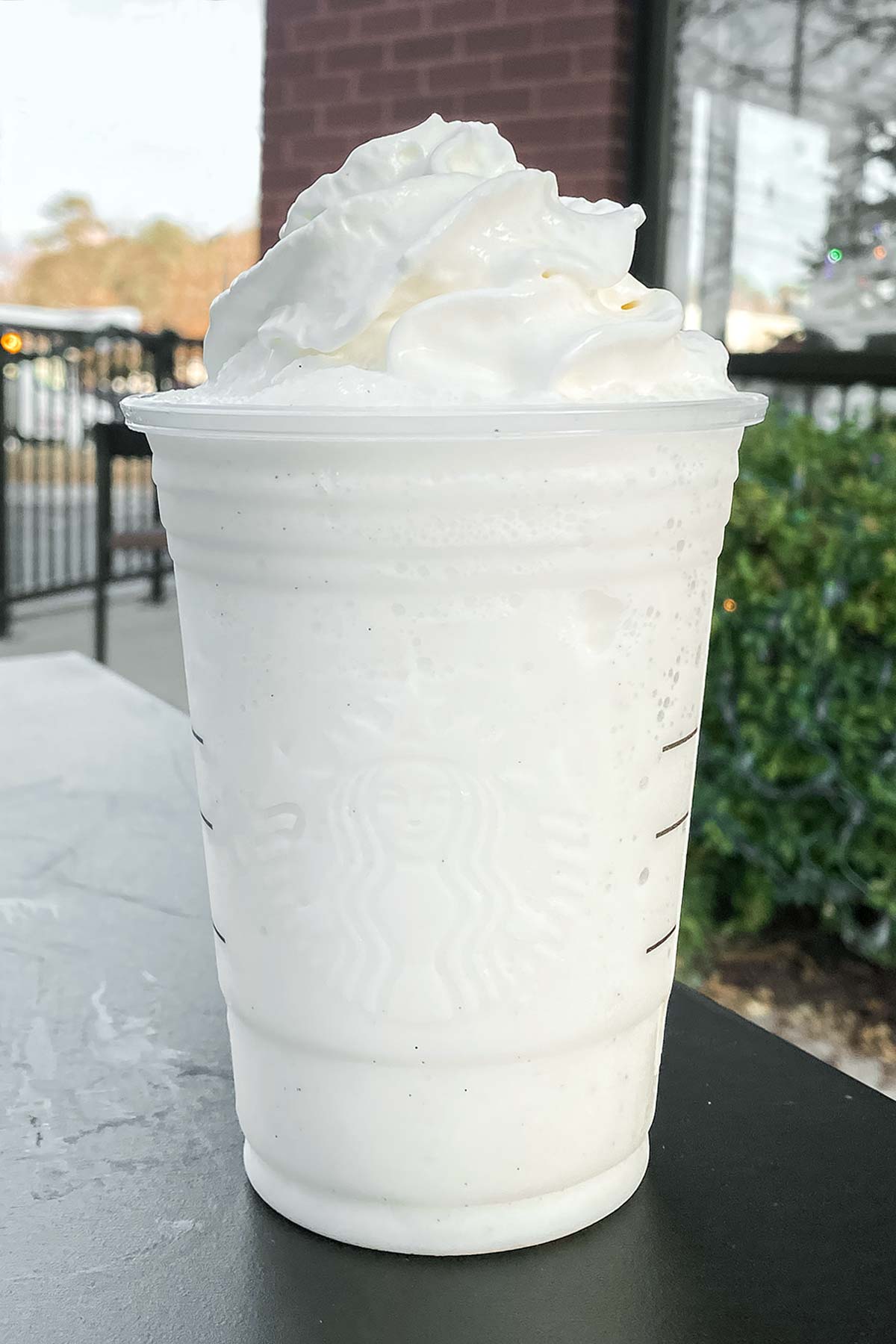 Candy Cane Frappuccino
Candy Cane Frappuccino is a Starbucks secret menu drink flavored with vanilla and peppermint that tastes like a candy cane. It's a customized Vanilla Bean Creme Frappuccino.
Starbucks secret menu drinks are customized official menu beverages that got popular on social media. Baristas aren't trained on how to make secret menu drinks so you can't order it by the secret menu name. Instead, order the drink by its recipe, giving the barista the ingredients and letting them know how it should be made.
This drink can be ordered on the app and in person. (Some secret menu drinks can only be ordered in-person.)
This is a holiday drink but it can be ordered all year since the ingredients are always available.
Related: Santa Claus Frappuccino (Starbucks Secret Menu)
How It Tastes
The peppermint syrup gives the drink a minty and refreshing taste while the vanilla makes it taste mellow and smooth.
Does it taste like a candy cane? Yes, but a mild version of one since the peppermint isn't as harsh or as strong tasting as it does in a candy cane.
The name of the drink is accurate to how it tastes.
Related: 10 Tiktok Starbucks Drinks
What's in the Drink
Base drink: Vanilla Bean Creme Frappuccino
Secret menu drinks all start with an official menu drink and for the Candy Cane Frappuccino, it's the Vanilla Bean Creme Frappuccino. Make sure you order the Creme Frappuccino, which doesn't contain coffee.
Customizations: Add pumps of peppermint syrup
The peppermint syrup is what turns the Vanilla Bean Frappuccino into a Candy Cane Frappuccino. For a tall drink, get 1 pump of peppermint syrup, get 2 pumps for a grande, and 3 pumps for a venti.
Related: 50+ Starbucks Secret Menu Drinks
How to Order the Candy Cane Frappuccino
"Can I get a grande Vanilla Bean Creme Frappuccino with 2 pumps peppermint?"
Drink Cost
Prices will vary depending on which Starbucks you go to. A grande size of the Candy Cane Frappuccino was $5.45 plus tax.
The grande Vanilla Bean Creme Frappuccino was $4.95 and the peppermint syrup was $0.50.
Questions You May Have
What sizes are available for this drink?
The Candy Cane Frappuccino comes in the same sizes as the Vanilla Bean Creme Frappuccino since it's the base drink. It comes in tall (12 ounces), grande (16 ounces), and venti (24 ounces).
Is there coffee in a Candy Cane Frappuccino?
Nope, there's no caffeine or coffee in the Vanilla Bean Creme Frappuccino or the peppermint syrup. Make sure you order the Vanilla Bean Creme Frappuccino, which uses the caffeine-free Creme Frappuccino base. If you order a Vanilla Frappuccino, you may get the Caffe Vanilla Frappuccino, which is made with a coffee Frappuccino base, which will contain caffeine.
Can I order the Candy Cane Frappuccino all year?
Yes! Even though the drink is holiday themed, all the ingredients used to make the drink are available all year.
Related
Want to save this drink to Pinterest? Pin it now to your Pinterest board!