Cappuccino is a classic, frothy drinks made with espresso and milk. See how to make it at home and how it's different from a latte.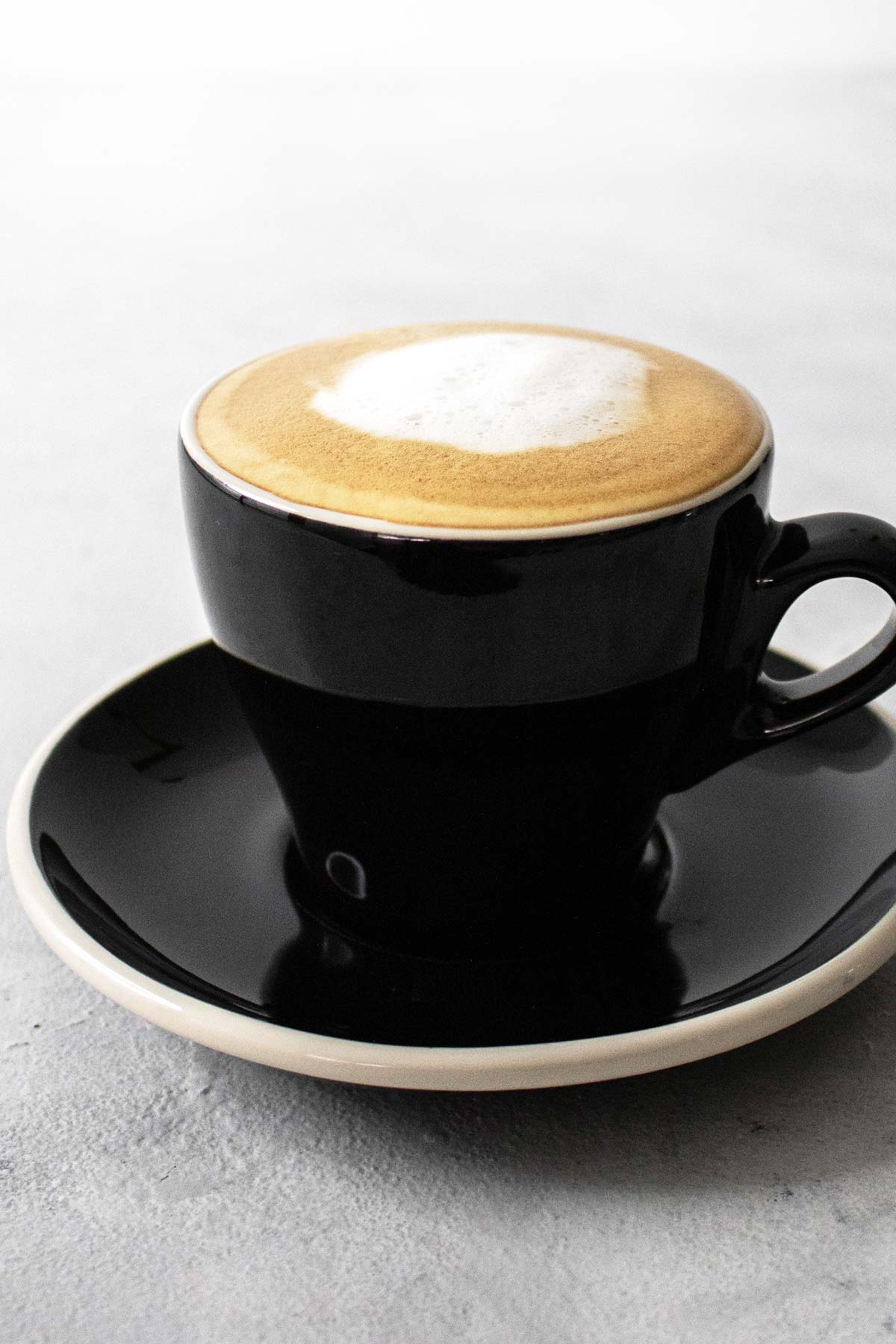 What is a Cappuccino?
A cappuccino is a 6 ounce espresso drink made with 1-2 shots of espresso and frothed milk. It's one part espresso, one part steamed milk, and one part foam.
The drink originated in Italy and it's pronounced CAP-PU-CHEEN-O.
There are a lot of variations on the cappuccino, from very frothy milk with stiff peaks to adding chocolate powder.
Although the traditional size of a cappuccino is small, it can be ordered in short, tall, grande, and venti sizes.
Cappuccinos are considered a classic Italian drink. Find out more about other classics, like espresso, lattes, cortados, americanos, flat whites, and macchiatos.
Difference Between Cappuccino and Latte
Espresso
Both lattes and cappuccinos can be made with 1-2 shots of espresso. Many specialty coffee shops will serve both drinks with a double shot. At Starbucks, one shot of espresso is in a short and tall sized cups and two shots are in grande and venti for both latte and cappuccino.
Milk
What makes a cappuccino different from a latte is the milk. The milk for a cappuccino is frothed more, making for lighter foam. Foam is made by introducing air into milk, expanding the milk, so there's less milk in a cappuccino than a latte of the same size.
Barista's Tip: A good test to see if a drink is a latte or cappuccino is to take a spoon and push the milk away from you. If you still see foam, it's a cappuccino. If you see milk, then it's a latte. This does depend on the wideness of the cup (a wider cup will disperse the foam out wider, making this pushing test more difficult).
Drink size
Standard cappuccinos are 6 ounces, while lattes range in size from 8-20 ounces.
Difference Between Cappuccino and Flat White
Espresso
Cappuccinos have 1-2 shots of espresso, while flat whites are made with 2 shots.
Milk
Cappuccinos have frothier milk than flat whites. Both should have smooth microfoam, but the foam on a cappuccino should be thick. The first sip should be all foam. The first sip of a flat white, on the other hand, is a mix of foam and milk. Cappuccinos and flat whites contain about the same amount of milk.
Drink size
Both drinks are traditionally 6 ounces.
Cappuccinos at Starbucks
Cappuccinos stray far away from their Italian roots at Starbucks. Instead of a 6 ounce drink, cappuccinos at Starbucks are served in all their cup sizes: short (8 ounces), tall (12 ounces), grande (16 ounces), and venti (20 ounces).
Order a short (8 ounces) cappuccino to get the size that's closest to the traditional (6 ounces).
Short and tall cappuccinos comes with 1 shot of espresso, while grande and venti cappuccino come with a double shot.
What You'll Need
Espresso machine
A must to make a proper cappuccino.
Coffee grinder
This is only needed if your espresso machine doesn't come with one. You can use pre-ground coffee but the best drink will come from freshly ground coffee.
Whole beans
Use coffee no more than 2 weeks old—coffee loses key aromatics and flavor as it ages.
Milk
Perfectly textured milk with an equal balance of steamed and foam takes practice. Whole or 2% milk will froth easier than nut milks.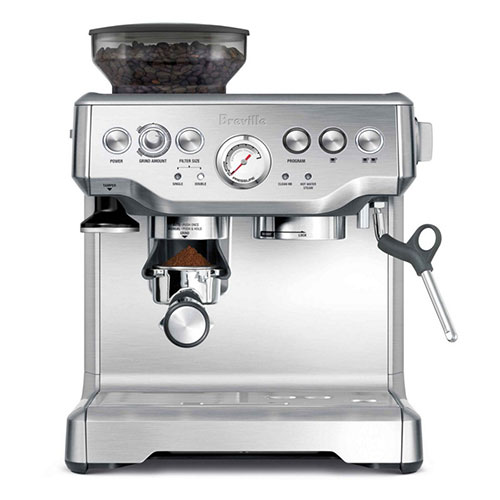 My Espresso Machine Pick
Photo Credit: crateandbarrel.com
Makes great espresso and drinks like lattes at home in one compact machine. This is the machine I use every day.
SHOP NOW
STep-by-Step Instructions
For full ingredients and instructions, scroll down to the recipe.
Pull 1-2 shots of espresso.
Grind coffee beans and use an espresso machine to pull 1-2 shots of espresso into a small mug or cup.
Steam milk.
Froth 4 ounces of milk, creating some fluffy foam.
Pour milk into espresso.
Barista's Tip: If you pour slowly, the foam will stay in the milk pitcher and pour out at the end to top your drink
Expert Tips
In some countries, cappuccinos are served with shaved or powdered chocolate or cinnamon.
What we call a cappuccino in the United States is wildly different from a cappuccino in traditional Italian coffeehouses. Cappuccinos in Italy have much more foam. Some places will even scoop out only foam to top the espresso.
You can order a "dry" cappuccino (with more foam) a "bone dry" cappuccino (all foam) or a "wet" cappuccino (with foam similar to a latte).
Iced lattes are a common drink, but some coffee shops might refuse to serve an iced cappuccino. That's because the foam in a cappuccino is so distinct, and adding hot foamed milk to a cold drink could make the drink an unsafe temperature.
Questions You May Have
What is a real cappuccino?
If you're in Italy, a real cappuccino is a 5-6 ounce drink with a shot of espresso and heavily frothed milk. However, its meaning has evolved and changed as the drink has traveled the globe.
What is a frappuccino?
A frappuccino is a drink invented by George Howell that was bought by Starbucks. It's an iced blended drink with coffee, ice, and other add-ons. A cappuccino and frappuccino are different drinks.
Why don't Italians drink cappuccinos after 11 AM?
There's an oft-quoted "rule" that says Italians don't cappuccinos in the afternoon — and culturally, this is mostly true. Most Italians only drink milk in the morning.
More Espresso Drinks
PIN THIS
Want to save this cappuccino guide for later? Save it to your Pinterest now!
SAVE TO PINTEREST
How to Make a Cappuccino
A drink with equal parts espresso, steamed milk, and foam.
INGREDIENTS
2

capsules

Nespresso espresso

(or 2 espresso shots)

4

ounces

milk
INSTRUCTIONS
Put 2 shots of espresso into a cup.

Grind coffee beans and use an espresso machine to pull 2 shots of espresso into a small mug or cup that can hold 6 ounces. If you want a less strong drink, pull just 1 shot of espresso. Or, use 2 Nespresso espresso capsules.

Steam milk.

Froth 4 ounces of milk, creating some fluffy foam. Put the steam wand into the pitcher with milk just below the surface and turn on the steam. Move the pitcher down so that the steam is just touching the surface for 3 seconds and listen for a paper-tearing sound. Then move the pitcher back up and to the side so that the wand is below the surface and a vortex is created. Any big bubbles should get smaller. Once the milk has doubled in volume and the pitcher is too hot to touch, turn off the steam wand. The milk should look smooth and velvety.

Pour milk into espresso.

Pour slowly so that the foam will stay in the milk pitcher and pour out at the end to top your drink.
EQUIPMENT
NOTES
Cappuccinos are notoriously difficult to get right because of their frothiness. Try steaming with whole milk first — or, if you're dairy-free, a milk with fat and protein like soy milk.
NUTRITION
Calories:
75
|
Carbohydrates:
6
g
|
Protein:
4
g
|
Fat:
4
g
|
Saturated Fat:
2
g
|
Cholesterol:
11
mg
|
Sodium:
57
mg
|
Potassium:
219
mg
|
Sugar:
6
g
|
Vitamin A:
184
IU
|
Calcium:
128
mg