How to easily order a Cookies and Cream Frappuccino on the Starbucks app or in person. Plus, see how much the drink costs and how it tastes.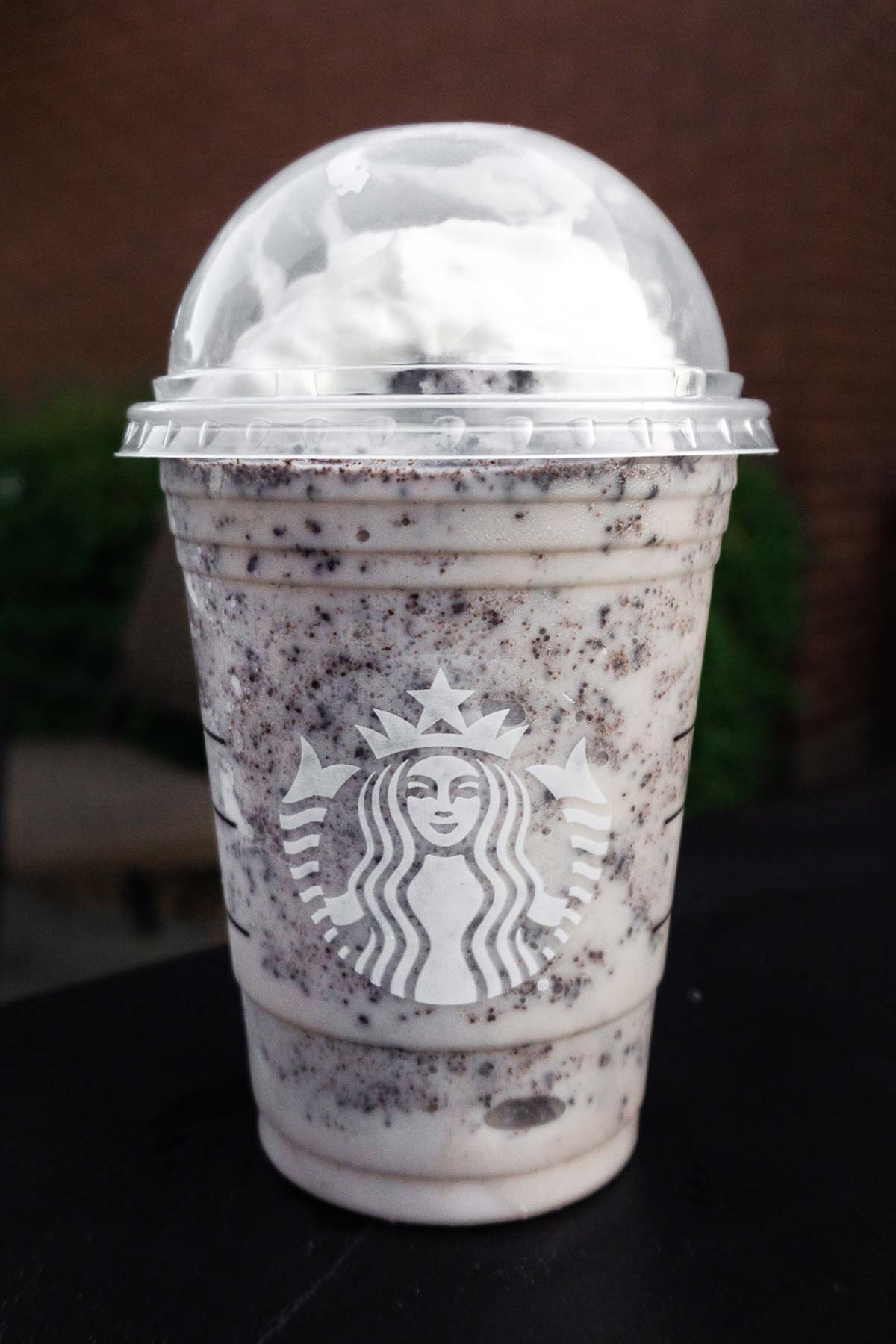 Cookies and Cream Frappuccino
Cookies and Cream Frappuccino, also called an Oreo Frappuccino, is a secret menu drink that's made by blending java chips into a White Chocolate Creme Frappuccino. It's topped off with whipped cream.
It's caffeine-free so a good option for kids.
Secret menu drinks (customized official menu beverages) should be ordered by the drink recipe rather than the drink name because Starbucks baristas aren't trained to make off-menu items.
This drink can be ordered in person or on the Starbucks app.
RELATED: Cookies and Cream Cold Brew (Starbucks Secret Menu)
How It Tastes
The Cookies and Cream Frappuccino tastes very similar to cookies and cream but with a little less cookie flavor than you might expect.
It looks like cookies and cream, due to the java chips that were blended in. (Java chips are made with cookie crumble.)
There's no coffee in this drink so you won't taste any bitterness, just sweetness from the white chocolate sauce.
It's creamy and sweet with bits of cookie crumble in each sip.
RELATED: 50+ Popular Starbucks Secret Menu Drinks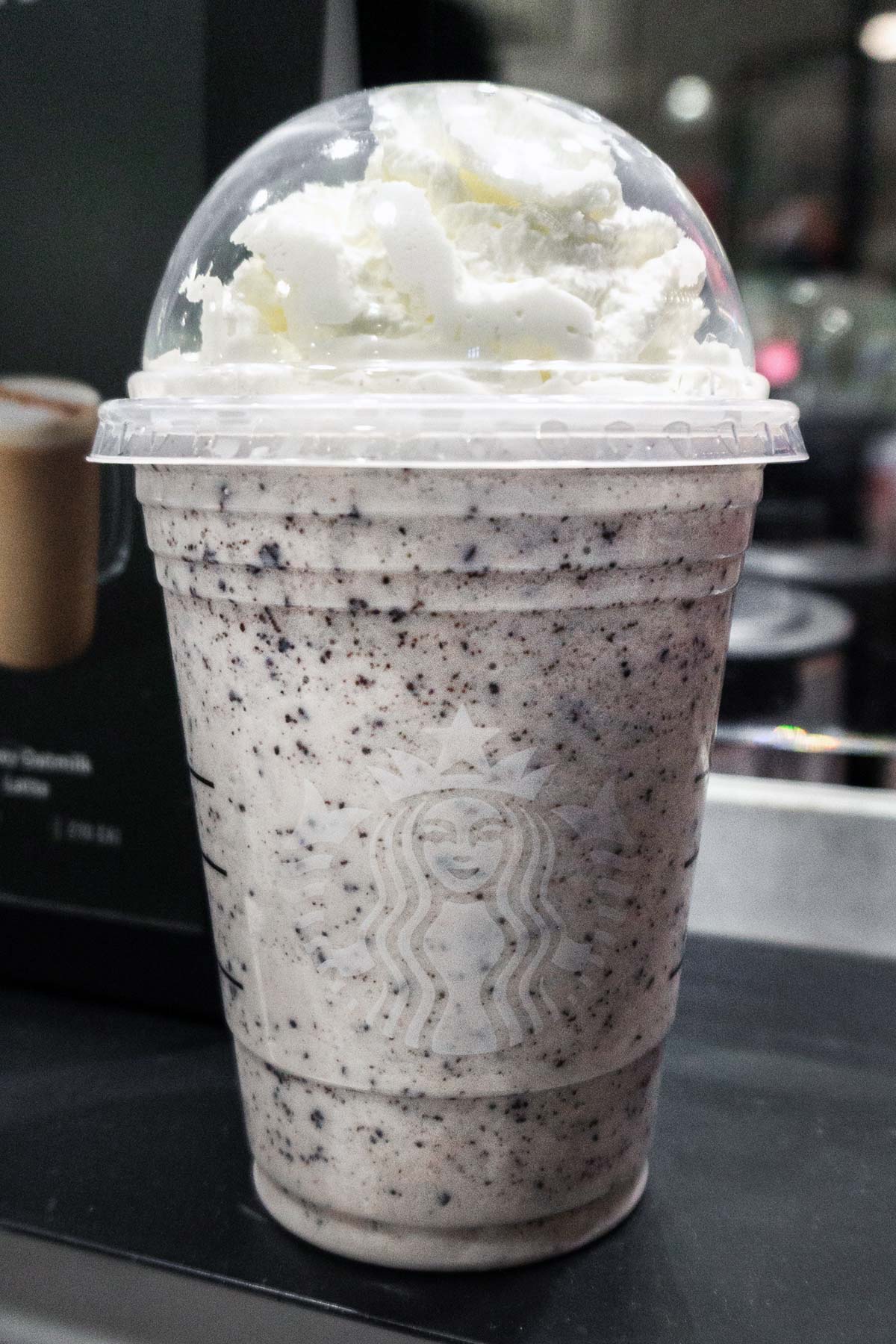 What's in the Drink
Base drink: White Chocolate Creme Frappuccino
Like all secret menu drinks, it one starts with an official Starbucks drink, and this one is the White Chocolate Creme Frappuccino.
Customization: Add java chips
Java chips are also known as Frappuccino Chips. They're chocolate chips with cookie crumble.
RELATED: Best Starbucks Frappuccinos
How to Order the Drink
"Can I get a grande White Chocolate Creme Frappuccino with java chips blended in?"
Make sure to ask for the White Chocolate Creme Frappuccino, which is caffeine-free, instead of the White Chocolate Mocha Frappuccino, that contains coffee.
RELATED: Thin Mint Frappuccino (Starbucks Secret Menu)
Drink Cost
A grande size of the Cookies and Cream Frappuccino costs $5.45 plus tax. The price varies depending on which Starbucks you buy the drink from.
It was $4.95 for the grande White Chocolate Creme Frappuccino and $0.50 extra for the java chips.
Tip your barista if you can! Secret menu drinks take more time to make and your barista would definitely appreciated it!
RELATED: 17 Starbucks White Chocolate Mocha Drinks (Including Secret Menu)
Questions You May Have
What sizes are available for this drink?
Cookies and Cream Frappuccino comes in the same sizes as the White Chocolate Creme Frappuccino, since that's the base drink. It's available in tall (12 ounces), grande (16 ounces), and venti (24 ounces).
Does this drink have caffeine?
There is, but just a tiny bit. The Frappuccino chips/java chips have a small amount of caffeine since it's made with chocolate.
Can I get more chips in my drink?
If you really like your Frappuccino to have extra cookie crumble, you can request extra java chips in person or add more Frappuccino chips using the Starbucks app under Customize. Usually, when you add chips to a grande it will say "3 Frappuccino Chips" but you can add more, or ask for less, depending on your preference.
Can I make this dairy-free?
Yes, you can customize the drink so that they replace whole milk for any of the alternative milks available at Starbucks.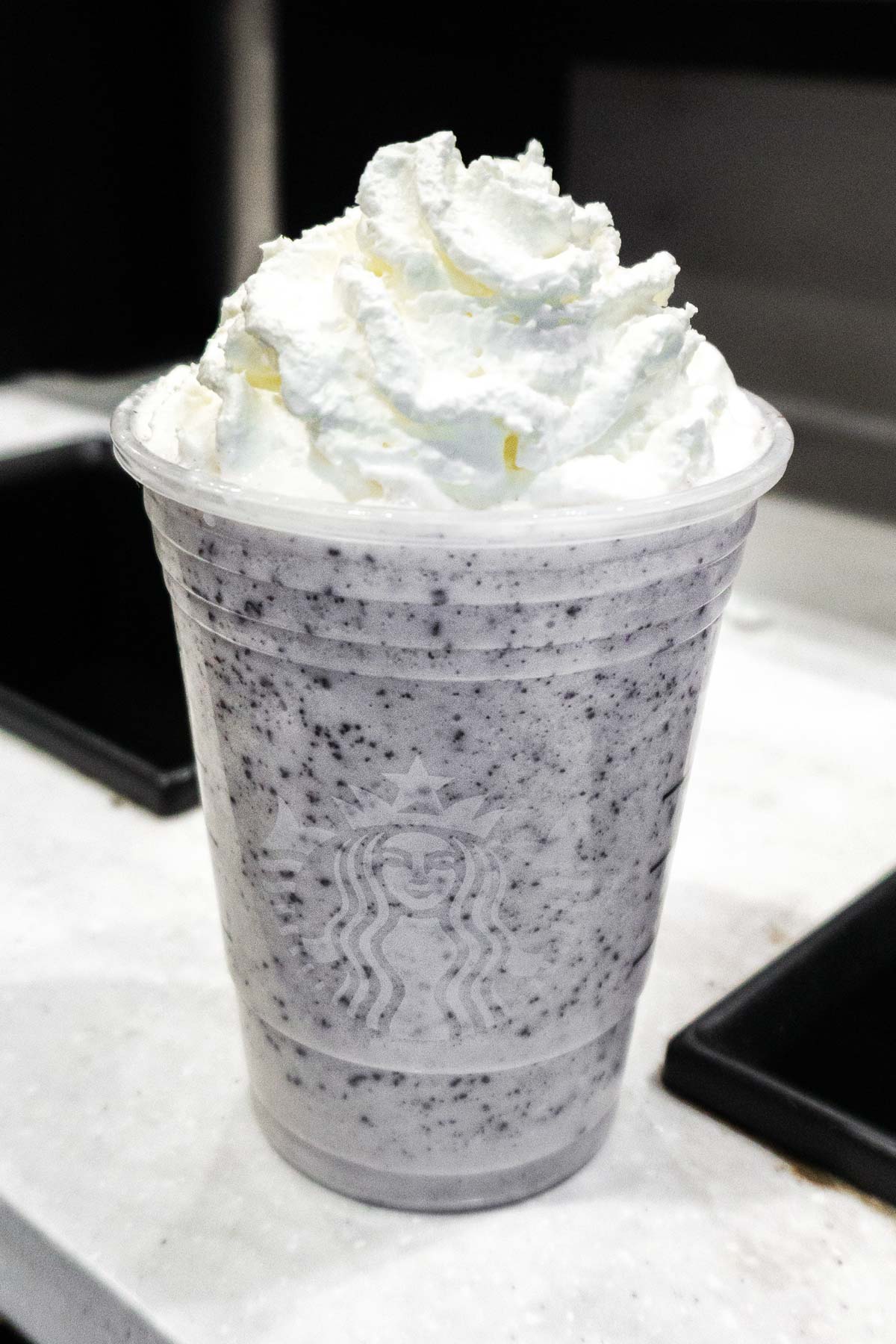 Related
Want to save this drink to Pinterest? Pin it now to your Pinterest board!