A ristretto is an espresso made with less water. Here's an easy-to-understand guide on how to make it and how to order it at Starbucks.
What is a Ristretto?
RELATED: Lungo, Espresso, Blonde Espresso, Americano, Macchiato, Flat White
Differences Between Ristretto and Espresso
Ristretto and espresso are made the same, using an espresso machine with water and coffee grounds. The difference is in how long hot water goes through the coffee grounds.
Shot time
To make espresso, it takes 20-30 seconds to create a shot. For ristretto, the time is a few seconds less.
Drink size
Espresso is 25-35 ml, about an ounce. Ristretto is 15-20 ml, a little over half an ounce. Ristrettos are a smaller drink.
Ristrettos at Starbucks
At Starbucks, if you ask for a ristretto shot, the barista will pull your shot shorter, meaning less water will go through the espresso machine. The resulting shot is usually sweeter and more syrupy. There's no additional cost to asking for a ristretto shot.
Any espresso drink can be made with ristretto instead. For example, you can order an Iced Caramel Macchiato made with ristretto instead of espresso.
Just like espresso shots, you can customize your drinks with the number of ristretto shots.
What You'll Need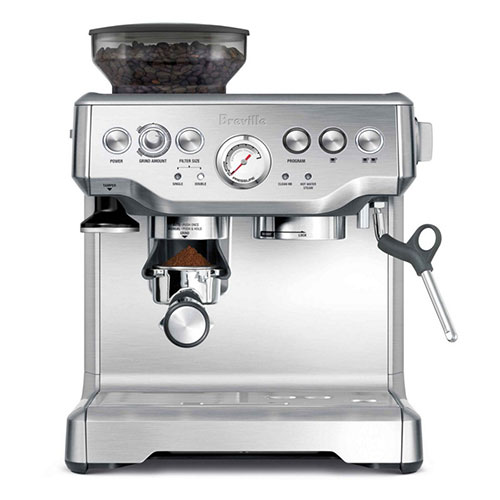 My Espresso Machine Pick
Photo Credit: crateandbarrel.com
Makes great homemade espresso-based drinks. It's easy to adjust the shot time to make ristrettos.
SHOP NOW
How to Make Ristretto at Home
For full ingredients and instructions, scroll down to the recipe.
Fill and tamp your portafilter with finely ground coffee.
Pull 1-2 shots of ristretto.
Instead of pulling a normal espresso shot, use a scale to weigh the amount of coffee that's extracted. Aim for 15-20 ml. Serve and drink immediately.
BARISTA'S TIP: You can tell a ristretto shot by the amount of liquid in your cup. It's helpful to know how much volume a regular shot takes up so you can compare visually.
Expert Tips
Questions You May Have
Is a ristretto stronger than regular espresso?
Nope. A ristretto tastes stronger because there's less water diluting the flavor, but there's the same, if not less, caffeine in a ristretto shot.
Can you get a ristretto shot from a Nespresso?
Yes, Nespresso makes a line of ristretto capsules that they describe as being full-bodied and rich and is made with less water than an espresso.
How many shots of ristretto are in a latte?
It depends on where you order a latte. Most coffee shops will make their lattes with double shots of ristretto if you ask your drink to be made with ristretto instead of espresso. Starbucks does 1 ristretto shot for a short and tall drink and 2 shots for their grande and venti sized drinks.
Related
Want to save this ristretto guide for later? Pin this to your Pinterest board now!
How to Make Ristretto
A quick guide to making ristretto at home.
INSTRUCTIONS
Remove portafiter from espresso machine and run the water through the grouphead to remove any leftover coffee grounds.

Grind and fill dry portafilter with finely ground coffee.

Level and tamp filled portafilter. Clean loose ground coffee off the portafilter.

Put portafilter into the grouphead and pull ristretto shots.

There should be less water in a ristretto shot so pull a shorter shot than you would an espresso. The drink should be about ½ an ounce.

Place cup under the portafilter.

After pulling shots of ristretto, remove the portafilter and flush grouphead.
EQUIPMENT
NOTES
The easiest way to pull a ristretto shot without a scale is to simply stop your shot sooner than you normally would. If you pull a shot of espresso for 25 seconds, try it at 15 seconds.
Bitterness comes out at the end of an espresso shot, so when you pull a shorter shot, you're getting slightly sweeter, less bitter flavors.
In general, most coffee shops pull double ristretto shots for all drink sizes, instead of single. Starbucks starts with a single ristretto shot, adding more shots as the drink size gets bigger.
The opposite of a ristretto shot is a "lungo," which usually means allowing more water to go through the espresso shot than normal. A lungo is referred to as a long shot and ristretto is a short shot.
A ristretto shot will look much darker than a regular or lungo shot. That's because much of the dark brown coloring of the espresso comes out in the early parts of the shot.
What's fun about ristretto shots is that they're easy to pull and compare to a regular shot. If you're not sure what the differences are, pull two shots—one regular, one ristretto—and taste them side-by-side.
NUTRITION
Sodium:
4
mg
|
Calcium:
3
mg